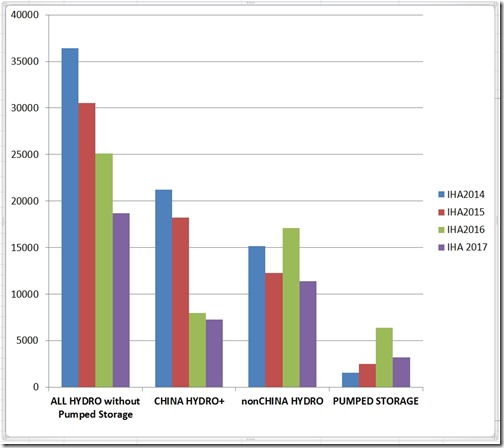 Graph: Hydropower capacity increase in MW. Data from IHA reports
The 2018 Hydropower Status Report offers insights and trends on the hydropower sector from members of International Hydropower Association..
Key findings:
A record 4,185 terawatt hours (TWh) in electricity was generated from hydropower in 2017.
Worldwide hydropower installed capacity rose to 1,267 gigawatts (GW) in 2017, including 153 GW of pumped storage. During the year, 21.9 GW of capacity was added including 3.2 GW of pumped storage.(In the last year report  the IHA divided figures for conventional  hydropower and pumped storage, but given that without pumped storage this year additions are less than 20 GW  it lumped them back together)
Growth was fastest in East Asia and the Pacific, with 9.8 GW of capacity added in 2017(9.1 GW in China), followed by South America (4.1 GW), South and Central Asia (3.3 GW), Europe (2.3 GW, half  of that pumped storage), Africa (1.9 GW) and North and Central America (0.5 GW).
China is the world's largest producer of hydropower, and accounted for nearly half of global added installed capacity, at 9.1 GW. It was followed by Brazil (3.4 GW- in December 2017 this country decided to discontinue large projects in Amazonia and IHA  notes that ), India (1.9 GW), Portugal (1.1 GW of pumped storage) and Angola (1.0 GW).
Despite obvious  trend in the industry the  IHA claims that  58.4 per cent of surveyed hydropower decision-makers and professionals expect to expand their company's installed capacity in the next three years, while 51.7 per cent of respondents expect to increase investments in hydropower over the next three years. ( About such unreasonable behavior Russians say "they have wind in their heads" – we wish it was the case with those energy companies,  which still "have water in  their heads").
Statistics presented by the IHA  confirms findings of other agencies published by the RwB on April 14:THE FATE OF HYDROPOWER IN THE LIGHT OF GLOBAL TRENDS IN RENEWABLE ENERGY INVESTMENT. Recently annual conventional hydropower installation decreased by half from 36.4 GW  in 2014 to 17.7GW in 2017. Pumped storage is faring better with 3-6 GW  annual additions and growing pipeline. Chinese hydropower industry and financiers are the engine behind more than  half hydropower capacity installed in 2017 with 7.3GW installed at home and 3.8 GW abroad: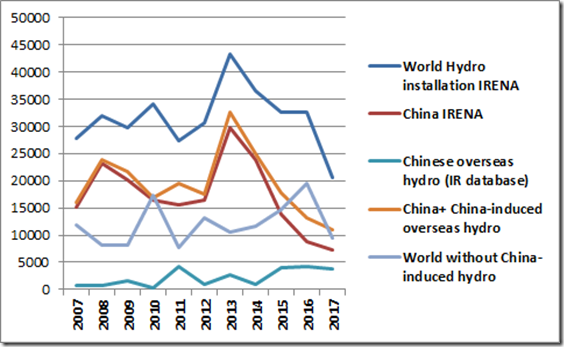 Graph:  China's share of new hydropower installation MW (Data from IRENA and the International Rivers )
The 2018  IHA Report  is ethically very questionable. For example,  one of its four(!)  forewords is attributed to a high official from Ethiopia with Gibe IIII Dam  portrait presented  as illustration. Because of detrimental effects of this dam and Ethiopia's unwillingness to develop mitigation measures the World Heritage Center proposed to inscribe Lake Turkana National Parks (Kenya) on the List of World Heritage in Danger. Decision will be taken by the World Heritage Committee session in Bahrain in June 2018.
It is also symbolic that the IHA lists among this Report collaborators representatives from the EPM  – Empresas Públicas de Medellín – a company that in May 2018 put at risk 120000 Colombians as its 2.4GW HidroItuango dam under construction was about to collapse due to engineering mistakes and negligence. As of May  24,  date of the IHA report release,  26000 people  were evacuated from Cauca River Valley and many suffer without shelter and food,  construction workers managed to raise the dam wall over spillway reducing risk of immediate collapse, machine chamber was flooded and equipments likely damaged, several rating agencies have already downgraded EPM company, which also faces corruption  and negligence charges from Colombian  prosecutors.
Ríos Vivos Colombia Movement  which represents local dam victims issued global pledge for donations to support emergency efforts.
RwB