More statistics on energy development became available right before the Earth Day. Recently we published a post that mentioned  the 80% China's share in 2017 hydropower investment world wide. The figure seemed exaggerated to us, so we looked into all sources available for last decade to confirm the trend. The graph below shows that since 2007 an average annual hydropower capacity installed in China represented 55% of that installed world wide. If overseas projects with China's financiers\contractors added to that, then china's "share" of the global hydropower installation goes up to 63%,which translates into 177 GW built domestically and 23,5 GW built overseas since 2007.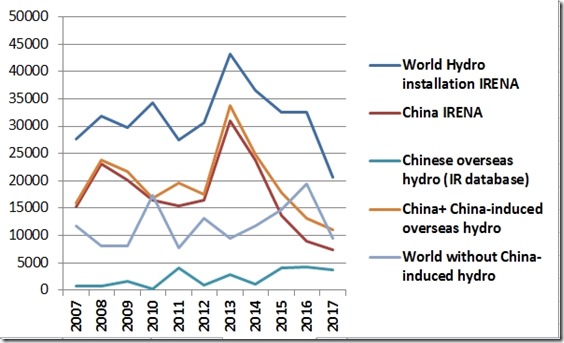 Figure: Hydropower installed annually in 2007- 2017, MW.
Ten years ago almost all "Chinese" hydropower was built domestically. An obvious trend in last 5 years is that new hydropower installation inside China goes down, while  capacity of new overseas projects  increases throughout the decade. Thus in 2017 China was responsible for 54% percent of global new hydropower capacity, but only 36% of that capacity was created inside China, while another 18% (one third) was built overseas.
Investment figures available to us confirm continuous "going-out" trend in China's hydropower industry, which therefore threatens the majority of still free-flowing rivers of the world targeted for hydropower development. The database on China's overseas hydropower  published by International Rivers contains records on contracts with total volume of 130 GW in new projects, and that is 5 times more than what has been already built outside China with participation of Chinese firms over last decade. Additional 160 GW are planned for construction before 2050 inside China.  Most of those projects would never happen if Chinese state banks and other financial institutions created to boost "Belt and Road Initiative" do not support them.
Rivers of the world are losing biodiversity 2-4 times faster than terrestrial or marine habitats, while dam-building is one of the leading causes and triggers for devastation of freshwater ecosystems. The fate of aquatic wildlife and river ecosystem health worldwide directly depends on whether China will continue to encourage overseas investments in hydropower or it will shift to other less destructive energy investments.
Sources:
IRENA Renewable Capacity Statistics 2018