World Heritage should be off-limits of any economic activities that may negatively affect designated sites, but nowadays increasing number of World Heritage sites are influenced by development projects. Hydropower is a leader on the list of industries encroaching upon World Heritage sites according to International Union for Conservation of Nature  – the key advisory body of the World Heritage Convention.
This year, 11 natural World Heritage sites threatened by dam projects have been discussed  by the UNESCO World Heritage Committee  gathered at its annual meeting from 28 June to 8 July in Bonn, Germany, including several where the impacts come from dams in a neighboring country. IUCN calls for more effective environmental impact assessment of such projects and improved transboundary cooperation from the earliest stages in order to avoid or minimize the adverse effects of dams on World Heritage.
"Dams can have a huge impact on World Heritage sites, reducing precious natural wetland areas, changing river flows and impacting local communities," says Tim Badman Director of IUCN's World Heritage Program (photo below). "It is essential to consider better alternatives that avoid such constructions where possible, and to properly assess how dams will affect our World Heritage before they are built. Nature transcends national borders, and efforts to preserve what we recognize as our collective heritage must also look beyond national borders."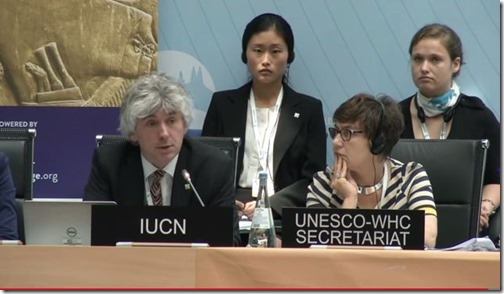 Following a field mission, IUCN is concerned that the Gibe III dam in Ethiopia may permanently change the seasonal water flows into Lake Turkana National Parks – a World Heritage site in Kenya – with knock-on effects on wildlife and fish stocks which local communities depend on. The dam is now nearly complete and will be Africa's second largest hydroelectric plant reaching the height of 243 meters. Ethiopia and Kenya have agreed to increase cooperation to mitigate the impacts from the dam on Lake Turkana.
Lake Baikal in Russia, the world's largest and deepest lake and a World Heritage site since 1996, may suffer impact from three projects planned in Mongolia, including the construction of two hydropower plants and a reservoir. During a recent monitoring mission to Mongolia, IUCN found that environmental impact has been assessed in only one case. The combined effects of all three projects on the lake are unknown and could potentially seriously damage its World Heritage values.
Also  climate change impact is already evident in 35 of 228 sites inscribed on the World Heritage list for their natural values, according to the IUCN World Heritage Outlook – the first global assessment of natural World Heritage.
Source www.iucn.org