According to the report jointly prepared by UN Environment's Economy Division, Frankfurt School-UNEP Collaborating Centre for Climate & Sustainable Energy Finance, and Bloomberg New Energy Finance in April 2018, the share of hydropower in net additions of installed capacity in 2017 continued to shrink globally. The RwB merged the Report's data with news from other sources to assess the situation.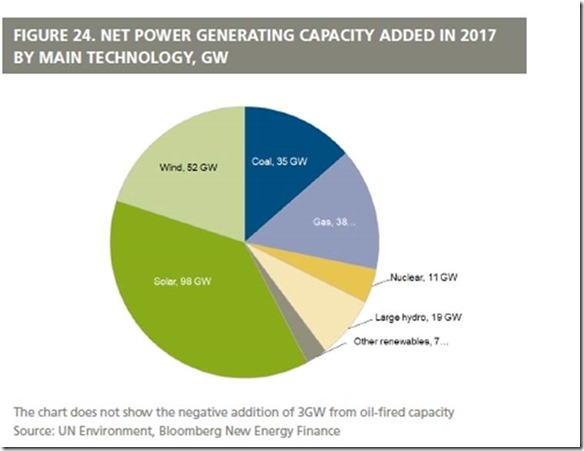 (Note: "net addition" does not capture 32GW of coal-fired plants and 25GW of gas-fired plants which "replaced" decommissioned facilities)
In absence of fresh data from the IHA we compared Bloomberg figures with the IHA figures for 2014-2016. We assumed that 19 GW of "large hydro" installations reported by Bloomberg do not include pumped storage. The graph we present may require slight changes after the IHA publishes its annual statistics in 2018.
Current trend is very clear: hydropower installations are steadily declining.
Besides, according to Bloomberg figures, 2017 likely has been the last year in history when the large hydro constituted 13% in global electricity production exceeding that of all "renewable sources" (small hydro included but holding negligibly small share) which produced 12% of world electricity. Given the speed of solar and wind installation, the "new renewables" are destined to exceed hydro in production this year.
FIGURE 2: GLOBAL NEW CAPACITY INSTALLATION IN HYDROPOWER SECTOR, 2014-2017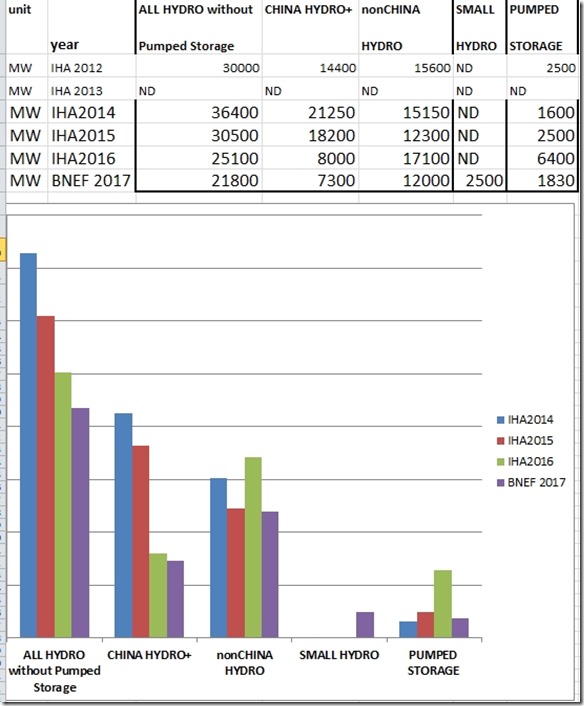 Large hydro-electric projects of more than 50MW are not covered in the main part of Bloomberg report, but still assessed in special sections. Using the same methodology as for the other renewable energy technologies in the report, in other words capturing the whole value of a project at the moment of final investment decision, asset finance of large hydro was estimated to have been $45 billion in 2017, up from $22 billion in 2016 but close to the total for 2015.
The biggest project, by far, to clinch financing in 2017 was the 16GW Baihetan dam on the Jinsha River, in southwest China. The second largest hydro-electric project ever, Baihetan will be built by developer China Three Gorges, at a cost in yuan equivalent to US $28 billion, and is due to be fully operational in 2022. If we consider that China's policy banks made in 2017 loans in the amount of US $7.7 billion to overseas hydropower projects, then China is responsible for almost 80% of global hydropower investment last year.
Projects reaching key financing milestones, according to Bloomberg, included the 870MW Suki Kinari dam in Pakistan, the 260MW Don Sahong in Laos and the 254MW Genale Dawa 3 in Ethiopia. The 3GW Mambilla project in Nigeria also made strides forward last year, with a construction contract signed between the government and a Chinese consortium led by Sinohydro and China Gezhouba. Costing an estimated $5.8 billion, it is due to be finished within six years (previously the project has been delayed for at least 6 years).
Nevertheless, global large hydro investment in 2017 was still a bit less than half the value of the capacity investment announced for wind last year (107 BN), and between a third and quarter that for solar (161 BN).
The largest corporate deal for RE energy supply anywhere in 2017 was in Europe, in the shape of aluminum producer Norsk Hydro's commitment to purchase most of the electricity from the 650MW Markbygden Ett wind farm in Sweden, from 2021 to 2039. This move means that Norsk Hydro's will stop from 2021 on buying equivalent amounts of energy from hydropower stations of Statkraft Co.
FIGURE 3: GLOBAL NEW INVESTMENT IN RENEWABLE ENERGY BY SECTOR, 2017, AND GROWTH ON 2016, $BN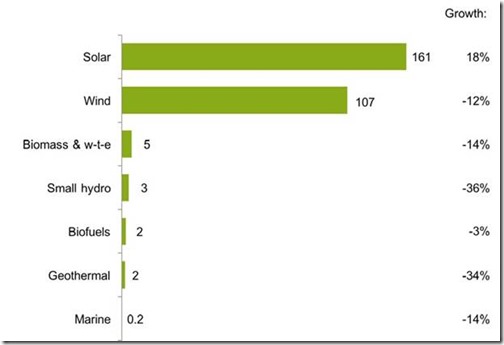 New investment volume adjusts for re-invested equity. Total values include estimates for undisclosed deals.
Source: UN Environment, Bloomberg New Energy Finance
Financing of small hydro projects (greater than 1MW and less than 50MW) slipped last year to $3 billion, from $3.5 billion in 2016, continuing a downward trend that has been in place since 2014 (when it was $7 billion). China remains the biggest market – its Five-Year plan aims to commission an extra 5GW of small hydro, to bring the total to 80GW by 2020. However its fulfillment in questionable, since in 2017-2018 several provinces of China cancelled licensing of new small hydro projects and ordered decommissioning of some old ones due to impacts on biodiversity and gross-inefficiency. Brazil, Argentina and Peru contracted small hydro projects in previous years' auctions, where the power price was guaranteed under long-term power purchase agreements, and were subsequently financed in 2017. Other countries seeing projects just short of 50MW financed in 2017 included Russia (one project funded by $100 million loan from the NDB), Uganda and Ecuador. Small hydro mergers and acquisitions declined, however, falling 26% to $500 million.
Hydropower is still viewed as a useful tool by development agencies. In late 2016, the Asian Development Bank agreed to lend Pakistan $325 million to fund a program that will install clean energy systems and improve access to electricity. The loan will fund 1,000 micro-hydropower plants in off-grid areas, as well as rooftop solar plants at 23,000 schools and more than 2,500 primary healthcare facilities. Mozambique's Energy Fund launched a $500 million rural electrification program aimed at bringing electricity to 332 villages with hydro projects totaling 1GW. It will also build 343 solar power projects, a third of which will be smaller than 100kW.
Despite this activity, statements from specialist hydro-electric equipment suppliers have generally been downbeat in the last year. Turbine-producer Andritz, for instance, said at the time of its third-quarter 2017 results that it was facing an "unchanged, challenging market environment, with only a few medium-sized projects awarded". Russian hydropower firms and equipment producers (Evrosibenergo Co., Power Machines, etc) in addition, fell victim of the US political sanctions, making access to finance and contracts highly problematic. Russian nuclear corporation Rosatom has been actively marketing around the world new module based micro-hydropower plants produced by its Hungarian subsidiary.
One of the stronger parts of the hydro market worldwide in 2017 was pumped storage, with China ordering turbines for a 6GW project in Hebei Province. (It is unclear to the RwB whether Bloomberg Report investment figures include investment into pumped storage, but likely they do). However, continuous sharp decline in installment costs for other energy storage (namely lithium batteries), makes future of this oldest storage technology rather problematic in medium-term. Another source- IRENA reports that in 2017 only 2 GW of pumped storage worldwide was put in operation, at least twice less than in 2016.
Between 2009 and 2017, the benchmark levelized cost of electricity, or LCOE, for photovoltaics without tracking systems fell from $304 per megawatt-hour to just $86, a reduction of 72%. Onshore wind's LCOE dropped from $93 to $67 per MWh, a reduction of 27%. For offshore wind, there was an increasing cost trend for some years as project developers moved into deeper waters, further from shore, but since the peak in 2012, there has been an LCOE decline of 44% to $124 per MWh.
According to the IRENA benchmark levelized cost of electricity for hydropower has had a reverse trend. A shift to more challenging projects with higher civil engineering and project development costs has pushed up the global weighted average total installed cost in recent years. This has in turn driven up the global weighted average cost of electricity produced by hydropower, with this rising from USD 36/MWh to USD 46/MWh between 2010 and 2017.
Sources:
Frankfurt School-UNEP Centre/BNEF. 2018. Global Trends in Renewable Energy Investment 2018, http://www.fs-unep-centre.org (Frankfurt am Main)
https://www.unenvironment.org/news-and-stories/press-release/banking-sunshine-world-added-far-more-solar-fossil-fuel-power
https://www.enerdata.net/publications/daily-energy-news/chinas-installed-capacity-grew-76-2017-nearly-1800-gw.html
https://www.bu.edu/cgef/#/2017/EnergySource/Hydropower
http://irena.org/publications/2018/Jan/Renewable-power-generation-costs-in-2017