General situation with the "LAW TO  PROHIBIT MINERAL EXPLORATION AND MINING OPERATIONS AT HEADWATERS OF RIVERS, PROTECTED ZONES OF WATER RESERVOIRS AND FORESTED AREAS"
5 years and 6 months have already passed since the adoption of the Law on Prohibiting Mineral Exploration and Extraction Near Water Sources, Water Protection Zones and Forests (Law with Long Name-LLN).
These days new government is planning to again work on changes to this law and doing everything to amend or revoke it. United Movement of Mongolian Rivers and Lakes has been working hard locally to collect enough signatures and direct letters to decision makers to prevent changes to the LLN and further release unlawfully held activists from the prison.
3 years have already passed since the Supreme Court of Mongolia by decision No.687 has ordered the Government of Mongolia to implement the Law with Long Name:
"Ordering the Government of Mongolia to enforce Article 1, of Law on Regulations to Follow Law to Prohibit Mining Operations at Headwaters of Rivers, Protected Zones of Water Reservoirs and Forested Areas and Law to Prohibit Mining Operations at Headwaters of Rivers, Protected Zones of Water Reservoirs and Forested Areas, and the Parliamentary Resolution 55 of Mongolian Parliament dated July 16, 2009 on measures to be taken in relation to the passed Law that Prohibit Mining Operations at Headwaters of Rivers, Protected Zones of Water Reservoirs and Forested Areas…" D.Tungalag, Moderator of judging panel.October 20, 2011.
Based on Decision #687 the Judge Oyuntuya N. from Court Decision Implementation agency had issued the order no. 1249 on February 14, 2012 followed by a warrant no. 90 on March 1, 2012. Therefore when Prime Minister Altankhuyag on September 10, 2013 proposed amendments to the Law to the parliament this action qualifies as a criminal offense under article 258 of the Criminal law of Mongolia: not following the higher court ruling. But instead Munkhbayar and 5 of his comrades were jailed for armed demonstration to prevent changes in the Law and sentenced to almost 100 years in jail in January 2011.
In the last days of 2014 one of jailed activists Dashtseren died of cancer that exacerbated in unbearable jail conditions. Merciful President Elbegdorj allowed him to die at home.
See  THE SHORT HISTORY OF THE LAW WITH LONG NAME (2009-2013)
January 2015
New prime minister Saikhanbileg, known for fairly extravagant political manipulations such as "SMS Referendum on Mining vs. Austerity", once again proposed to improve the state of Mongolian economy failing from mismanagement by lifting environmental safeguards and weakening LLN implementation rules.
On January 19, 2015 Onggi river movement and citizens of Mongolia residing along Onggi river watershed basin requested from the General office of Court Decision Implementation Agency to implement above stated rulings of the Supreme Court.
At the same time United Movement of Mongolian Rivers and Lakes appealed to the Government. However, the prime minister Saikhanbileg didn't respond to UMMRL's demands delivered to him and kept ignoring NGO requests to meet with him.
On January 23, late at night parliament held a meeting and approved "strategic deposit" status for Centerra's Gatsuurt gold deposit. Strategic deposits are exempt from requirements of the Law with Long Name. Mount Noyon is one of important forested areas in Mongolia very important sacred site for local community.
It is also on tentative World Heritage list: Funeral site of the Xiongnu Elite at Noyon Uul
This site occupies a total of 129.6 he area located at Kharaagiin Noyon Uul mountain within territories of Bornuur, Mandal and Batsumber soums of Tuv province. There are 230 elite burials in places called Sujigt (Sujigt-1. 73.8 he; Sujigt-2. 5.3 he), Zuramt (7,1 he) and Khujirt (43,4 he). This heritage site was discovered in 1912. The tombs are similar to elite tombs of other places but the tomb #20 is the deepest (18.35 m) so far known in Eurasia.
January 28,2015, MINISTRY OF MINING OF MONGOLIA
Press Release on Transparent Mining Conference., By Badrakh Yadmaa, Head of the International Cooperation Division. FOR IMMEDIATE RELEASE
Regulatory Compliance for Laws and regulations of the "Law with Long Name" being introduced by Parliamentary groups
"Regulation(Implementation) Act" for "To Prohibit Mineral Exploration And Mining Operations At River Headwaters, Protected Zones Of Water Reservoirs And Forested Areas" law (LLN /Law with long name/ here on) was enacted by the Parliament on July 16, 2009.
The Government issued Decree No.174 in 2011, and No.194 in 2012 to set the boundaries for the regions where the long-named law would apply. Ministry of Environment and Green Development announced 488 exploitation, 845 exploration, and total of 1333 special permits in the said boundary. This equals to about 48 percent of the active special permits.
Regulations Act of LLN law directs that this law is to be implemented within five months upon enacted. It's been five years since this act was enacted.
Therefore, "Regulation Act of Law To Prohibit Mineral Exploration And Mining Operations At River Headwaters, Protected Zones Of Water Reservoirs And Forested Areas" draft law was submitted to the Parliament, and a working group was formed.
Study done by the Ministry of Environment and Green Development that states that the 2130 hectares of land restricted under this law is already damaged.
In accordance with the regulations stated under the government's 2010 resolution number 299 the reimbursement of payments are calculated as such:
With the use of information provided by the General Department of Taxation the initial figure for reimbursement is 2,223.93 billion tugrugs (this number is calculated with the operational profits of the entities).
Since the compliance procedure of the said law has expired, it is necessary to make amendments to the law. If the situation is to continue as is, opportunities will be presented to those who have interest in the illegal mining, posing negative impacts on the environment.
February 2015.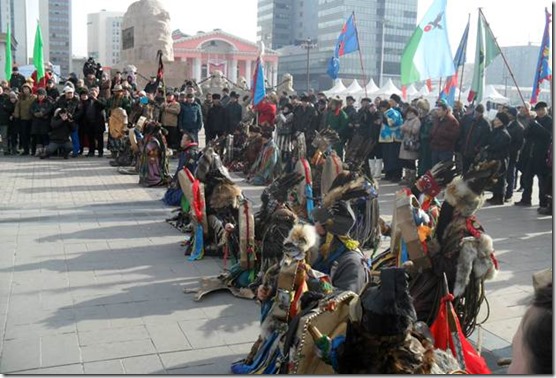 February 9.2015. Association of Mongolian Shamans, UMMRL, "Fire nation" NGO, "Upright Mongolia" (or Bosoo Mongol) NGO hold on Genghis Khaan Square of UB demonstration and religious ritual to protect rivers and forests from mining.
10 members of NGOs (Upright blue Mongolia; Save the Noyon mountain, etc) are starting official hunger strike at 11 am on February 9th, 2015 on the central square in Ulaanbaatar city in front of the Parliament building. They are starting wet hunger strike. If the government still doesn't respond to their demands they were planning to go on full dry hunger strike.
"Upright Mongolia" started a hunger strike demanding that Centerra stop mining its Gatsuurt project in Mount Noyon at, which in addition to river Gatsuurt (gatsuur – fir tree) "Upright Mongolia" are guys with black and blue banners with traditional Buddhist Has Signs (what you guys mistake for fascist swastika signs).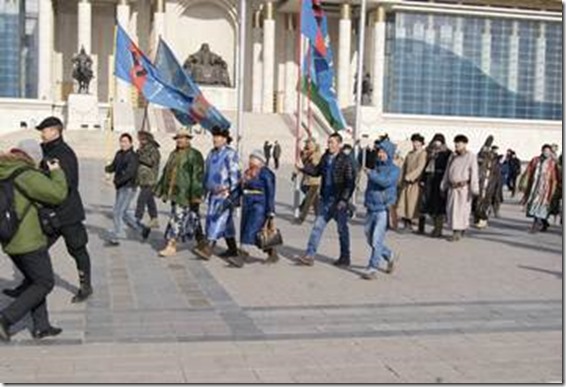 On Feb.12, 2015 discussion was held in Environmental standing committee of Ikh Khural on proposed amendments to law on implementation of LLN agreed on following proposals:
– To set water protection zones as strict 200-meter buffer rom water edge (in 2011 delineation those could reach several kilometers in certain places valued by local communities)
– To retain water source (headwaters) protection zones and forest protection zones in their present shape . Cancel licenses falling into headwater areas.
– Develop special procedure for granting exemptions to companies that already started exploration or mining in water protection zones. No activities should be permitted within 50-meters from the shore, but for mining in the interval 50-200 meters companies already having licenses should be requested to make a deposit equal to 100% of expected restoration costs.
Preliminary Conclusion
Those are likely most "environmentally minded" amendments and mining lobby would insist on opening of all areas to mining.
Apparently this time Parliament is trying to pass the change to LLN regulation law right a day before Mongolian Lunar New year. Eve of the traditional national New Year – not the best day for a major assault on national lifestyle and traditional values held by herders and expressed in the LLN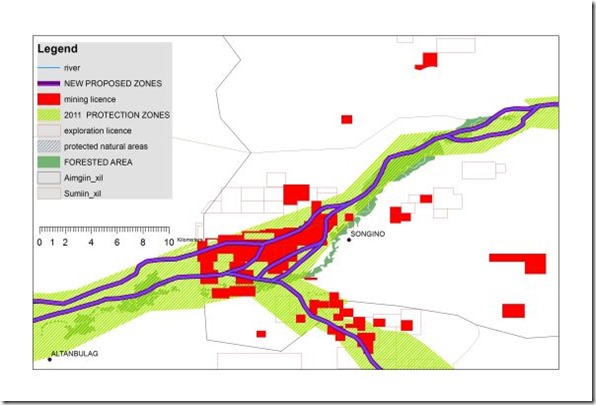 Picture shows Tuul River protection zones drawn in 2011 and new proposed zones. Difference is very clear. We also have shown 2010 mining licenses to make clear how change in LLN implementation may affect them.
There are the following obvious consequences of proposed changes in implementation of the Law on Prohibiting Mineral Exploration and Extraction Near Water Sources, Water Protection Zones and Forests:
Environment: Amendments drastically decrease river protection and deprive it of any rational basis. Existing buffer zones in most places protect whole floodplains and thus secure both water quality and most drought-resilient grazing areas. Proposed new zones are tiny in comparison and in most places fail to guard against pollution and ecosystem degradation.
Social stability and public participation. Existing way to delineate zones delegates authority to safeguard important resources to local communities, who know better what they can and cannot sacrifice to mining. The law was drafted and enacted in response to appeals of hundreds of local communities. Proposed amendment exclude local people from decision-making and therefore create potential for large scale conflicts all-over the country. And this Parliament will be held responsible for this conflict.
Economics: As Parliament members themselves previously observed, the economic progress depends not on multitude of small mines in many places, but on several large projects with subsequent processing and development of related sectors. Therefore opening up many additional licenses will not help the economy in a long term. This especially related to most dirty placer gold mining done by small enterprises and not leading to any sustained development.
International Prestige. Mongolia is highly unlikely to create better investment atmosphere by lowering environmental standards. On the contrary, the LLN was necessary timely safeguard guaranteeing preservation of environment while intensifying mining. This was wise Mongolian innovation recognized internationally. If Mongolia weakens the LLN now, it will add to reputation of unstable ever changing failing state, and make it more difficult for responsible investors to justify choosing Mongolia as their destination.
Compiled by Eugene Simonov
RwB International Coordinator