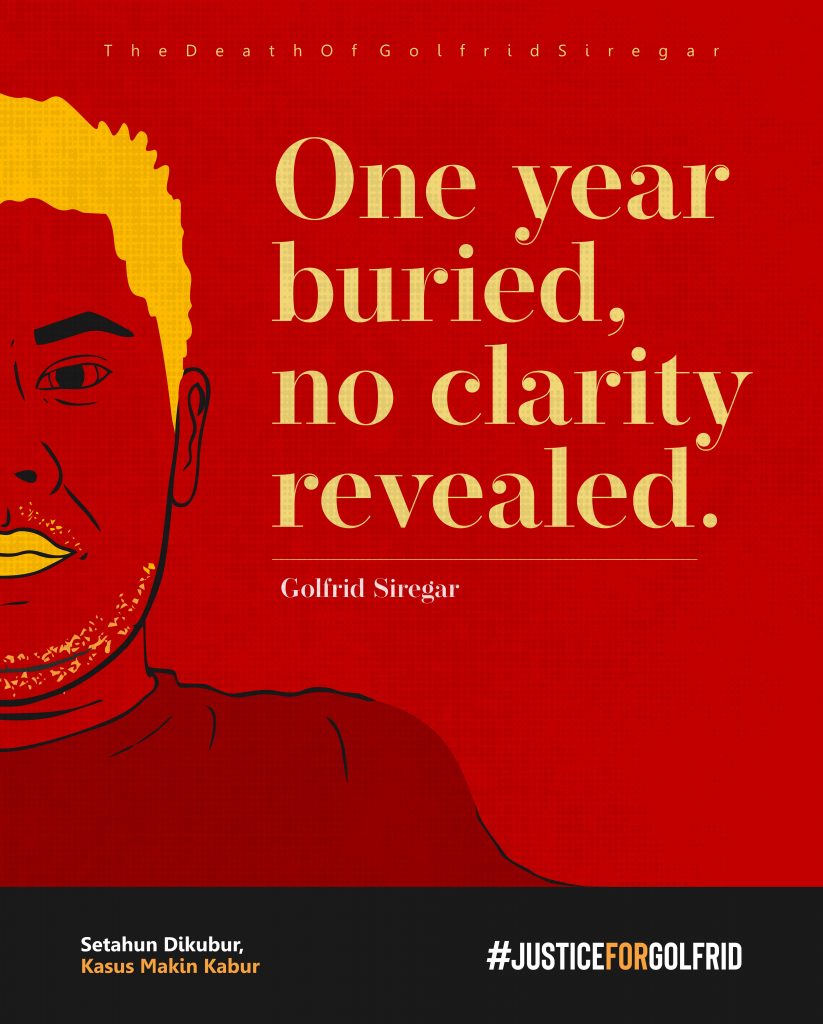 A year ago, on October 6, 2019, Golfrid Siregar, an Indonesian environmental lawyer died under suspicious circumstances. He was one of the key activists confronting the Batan-Toru Hydropower Dam built by Sinohydro in the only habitat of endemic Tapanuli Orangutan.
On October 3, 2019, Golfrid Siregar was found beaten and abandoned on the side of a road in Medan and died in hospital. The North Sumatran Police who handled the case have concluded that the reason for his death was due to a single traffic accident. Although police claim his death was the result of a traffic accident, there are a number of irregularities and suspicious circumstances which suggest his death may have occurred as retaliation for his environmental and human rights advocacy work, thus warranting immediate further investigation.
Soon after the death of Golfiried, along with 240 civil society organizations, the RwB sent a letter to Indonesian authorities demanding investigation. On November 19, 2019  Mr.Fauzi Bustami, the Minister-Counsellor of the  Indonesian Embassy in Moscow responded: "The Embassy is now studying the the case and will inform you the result soon after we receive the information.". Alas 10 months passed, but we still awaiting information from the Minister-Counselllor.
Meanwhile #JusticeForGolfrid Coalition has observed troubling irregularities, , which suggest that Golfrid Siregar's injuries were not caused by an ordinary traffic accident.
First, he suffered primarily from serious head injuries which caused his cranium to break, while the rest of his body remained largely uninjured.
Second, family and friends reported that there were bruises to his right eye as if from a hard, direct blow.
Third, mud and wet soil were found on his clothes, even though the area where he was found is paved, with no soil nearby.
Fourth, his personal belongings, bag, laptop, wallet, phone, and ring were missing.
Fifth, his motorcycle was mostly undamaged, and not reflective of being in a serious, fatal traffic accident. It should also be noted that there were no bloodstains where he was found; his clothes were undamaged and did not show signs of Golfrid falling off the motorcycle.
Work of Golfrid and his team helped to make international funders question the hydropower project and by 2020 the project was stalled due to environmental concerns and COVID lock down. The death of Golfrid Siregar, an environmental and human rights activist from North Sumatra, demonstrates high price that environmental movement pays for its peaceful efforts to protect our nature. It is not the first time that has happened to activists in Indonesia. Hundreds of Earth-defenders are killed each year around the world.
We urge the Indonesian government to immediately undertake an open, independent and robust investigation into the irregularities of Golfrid Siregar's death. We also urge the Indonesian government to ensure guaranteed protection for environmental and human rights defenders. So that there will be no more criminalization and acts of violence against activists that lead to deaths in the future.
Your Excellency, Mr. Fauzi Bustami, the Minister-Counsellor, will You fulfill Your promise?
On behalf of the #JusticeForGolfrid Coalition
Eugene Simonov
Rivers without Boundaries