The International Hydropower Association (IHA) published its 7th "Hydropower Status Report". Report illustrates further decline of annually installed hydropower capacity, with "optimistic" estimate of only 15 GW added worldwide in 2019. We still tend to believe that the 12.5 GW figure from the International Renewable Energy Agency (IRENA) is more accurate, because random check on the IHAs figures shows that to cheer-up report readership results for some countries were exaggerated: by 90 MW in Russia, by 250 MW in Ethiopia, and by 400 MW in Tajikistan, etc. However, our concern is not about minor cheating, it is about large devastating environmental and social impacts induced by agonizing dam industry. Both IHA and IRENA records show that more than 90% of hydropower capacity installed in 2019 originates from dams and cascades with well-known negative impacts: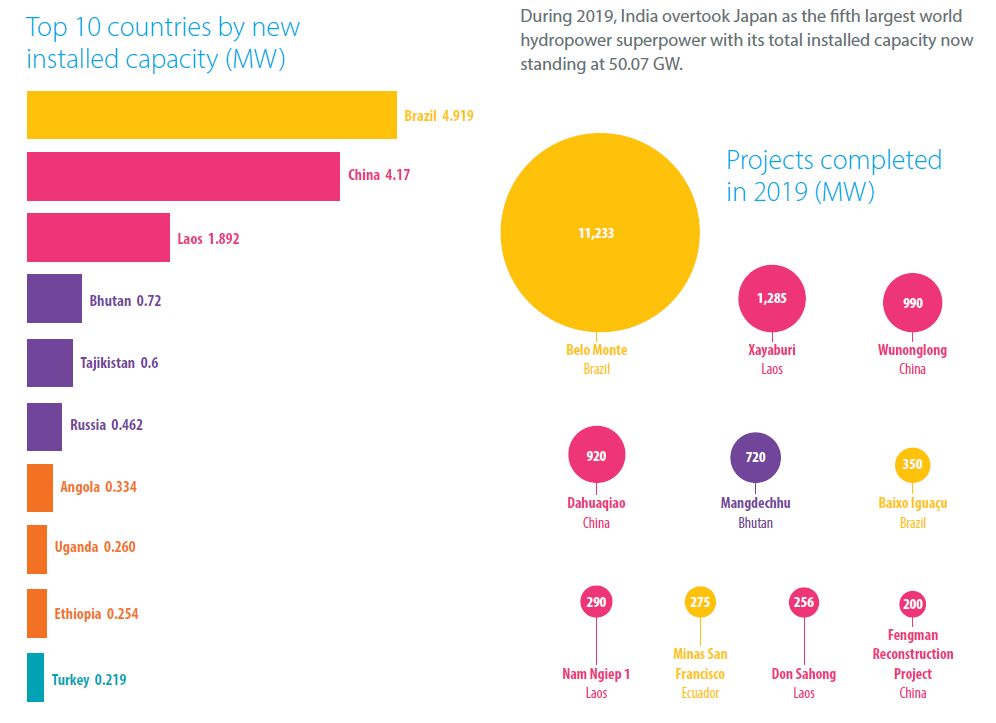 President of BRAZIL Jair Bolsonaro inaugurated 11 GW Belo Monte Dam in Brazilian Amazonia, built by Odebrecht and others, which clogged mighty Xingu river, displaced and robbed many thousand indigenous people, and fueled "Car wash" corruption scandal that threw in jail several former presidents. The project was enabled by 2500 kilometer power line to load centers built by China State Grid Co. Iberdrola put online 350 MW Baixo Iguaçu hydropower plant, which affects two World Heritage sites at Iguacu waterfalls in Brazil and Argentina. Despite repeated requests from IUCN and World Heritage Committee no joint assessment of impacts has been performed prior to construction and no mechanisms for cooperation on water management have been established.
  Part of 3842 MW capacity that came on line in CHINA represents further destruction of Yangtze River basin ecosystem, where extinction of a giant Chinese paddlefish due to impacts of damming was recognized by scientists at the end of 2019. The Wunonglong (990MW) and Dahuqiao (920 MW) dams on Lancang (Mekong) represent continued contribution to decimation of Mekong River ecosystem – upcoming ecological disaster comparable to Aral Sea drying in 20 century. Two new reservoirs are located in river valleys immediately adjacent to the "Three Parallel Rivers Protected Areas of Yunnan" World Heritage Site and may affect its outstanding universal values.
In LAOS 1218 MW Xayabury Hydro – the first dam to dissect Mekong River mainstream in its most biodiverse lower reaches, will cause catastrophic decline in many of its 100+ migratory fish species and starvation of millions of fishermen relying on those fisheries. 256 MW Don Sahong is the second dam on the Mekong river built by Sinohydro close to endangered river dolphin habitat.
BHUTAN completed 720 MW Mangdechhu Dam on major tributary of Manas River, along with already existing dams will inevitably contribute to degradation of downstream Manas World Heritage site across the border in India and cause suffering of local people. Despite multiple requests for proper impact assessment from the World Heritage Convention the Kingdom of Bhutan never answered those calls. Ironically Indian budget paid for that project construction.
TAJIKISTAN installed second 120 MW turbine at construction site of the 3600 MW Rogun Hydro in headwaters of the Aral Sea Basin. The project once almost caused a war with Uzbekistan and will inevitably exacerbate already acute water shortages and affect agriculture in downstream areas – source of living for many million people. Civil society groups recently included Rogun Hydro on the list of projects they do not want to see financed by China as a part of Belt and Road Initiative.
RUSSIA finished construction of 320 MW Lower Bureya Hydro in the Amur River basin, which despite widely advertised ecological compensation programme had not accomplished any meaningful mitigation measures for affected aquatic biodiversity. In the beginning of the year a giant landslide blocking Bureya Reservoir threatened the Bureya Hydro (2GW) and several settlements, which necessitated large emergency operation at the expense of state military budget. Landslide was most likely caused by oscillations of the reservoir level and took everyone at ambush due to complete lack of geological hazards monitoring system.
In UGANDA on White Nile Isimba Hydro (188 MW) was completed by China Water and Electric Corporation (CWE), subsidiary of the Three Gorges Co., adversely affecting conservation offset at Kalagala Falls which was part of World Bank funded controversial Bujagali Hydro. This triggered World Bank Inspection Panel Investigation, which issued report calling for rectifying violation of conservation offset obligations.
Little is known about ANGOLA's Lauca Dam (2070MW) which 5th generator was put online, except for the fact that it was built by a consortium orchestrated by Brazilian Odebrecht Company, the firm that caused "Car Wash" corruption investigation in 11 countries. In 2016 Brazilian bank BNDES froze financing to Lauca during investigation, in December 2019 Africa Briefing reported on new multi-million dollar corruption case associated with this dam.
In ETHIOPIA 254 Genale Dawa III multipurpose dam,  long-delayed by land disputes and finally brought into operation by China Gezhouba in February 2020 (according to media reports) looks as less problematic dam, almost harmless in comparison to Gibe III Dam that is destroying now Lake Turkana  World Heritage Site in Kenya (as well as affecting another site in Ethiopia),  and much less controversial than "Renaissance Dam" (GERD) on Nile River which right now brought the country at the brink of war with Egypt.
For TURKEY the IHA report is mentioning the 1200 MW Ilisu Dam in Turkish Kurdistan blocking Tigris River, drowning ancient town of Hasankeyf, displacing 50000 Kurds and threatening the Mesopotamia Marshes World Heritage site downstream;
In ECUADOR 275 MW Minas San Francisco Hydro is a typical long-delayed project enabled by Chinese contractors and loans, which price tag increased by 50% during construction process.
The IHA Report also celebrates successful efforts of TANZANIA to destroy Selous Game reserve World Heritage Property by developing Rufiji (Joseph Nyere, Stiegler's Gorge) hydropower plant with help of Egyptian contractors and Sinohydro (China Power Construction).
The Report also insists that INDIA has overtaken Japan as the owner of the fifth largest hydropower fleet installed. This sounds funny given that India managed to install only 154 MW despite a wide array of incentives for dam building introduced a year ago. What is not funny at all is that the IHA praises an "experiment testing hydropower's flexibility" in which Prime Minister Narendra Modi called on Indians to switch off lights at home for a Covid-19 vigil on 5 April 2020. The International Hydropower Association, by no means questions whether dangerously plunging down (by 31 GW!) the whole power system of the 1.3 billion nation could have been not the best choice of a symbolic gesture to achieve "feeling of national unity" around the supreme leader. Sudden switch-off in billion places could have caused a catastrophe in India's electricity grid and was avoided only due to high professionalism on grid operators.
At the time of publishing this record of destruction the IHA and 15 other hydropower associations (including such ,likely, fictitious types as Small Hydro Association of Mongolia) issued an appeal calling for hydropower sector recovery after COVID-2019 pandemic. They invite us to support new hydropower projects to tackle coronavirus, climate crisis impacts and pursue sustainable development.
The IHA's 2020 Hydropower Status Report vividly demonstrates that modern hydropower is intrinsically associated with enormous environmental and social costs; it is no longer the most affordable or most efficient source of low-carbon energy. Post-COVID 2019 recovery is our chance to make truly sustainable development choices preventing emergence of new destructive hydropower projects.