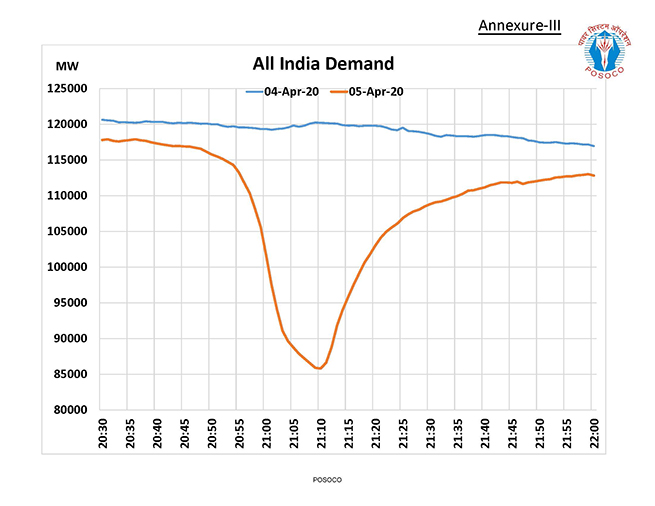 On April 3, PM Modi appealed to Indians to turn out their lights for nine minutes at 9 p.m. on Sunday. April 5th, to show solidarity amid the coronavirus lockdown with a show of lamps, candles and flashlights. Critics say it was done to distract attention from humanitarian problems caused by sudden country-wide lockdown imposed on March 25. "Salute to the light of the lamp which brings auspiciousness, health and prosperity, which destroys negative feelings," Mr. Modi tweeted at the time of the vigil.
Everyone mistakenly thought that PM Modi is training the nation in authoritarian magic of blind obedience.  The IHA (International Hydropower Association) opens our eyes: He was promoting hydropower!
Sudden switch-off in billion places could have caused a catastrophe in India's electricity grid. The International Hydropower Association, by no means questions whether dangerously plunging down the whole power system of the 1.3 billon Nation could have been not the best choice of a gesture to achieve "feeling of national unity" around the supreme leader. But the IHA hails electricity sector which could prevent extreme harm caused by recklessness of the Prime Minister. The IHA text follows:
The fall in demand of 31,089 megawatts (MW) – equivalent to the entire power demand of Pakistan – came after Prime Minister Narendra Modi called for Indians to switch off their lights for nine minutes at 9pm on 5 April, to express solidarity amid the Covid-19 pandemic.
While the Prime Minister's aim was to unite citizens during a time of crisis, the move presented a huge challenge for power operators, who are charged with managing grid stability.
Following Modi's announcement, the state-owned company reportedly held a conference call with all state load dispatch centres and major hydropower stations on 4 April, and began mock exercises on hydro ramping almost immediately.
As the country reached closer to the lights-off vigil, hydropower generation was maximized. When people began switching lights off between 8.45pm and 9.10pm, hydropower generation was then quickly reduced from 25,559 MW down to 8,016 MW to match the demand reduction.
Thanks to hydropower's unique flexibility, the stations were then able to ramp up within seconds to meet the increased demand, as Indian households began switching their lights back on.
In a preliminary report, POSOCO (National Load Dispatch Center) thanked hydropower operators, as well as thermal, gas and wind power operators, for their support and co-operation in meeting "this unprecedented challenge". "The event was managed smoothly without any untoward incident while power system parameters were maintained within limits," POSOCO said.
"This experiment provides a good example of how hydropower can provide flexibility and stability to the grid system under extreme circumstances," said Nicholas Troja, a Senior Hydropower Analyst at the International Hydropower Association (IHA). "It again highlights the need for greater investment in flexible generation sources, particularly pumped hydropower storage."
Professor Arun Kumar of the Indian Institute of Technology Roorkee said: "The support provided by the flexibility of hydropower resources to meet the rapid drop and rise in the demand on 5 April 2020 triggered policy-makers to seriously think of installing hydropower projects, along with pumped storage."
The RwB must note that this is the most innovative contribution to the current discussion on "how hydropower can respond to Covid-19" initiated by the industry. With all respect to heroic engineers who managed to offset negative consequences of authoritarian ignorance, we still firmly believe that safety of our power systems should not be sacrificed to propaganda exercises of irresponsible politicians.
Source: IHA web-site