by Eugene Simonov UWEC.
Russia's invasion of Ukraine and subsequent changes in political and economic cooperation between Russia and the world inevitably impact the Russian government's management of its internationally recognized biodiversity hotspots. Today, Russia has many fewer incentives to follow international laws and procedures in any sphere, nature conservation being no exception.

There is widespread disillusionment with all things Russian among western countries and international bureaucracies, further lowering incentives to cooperate with Russia in most international fora. Sanctions create both objective and assumed difficulties in acquiring modern technology, including that for the purposes of both environmental destruction and environmental protection.

Finally, the "hardships of war" concept provided an important opportunity to the business world and government to try to weaken restrictions and add loopholes into already ailing environmental legislation, policies, and practices. In this analysis UWEC Work Group's Eugene Simonov explores how these and other factors have impacted the jewel of all jewels – the Lake Baikal World Heritage property.
Jewel of Russian nature
Lake Baikal is the oldest (25-30 million years old) and deepest (1,637 m) freshwater lake on the planet with the largest volume of fresh water (23,000 km3). At the time of Lake Baikal's inscription on the United Nations Educational, Scientific, and Cultural Organization (UNESCO) World Natural Heritage List in 1996, the World Heritage Committee (WHC) noted that the Lake meets all four natural criteria of the Convention concerning the "Protection of World Natural Heritage": geological, evolutionary, scenic landscapes, and biodiversity. It has unrivaled freshwater biodiversity and endemism: of the 2,595 species and subspecies of animals described to date, 56% of them are endemic.
A special law "On the Protection of Lake Baikal" was adopted in 1999 for the protection of its namesake. The law prescribes that any proposed development project in the Lake Baikal watershed is subject to a thorough Environmental Impact Assessment (EIA) and imposes many Baikal-specific limitations on land-use types and pollution.
Over the last decade, scientists have documented an alarming number of problems, mostly in the lake's near-shore zone. This zone is critical to the health of lakes in general, because it sequesters nutrients entering from land, harbors the majority of lake biodiversity, and is an essential energy source for lake food webs. Serious problems at Baikal include harmful algal blooms triggered by nutrient pollution, mass mortality of endemic sponges caused by pathogens, pollution from PCB compounds and microplastics, and unnaturally fluctuating lake levels.
Lake Baikal is far from being neglected by the Russian authorities, who regularly issue decrees, instructions, and orders intended to boost its protection, but their efforts lack tangible positive results. Special orders signed by the President of Russia dated 12 September 2019 imply that past efforts to protect Lake Baikal have not yet achieved their goals, and that not all previous instructions have been implemented. In 2019, the President called on his government to introduce several urgent measures, but the government again failed to implement his orders. So, what has the war contributed to this already problematic process?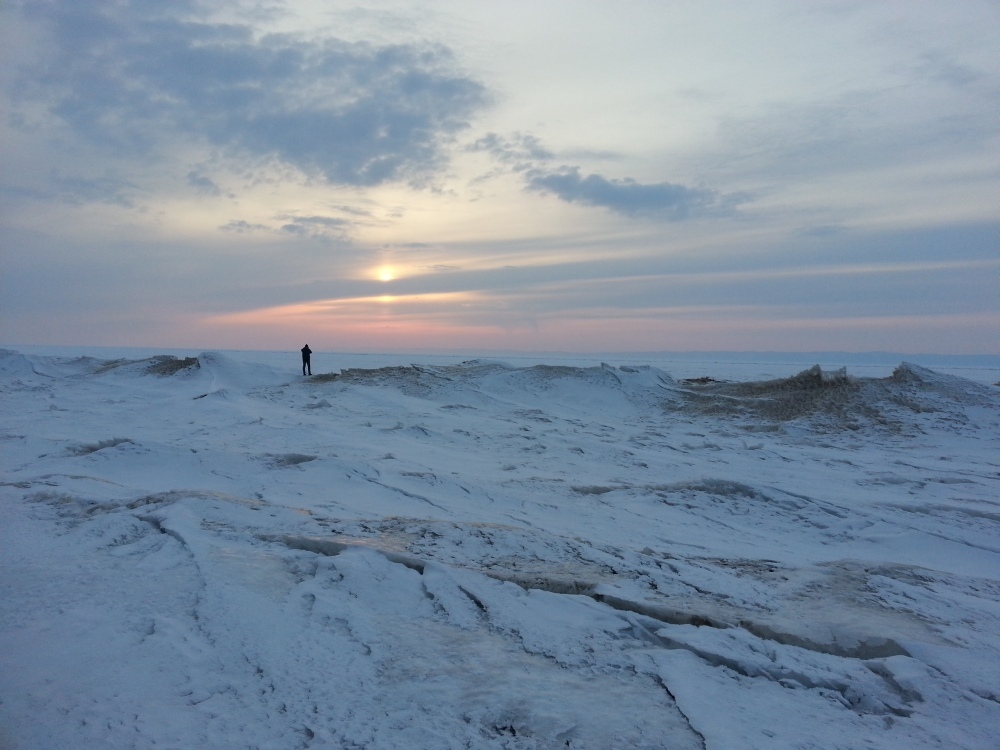 "Infrastructure" projects exempt from EIA procedures
Baikal Natural Territory (BNT) is generally defined as the entire Baikal watershed located within Russia's jurisdiction and adjacent industrial areas along the Angara River that may impact the lake through polluting emissions. It is situated along important transport routes, including the Trans-Siberian Railway and Baikal-Amur Mainline railway (BAM). In July 2020 Russia adopted a new federal law abolishing EIA requirements within Baikal Natural Territory's boundaries for "primary infrastructure" projects through 31 December 2024. Its main purpose is to accelerate exports of coal and other fossil resources to Asian countries.
On 25 March 2022, the Russian government submitted an anti-sanction measure for parliamentary approval of draft amendments to the law "On primary infrastructure." These changes widen application of the simplifications noted above to include "modernization and expansion of (any) priority infrastructure projects" of national, provincial, and municipal significance. The second draft contained additional categories: "pipelines for oil, gas, and other products" and "other infrastructure proposed by the Russian government."
UWEC Work Group has previously examined how Russian civil society rose in protest and prevented the worst amendments from being adopted. The final new law, enacted in May, only expands to include weakened regulations for additional transportation infrastructure, "government funded social infrastructure," "industrial projects undertaken for environmental purposes or for import substitutions," and "oil and gas pipelines."
Public pressure had successfully prevented any new relaxation of environmental standards within the World Heritage property's boundaries, despite many new activities now permitted outside those boundaries. The new law also paves the way for Power of Siberia-II gas pipeline development within Tunkinsky National Park and immediately adjacent to the Lake Baikal watershed. That pipeline is intended to link gas fields that previously exported fuel to Europe with China's large market by way of Mongolia.
This important episode shows that the actual intention to weaken environmental regulations in order to export more natural resources to Asia predates the war, but became a more urgent priority for the government as sanctions were brought to bear.
Coastal development and tourism pressure
Tourism has always been considered the most important economic activity within the BNT, but without proper planning and oversight its impacts are detrimental to nature. The property lacks a comprehensive plan for managing visitors to the parks and nature reserves, turning tourism from a sustainable development opportunity into a "threat to the Outstanding Universal Value" of the World Heritage property.
The 2022 "anti-sanctions" measures package approved by the Russian government includes accelerating allocation of land for tourism and recreational development. When travel abroad is blocked by sanctions, Russian citizens will need more recreational opportunities.
According to Irkutsk media, on 2 March 2022 Russia's principal development bank VEB convened an in-house meeting to discuss "areas of economic growth" aimed at greatly intensifying tourism at Lake Baikal in 2022 to overcome economic pressures.
After the onset of the Covid-19 pandemic, domestic tourism development became a high political priority, with Lake Baikal the best known tourism attraction in the entire nation. Today, doubling and tripling the number of Russian tourists visiting the lake is a high priority for regional and national authorities alike, despite the fact it has the most detrimental consequences for the unique natural ecosystem.
Most coastal pollution and eutrophication results from poor management of tourist facilities and ill-organized tourist hordes trampling fragile coastal vegetation in Pribaikalsky National Park. In addition, previously protected lands are being privatized en masse using various "gray" schemes supported by local and regional officials. Local entrepreneurs are rapidly building new tourism facilities along the lakeshore.
The federal government is initiating most of the destructive large-scale activities. VEB is preparing a master plan for the city of Baikalsk. The plan envisions a 30-60% increase in the town's population and massive development, including a huge influx of temporary workers, all of which may have additional negative impacts on the lake. The plan also includes construction of lucrative lakefront properties inside the usually off limits water-protection zone, land which does not currently contain housing or businesses. VEB is lobbying for an exemption from EIA procedures for its plan to build wooden multi-story buildings. President Putin urged the government to approve the Baikalsk Master Plan in September 2022 to allow speedy implementation. However, because VEB's "Center for Baikal Development" fell under western sanctions in late February 2022, its ability to implement planned activities with due rigor will likely be reduced.
Unrestrained and expedited development of domestic tourism infrastructure to replace now-inaccessible international tourism destinations is the most obvious and intensifying source of negative impacts on the Lake.
Baikalsk Pulp and Paper Mill (BPPM) – remediation of a former industrial area
BPPM closed in 2013 after dumping waste for decades directly into Lake Baikal. Since that time, inaction and disagreements between Irkutsk regional authorities and the BPPM Creditors Council (whose members include VEB, En + Group, and other actors with often conflicting interests) mean that stakeholders have been unable to develop a comprehensive plan or reach agreement about the site's reclamation and rehabilitation.
Without plans, waste, including reservoirs filled with roughly 6.5 million tons of the mill's lignin sludge, remain on site and at risk for accidents. With the new international political and economic reality, including March 2022 sanctions affecting the site, most reclamation activities were postponed for one year or more as critical imported equipment became unavailable.
The absence of proper wastewater treatment equipment is being addressed by lowering environmental requirements. Any changes in the site's protection regime, either proposed or implemented in order to "enable BPPM remediation" bring serious threats to bear on Lake Baikal.
In this respect, the activities of Rosatom's subsidiary company "FEO," tasked with cleaning up BPPM sludge ponds are especially opaque and worrying. In 2021, this company spent 400 million rubles from the state budget on unproven reverse-osmosis equipment, but it failed to meet the strict allowable impact limits for wastewater set to be discharged into Lake Baikal.
To solve the problem they have proposed that allowable concentrations for the discharge of multiple industrial pollutants in the lake and its tributaries be increased, some of those by 1,000%. This proposal does not contain or refer to any reasonable assessment of the consequences of such a move or possible alternative solutions. Nor does it consider the implications of allowing increased discharge of pollutants throughout the Baikal Natural Territory. Under likely pressure from FEO, Russian Academy of Sciences President Alexander Sergeev signed a letter approving some of these unreasonable regulatory changes in an attempt to silence the provincial academics opposing it.
Thus, lack of access to technology (or lack of desire to develop it) coupled with lucrative opaque contracts for "environmental remediation" create irresistible temptations to further weaken the environmental requirements preventing corrupt companies from getting multi-million ruble governmental contracts on their own terms.
Managing "salvage timber" forests
As wartime hardships accumulate, various actors seek to extract ever greater quantities of natural resources. It is no surprise that on 8 July 2022, several members of the Russian Duma and Senate proposed to amend the law "On Protection of Lake Baikal" in order to enable salvage logging in forests located in the Central Ecological Zone of Baikal Natural Territory, or, in other words, well within the boundaries of the World Heritage property.
Under the existing national forestry management system, salvage logging can only take place at a significant scale as a commercial activity financed by the proceeds of saleable harvested wood. In practice, allowing salvage logging near Lake Baikal is equivalent to allowing ordinary commercial logging, which, in the BNT, is also one of the main causes of forest fires, the majority of which are sparked near infrastructure facilities and logging sites.
In Siberia, forest experts and activists have repeatedly documented that "salvage logging" is the single most corrupted forest management activity, with at least a dozen high-profile criminal cases investigated over the last 3 years. Past regulatory and industry practices show that forests not destroyed by a specific fire or those that regrow after fires will be allotted for salvage logging. As a result, the condition of remaining forests will worsen, and fire hazards will increase as road infrastructure grows, further increasing the accessibility of forests. The amendment now under consideration is being promoted under the guise of "improving the local economy" and "salvaging at-risk forests."
Similar to UWEC Work Group's analysis of the gold-mining industry, the Russian government may seek to decrease socio-economic hardships in Siberian regions by easing access to natural resources for a wider spectrum of local stakeholders and explicitly at the expense of environmental safeguards.
World Heritage Convention – Stalled Mechanisms
For two decades Russia has been ignoring recommendations and decisions issued by the World Heritage Committee, which issues a new decision on Lake Baikal almost every year. By 2021 the State Party of the Russian Federation had failed to implement at least eight assessments required by the Committee to improve various aspects of Lake Baikal's management, ranging from water level regulation to forest fire impacts on water quality, from its general plan for legal improvements to EIAs for special economic zones supporting tourism development at the lakeshore.
In 2021, the World Heritage Committee raised the question of inscribing Lake Baikal on the list of "World Heritage in Danger" at its 45th Session (then scheduled for summer 2022 in Russia) and prepared to send a reactive monitoring mission, consisting of its own and IUCN's experts. The mission was scheduled for March 2022.
Such decisive steps prompted the Russian government to take the situation more seriously and task numerous officials with preparations for the upcoming mission. Russia even submitted an unusually long and informative (but still largely substandard) "State of Conservation Report" on Lake Baikal to the World Heritage Center in early 2022. During the same period, members of the Rivers without Boundaries coalition, Greenpeace, and other CSOs were preparing for meetings between the mission delegation and local activists.
However, after 24 February 2022, international companies canceled Russia's aviation licenses, ending transport connections between Siberia and the rest of the world, and the UNESCO Mission was no longer feasible. There is little chance of it still taking place in 2022.
Additionally, because the 45th World Heritage Committee Session did not take place as planned in Kazan, Russia in June 2022, further communication between Russian agencies and UNESCO has been understandably constrained.
Lake Baikal World Heritage site is the first victim of disrupted environmental cooperation mechanisms between Russia and the rest of the world.
Baikal's Future
It is clear that the Lake Baikal World Heritage property is in grave danger. Taking into account observed widespread environmental degradation and the systemic problems facing Lake Baikal (e.g., the absence of an effective management system), this property deserves to be inscribed on the List of World Heritage in Danger. In a time of peace, such a move could trigger development of a comprehensive plan for solving Lake Baikal's accumulated problems. Such a decision on the part of the UNESCO World Heritage Committee would be consistent with the spirit of President Putin's instructions issued in September 2019, instructions that still await implementation.
Unfortunately, the current political situation makes such a move potentially counterproductive in the near future, since it would very likely be interpreted by the vast majority of stakeholders as another political sanction imposed on Russia and therefore intentionally repudiated by relevant Russian agencies.
Recent success in preventing legislators from opening the Baikal Natural Territory to wider infrastructure development shows that some mechanisms to prevent further deterioration of the ecosystem are still available to the conservation community.
There is, however, a great likelihood that all branches of the Russian government will opt to solve war-time problems at the expense of Lake Baikal's ecological health.
Source: UWEC