This story published in Novaya Gazeta reflects new ugly grimace of war. Using now very popular "Russia's energy dependence" rhetoric and fabricated "evidence" the Mongolian proponents of large dams are trying to take revenge and silence local citizens and conservation NGOs who oppose construction of Erdeneburen Hydro by Power China company. Civil society members are threatened with fines and criminal charges of "sabotage" and "illegal cooperation with foreign agents". Rivers without Boundaries Coalition is accused by being directed by Russian secret service to ruin plans to achieve energy independence of Mongolia...
Foreign agents look after Putin's tiger
Eugene Simonov is the international coordinator of Rivers without Boundaries, a coalition that protects river ecosystems. Readers of Novaya Gazeta will know his work under the pseudonym of Semyon Laskin, where he was a contributor from 2005 through 2017, covering environmental relations between Russia, China, and Mongolia. Over that same period he also worked as a researcher at the international Dauria Nature Reserve, located at the crossroads of these three nations, in which role he was awarded the title of "Excellence in Nature Conservation" by the Russian Ministry of Natural Resources.
Considering these 17 years of collaboration, we thought that we knew everything about Simonov and were not terribly surprised when the Ministry of Justice labeled him a "foreign agent journalist" on 8 October 2021. Among Russian environmentalists there are more insolent characters, but perhaps no one with a wider international presence.
In Soviet times, Simonov studied nature conservation in the United States on a scholarship for "representatives of opponent-nations" and was a general consultant for the World Bank and Global Environment Facility's first conservation project in Russia in the 1990s. He lived in northeastern China starting in 2004, helping the World Wildlife Fund to create an Amur-Heilong River Basin conservation program. Simonov also undertook a private initiative to look after "Putin's Kuzya" a tiger that (after being released into the wild in Russia's Jewish Autonomous Region as a part of a presidential "zoological PR" campaign) unexpectedly crossed the border into China's Lesser Khingan region. In 2009, he joined colleagues in founding the Rivers without Boundaries coalition aiding local activists in a variety of the world's river basins, (including the Amur, Yenisei, Tigris, Salween, Rufiji, Ganges, Rioni, and Beaver Rivers) and spoke in Glasgow at the Climate Summit and meetings of the UNESCO World Heritage Committee. In 2020, the Covid-19 pandemic and local authorities forced Simonov out of China to Israel. From there he made his way to New South Wales University in Australia, where he is writing a dissertation on river conservation in the context of international financing of development programs.
Eventful August in Mongolia
The Chinese Foreign Minister and the UN Secretary General both planned to visit Mongolia in early August. Mongolia, sandwiched between Russia and China, is currently experiencing a severe economic crisis and is now, more than ever, more dependent on financial injections and outside support. Without it, none of its "strategic megaprojects" — large dams, coal-fired power plants, water diversion canals, etcetera — can gain traction. Many of the projects promoted under the Mongolian Revival Program were first conceived in the Soviet era and have corresponding scope and social and environmental costs.
After a 3 August Cabinet meeting, Minister of Justice Nyambaatar announced roughly the following in an apparent move to ensure the smooth reception of its important guests: "Dear comrades, due to the fact that some bad person submitted a complaint to the Chinese embassy on behalf of local herders, investment in our Erdeneburen hydropower project has been stuck for two years." Upon considering this incident, the Mongolian cabinet announced that anyone who expresses doubts, acts, or makes statements that result in delayed implementation of strategic development projects will be charged with sabotage under Mongolia's Criminal Code. In addition, the government has the option to demand compensation for lost economic benefits from those responsible for that delayed implementation.
Novaya Gazeta Europe sent an official request for comment to Minister Nyambaatar.
On the very next day, a link to an article published by Nosvox, identified as "German media," appeared in Mongolia's media. That article stated that Russia's main goal is committing energy blackmail on its neighbours in order to strangle any development projects that could be ending their dependence on Russian fuel. The article went on to say that the Rivers without Boundaries coalition, led by Eugene Simonov, had successfully blocked Mongolia's energy development in the interests of the Russian Federation and that many energy projects had been halted thanks to collaboration with the "Russian spy" Simonov and the Mongolian activist he recruited: Sukhgerel Dugersuren. Furthermore, in 2014, although the government deported Simonov, he did not end his sabotage and continued to inspire his collaborators from abroad, apparently fueling these "agents" with "Russian money." Now, Simonov has recently gained a new cover, having been labeled a foreign agent by Russia, a status which affords him the opportunity to act in Russia's interests with even greater sophistication. "Proof" of his actions is provided in the form of his correspondence with Mongolian environmental activists. Indeed, screenshots of his correspondence with Mongolian activists were included in the article, wherein he joked that the Russian Ministry of Justice's assignment of the "foreign agent" title to him will finally help dispel the Mongolian authorities' bias. The correspondence is trivial, but how did the unknown author get access to it?
Surprisingly, the "German journalists" write all about it, retelling the contents of the "Liberty Podcast" program on YouTube released six months earlier, during which former head of River Basins Management within the Ministry of Environment of Mongolia Gongorzhav Ganbat very drunkenly tells three drinking companions sitting at a table littered with bottles, about Simonov's intrigues. He does this in clear Mongolian (thanks to colleagues who shared the subtitles with Novaya Gazeta. Europe). So, it is strange that the article, released under a pen name of a seemingly non-existent Glenn Parker in clearly machine-translated quasi-German, contains similar accusations, now supplemented by "evidence" that only law enforcement should be able to access.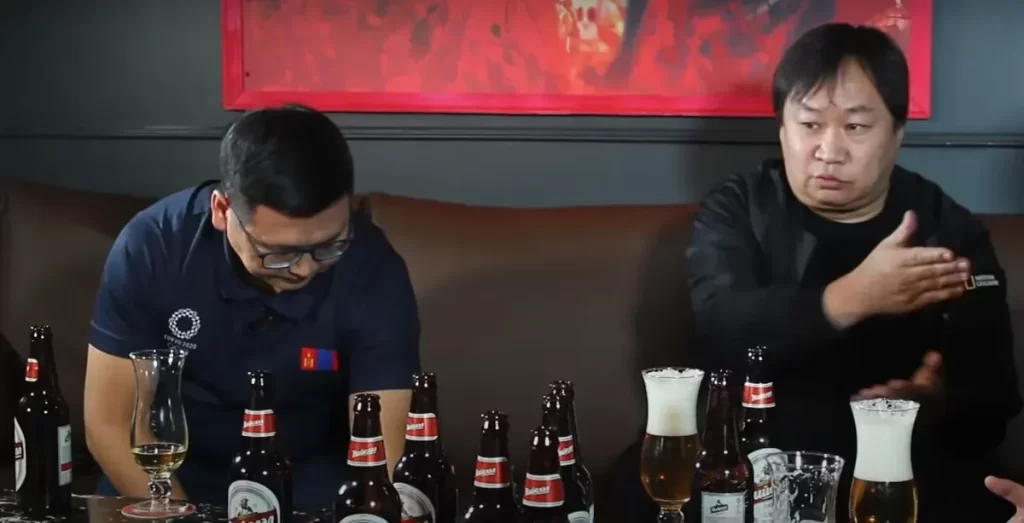 Former head of River Basins Management within the Ministry of Environment of Mongolia Gongorzhav Ganbat (on the right) on a YouTube show "Liberty podcast". Screenshot
Novaya Gazeta. Europe invited Gongorzhav Ganbat to comment on Twitter but he has not yet replied.
What happened next was familiar to anyone who knows the Russian way of doing things: social media immediately latched on to this news from the "European press" containing "proof" of guilt. The UN Secretary General and head of the Chinese Foreign Ministry were subsequently welcomed without any disruption or public demonstrations against the Erdeneburen hydropower plant.
In the end, Chinese Minister Wang Yi, who visited 7-8 August, promised to accelerate construction of the Erdeneburen plant, targeted to provide electricity to parts of western Mongolia.
During a meeting the next day with the UN Secretary General, Mongolia's Prime Minister noted that Mongolia has a remarkable clean energy project — the Egiin-Gol hydroelectric power station — planned for a Mongolian tributary to the Lake Baikal basin that the government really wants to implement, but the UNESCO World Heritage Committee is standing in the way and Mongolia needs UN assistance as a country locked between two superpowers, etc. Guterres shook his head and replied in the same spirit, assuring that the UN would try to promote the project after the World Heritage Committee completes its review.
Notably, these promises were made at a time when all of the opponents of the project and others like them had been threatened with charges of "sabotage" and "cooperation with foreign intelligence" and prison terms of 4-15 years in Mongolia. Neither Wang Yi nor Guterres apparently knew of that.
As soon as these guests left Ulaanbaatar, Minister Nyambaatar in an interview, called for investigations of the activities of Ms. Sukhgerel (director of the Mongolian branch of Rivers without Boundaries), shepherds protesting the hydropower plant, and several nationalist organisations that are disrupting oil explorations by Petro-Matad on steppe grasslands near the border with China. "All of these 'fighters' are acting in foreign interests with money from abroad," the Minister stated, without awaiting the investigations' findings. Media sources are concurrently quoting the German Nosvox as the main evidence of the Rivers without Boundaries coalition's guilt.
Kremlin's fake news media outlet attempts to take a dump in Mongolian rivers
The Nosvox website was founded by the German firm Nosvox UG and started in 2010 as a freaky public blog site with obviously authentic German articles about soccer, German politics, and everyday topics. Now the website, chosen to post a denunciation of environmentalists, is filled with texts in unreadable German. Its recent articles largely focus on a worldwide conspiracy against Russia. One gets the impression that the author of the article sharing accusations against Russia for blackmailing Mongolia at the hands of Simonov and his associates did not read the rest of the articles on the site, since he simply did not know German.
The site bills itself as an "independent and democratic online newspaper made by readers for readers." Here are a few sample headlines to comprehend the sort of readers now working as site contributors: "Neither our own nor others need traitors" regarding Ovsyannikova, "… mit einem Stein hinter dem Nebenhöhlen" ("… with a stone to the paranasal sinus") — about an NGO that helps orphans and is accused of soulless "Protestant religious propaganda." The source language and how the translation was done is immediately clear:
when the Russian proverb "with a stone in your lap" is entered into the Yandex Translate site (Russian tech company providing Internet-related products and services — translator's note), the result is "Mit einem Stein hinter dem Nebenhöhlen", i.e. "with a stone behind the paranasal sinus"!
Google Translate does not produce that same translation. Yandex blew their cover.
Other publications on the site are of comparable quality and intellect: biolabs in Ukraine, coronavirus produced by American swindlers, and American and British murderers of children. Some articles even have untranslated Russian words containing typos, where Yandex Translate was unable to translate them. Almost all of the most recent articles on the site (upon review of a few dozens of headlines) have a variety of pro-Kremlin conspiracy theories. Pro-Mongolian (and thus theoretically anti-Russian) conspiracy theories are found just once — in the very article about the terrible "Russian agent" Simonov.
The "German" Nosvox website is little known. It has never occurred to a single Mongolian, Chinese, or German media source to select this "democratic internet newspaper" as an information source. A few pro-Kremlin Russian media sites have, however, used the site. "Wife of captured Ukrainian soldier … accused the Zelenskyy regime" and the "Czech have still not answered for these heinous crimes" were both used for content.
So, we see a classic propaganda dump, with articles translated from Russian using Yandex Translate. This is a standard scheme for legalising Kremlin fakes using a formally "foreign media."
Who owns the scrap-heap?
Via Facebook and email we reached out for comments to one of Nosvox UG directors, the corporate founder of the Nosvox website: real estate broker Klaus Fischer-Stabauer. Why would someone who appears to be a normal, cheerful Bavarian married to the granddaughter of Archduchess Teresa of Bavaria , who campaigns for the Christian Social Union on Facebook and had a 2020 run for Neuberg an der Donau city council, host this muck-raking writing? A similar request was made to another co-director of the site, Christian Winhart. We did not receive a response by the time of publication.
Nosvox UG Klaus and Maximilian Fischer-Stabauer and Christian Winhart founders seem to have nothing to do with site's content, which resembles a blog platform, along the lines of LiveJournal. The site does not have an editorial office, but hosting alone costs at least €300 a year, and, knowing practical Bavarians, it is hard to believe that they would waste the equivalent of 60 mugs of beer on Kremlin rubbish. They probably do it for the sake of old football publications from 2010.
Nevertheless. "Democratic media" Nosvox opened a Twitter account in 2012, but even so, almost no one follows it. The account tweets continuously about the same things: "Western governments finance Ukrainian terrorism," "France is a victim of British neoimperialism," "Poland wants to divide Ukraine." At the same time, Nosvox's tweets, unlike the site itself, are published in standard German.
On 22 December 2017, the account retweeted a post by a supporter of AfD, a far-right pro-Putin party in Germany, that called, "Shame!" regarding a German religious charity that returned a €100 donation from AfD. Unlike the website, the Twitter account only allows tweets by the account owner, not the general public. What motivated the benevolent, conservative Bavarian Catholics to publish the Kremlin's conspiracies? That remains unknown. We would be pleased to share their reply on the pages of Novaya Gazeta. Europe.
Dr. Thilo Papacek, director of the German NGO GegenStrömung — INFOE e. V. ("Against the Flow") and long-time collaborator with Simonov and Rivers without Boundaries, verified that Nosvox is simply a public blogging platform. Papacek published a reasoned rebuttal of the denunciations of Simonov and Sukhgerel, pointing out in particular that, "Low linguistic quality, coupled with the fact that the text includes fragmented screenshots of actual correspondence between Simonov and Sukhgerel (the authenticity of which Simonov confirms), suggests that the article was prepared by employees of Mongolia's General Intelligence Agency (GIA). On 2 August, GIA agents informed Sukhgerel Dugersuren that she was under investigation under Criminal Code Article 19.4 "Illegal cooperation with foreign intelligence services and agents." It is thus likely that the article was fabricated for use as "evidence" in this investigation.
Why do we have every reason to believe that the denunciation of Simonov, Sukhgerel, and Russia involved Kremlin experts? Imagine that you are a Mongolian special service officer (prosecutor, minister, etc.) and you need to publish an article supposedly authored by a foreign journalist somewhere on the internet. What are your options? Twitter, Facebook, Instagram, their Chinese counterparts. Worst case — LiveJournal or Yandex.Zen. But no! A website unknown to anyone except Kremlin stooges is located in the depths of the internet. Only they know of its existence and could suggest its use to someone. And that, of course, hints about the involvement of Russian agencies.
Interrogation of double agent Simonov
Using long-standing and almost official connections, we interviewed Simonov.
Novaya Gazeta. Europe: What have you been doing over the last eight years in Mongolia?
Simonov: It's a sad coincidence for sure — it's been exactly eight years since I was banned from entering Mongolia. Truthfully, I have plenty of work on saving rivers in Russia and a dozen other countries, but Mongolia's rivers are an important landmark in the Rivers without Boundaries coalition's work.
The largest, most well-known Russian-Mongolian collaboration connected with river protection took place between 2014 and 2018, when we participated in simultaneously assessing three large hydropower projects in the Selenga River — Lake Baikal watershed.
Two of these were supposed to be designed using World Bank funding, while the Egiin Gol hydropower project on a large tributary of the Selenga Rivers had already been designed with Asian Development Bank and some European funding. When it came to actual construction by Chinese company China Gezhuoba Group Company, China's Eximbank gave a loan.
On the one hand, local residents had many objections to the destruction of these rivers, the area's unique flora and fauna, fisheries, and pasture and cropland in the river valleys. There were also fears that the construction of large dams in the Selenga River basin would have additional negative effects for the entire transboundary Selenga River and Lake Baikal itself.
In 2012, the Mongolian government and the World Bank initially hired me as an international expert to conduct a design justification for re-routing the Orkhon River into the Gobi Desert that met with World Bank requirements. When I described over the course of one hundred pages that it would not be possible to start construction tomorrow, but instead insisted on taking a step back and starting with better strategic planning, my Mongolian employers sought to fire me. However, the World Bank reviewed it and said that what I was writing made perfect sense, and that the project should be properly designed, and not just for the sake of disbursing funds. At the time, today's denunciator, Ganbat, was the head of a Ministry department and was instructed to ensure the rapid advancement of the Orkhon River's water diversion, so he has a personal grudge against me. Apparently, my meticulousness harmed his career.
Novaya Gazeta Europe would be pleased to publish Ganbat's response.
All other dams in the Lake Baikal basin were designed just as carelessly, ignoring environmental and other safety standards. Members of Rivers without Boundaries began going around Mongolian agencies and seeking to address this outrage, giving media interviews, asking hard questions, and submitting requests to make information about environmental and social impacts publicly available.
It is clear that Mongolian bureaucracy took a strong dislike to the coalition, regularly declaring it to be someone's agents and spies, depending on the situation. In 2014 the government expelled me without a trial; and though I am a Russian citizen, they deported me to China. They marked my passport "deported for 10 years."
When Sukhgerel, Ulaanbaatar-based director of River Without Boundaries-Mongolia, filed a lawsuit and tried to find out why the organisation's council member was kicked out of the country, she was told that Simonov was recognised by the Immigration Agency as "a person representing a potential threat to national security," and that the nature of that threat is classified information. In 2015, three UN Human Rights Rapporteurs together queried Mongolia about the legality of my deportation, but received no reply ….
Well, this really ticked us off. In order to force project initiators to evaluate the risks, Mongolian and Russian activists jointly submitted a complaint to the World Bank's Inspection Panel. With coordinators in both Russia and Mongolia, the Rivers without Boundaries coalition helped local residents to file complaints and helped experts to participate in assessments, etc.
Under pressure from the public and the UNESCO World Heritage Committee, the World Bank's own mechanisms forced it to begin planning comprehensive impact assessments, while Mongolia's government began to resist, further delaying the process. At this point, it immediately became clear that these projects were not viable — the Bank did not complete a single one of the assessments.
The Chinese, on the other hand, took a simpler approach; when they received a letter from a resident of Buryat Republic (Russia) in 2016 regarding the fears of local residents that a hydropower project would impact their way of life and Lake Baikal itself, they canceled this funding and reallocated it to other useful projects in Mongolia, including, for example, a wastewater treatment plant for Ulaanbaatar.
Mongolian activists and local residents were once again convinced that they could be protected from the carelessness and arbitrariness of their own authorities using international procedures for environmental assessment and filing complaints with development banks.
For the Mongolian civil society such abolition of a safe process to discuss project problems with banks and donors is tantamount to eliminating the option to apply to the European Court of Human Rights (ECHR) in the Russian context. Mongolia has essentially no other mechanism comparable to ECHR.
Novaya Gazeta. Europe: Who is Sukhgerel and why do they want to jail her?
Simonov: Sukhgerel is an experienced Mongolian human rights activist who is adept at using international procedures to protect the rights of local residents, mostly those rights that are violated by the international mining industry.
Working with Rivers without Boundaries is her "hobby"; she receives no compensation and devotes minimal time to this work. That said, she is known internationally as the executive director of Oyu Tolgoi Watch (OT Watch), a Mongolian NGO that was successful in bringing the transnational company Rio Tinto to the negotiating table and forcing it to make concessions to local nomadic pastoralist communities in the South Gobi. Rio Tinto yielded to Sukhgerel 5 years before yielding to Mongolian Government.
Among environmentalists, she is the unquestioned authority on encouraging international banks and corporations to consider the rights of local residents. Oppressed residents from remote communities often turn to her. For this reason, she is simultaneously greatly disliked and deeply respected by the Mongolian officials.
Last year, Mongolian herders from Khovd Aimag turned to Rivers without Boundaries about the threat to their lands posed by Erdeneburen Hydropower Plant. The Khovd River basin is a closed system, draining into the Great Lakes of western Mongolia, and specifically Lake Khar-Us, the largest wetland of international importance in Mongolia. A decade earlier, two small hydropower plants erected on other rivers in western Mongolia had very negative social and environmental impacts, effects that were, naturally, hushed up.
With the help of our freshwater ecosystem experts, Sukhgerel began to help herders formulate their claims and explain what legal leverage they have. At the end of last year, herders also brought a statement to the Chinese embassy about their dissatisfaction and issued their demands to the Mongolian authorities. They demanded that the project be formally assessed, because there have been no answers to the question of what will happen to fish stocks, bird populations, or people.
In other words, it was a completely normal process for local residents acting on their rights, work we have been facilitating for over a decade.
But today, Mongolia has a largely one-party system, with all power concentrated in the hands of the same former Communist Party with very authoritarian manners and, generally speaking, a rather corrupt system. For example, in the case of Erdeneburen Hydropower Plant, its cement plant is owned by an elected legislator and other assets belong to another legislator.
While the World Bank financed such projects in the past, then many multilateral banks encountered problems with such megaprojects, and today China has become the main sponsor of these types of projects in Mongolia. China itself is not especially happy about this, but it cannot immediately deny the ill-advised wishes of the Mongolian government without some sort of excuse. This is the point at which the herders went public with their demands. Naturally, "Power China," the largest corporation which, despite party orders to do so, wishes to avoid involvement in a deliberately unprofitable project in the current geopolitical situation. Therefore, it declared that since there is no agreement on the ground, it would not build now, but rather await a proper resolution of the issue in Mongolia.
It must be said that the project itself is quite small by world standards, only 90 megawatts, while its price-tag is huge — over $280 million. The project involves a lot of destruction, but it will not bring any benefits to the Chinese corporation itself. On the other hand, its production potential is two-three times greater than the current power demand of all the regions it is intended to supply. Accordingly, it presents a huge economic risk, because if, in these turbulent times, rapid development of energy-consuming industry does not begin in this remote and inaccessible region of Altai, then it simply will not sell a significant portion of its energy, except perhaps cheaply to the adjacent region in China. Naturally, today there are other less expensive solutions to solve this problem, but this is a question for the energy sector.
The Mongolian government is not concerned; they declared the dam a "strategic project," and now they appear to have decided to hide behind wartime rhetoric and to disguise their economic mediocrity, clannishness, and corruption with me as the "hand of Moscow". After all, they write without a shadow of humor that the actions of the Rivers without Boundaries coalition slowed the development of Mongolia's energy sector at the behest of the Kremlin.
Novaya Gazeta. Europe: Who stands to profit from this and what happens next?
Simonov: Mongolian officials are driving themselves into a tragic situation.
Mongolia is dependent on its neighbours for electricity. The country imports 5% of its consumption from Russia and 15% from China. In terms of oil and gas dependence, things are much worse, with Russia providing almost 80-90%, and hydropower will not help here. Historically, Russia has always behaved very boorishly in its relations with Mongolia, and China is not much better.
We have repeatedly asked the Mongolian authorities to seriously consider the prospect of transforming from an energy importer into an exporter, possible only through the development of solar and wind energy as well as international cooperation. Considering climate change, Mongolia's hydropower potential is practically negative, but the country has a huge potential for solar and wind power generation, a fact that is clearly seen in neighbouring regions of China, where wind and solar plants with production capacities the size of several Mongolian power systems are commissioned each year. In June, Sukhgerel and I discussed this situation with colleagues from the Asian Infrastructure Investment Bank and came to the regretful conclusion that Mongolia's window of opportunity had narrowed significantly — the era of a global energy grid is being postponed.
It is inappropriate for Mongolia to consider adopting Europe's strategy of "ending its dependence on Russian energy" (regardless of whether that European strategy is considered successful). The country is sandwiched between two giant autocracies and can only survive by balancing between them, as well as with distant "third neighbours" — countries or institutions that are ready to help advance Mongolia's development from afar. India, for example, contributed $1 billion to build an oil refinery that could reduce its energy dependence on Russia. Electricity, where dependence is lower and deliveries are smaller than those to China, long ago ceased to be a leverage point, but rather became the Russian Federation's the Achilles' heel. Mongolia demonstrates an extraordinary ability for environmental blackmail, thanks to Lake Baikal's role as a meaningful national symbol for Russia. After the investigations between Mongolia and Russia related to Baikal noted above, a more progressive agreement on the energy sector was signed between Mongolia and Russia, while the question remains of how to start implementing it in current conditions.
Returning to the present, on 3 August, the Mongolian government announced that the concept of protecting human rights and protecting biodiversity does not apply to "strategic projects" within its borders. From now on, it is impossible to identify shortcomings in the conclusions of environmental assessments and impossible to complain about violations that occur in the course of development projects. Or rather, you can, but the state will punish you.
Such a position will inevitably result in rejection by the vast majority of other countries, starting with World Bank members, given that this move contradicts UN standards and a dozen other conventions and accepted practices used by successful development projects.
We would like to believe that even China will be dismayed. That nation is, of course, prepared to undermine the "American world order," but will not do so in this manner. The first decade of China's Belt and Road Initiative has forced the country's strategists to reassess approaches to overseas financing in favor of more cautious and responsible ones after learning difficult lessons that poorly thought-out projects in corrupt countries are a waste of money.
Novaya Gazeta. Europe sent an official request for comment to the Chinese ambassador to Mongolia and China's Exim Bank.
It's likely that it may be the Kremlin that rejoices: if all third-party donors turn their backs on Mongolia in light of obvious human rights violations, the Kremlin, having done nothing, will strengthen its uncertain geopolitical positions in Mongolia and also save this neighbour from the need to comply with conventions in the field of human rights protection. Mongolia's new attempts to build the Egiin-Gol Hydropower Plant on a tributary of the Selenge River may, in time, divert international attention from numerous gross violations of the UNESCO World Heritage Convention, which the Russian authorities also allow in Lake Baikal's watershed within their jurisdiction. Well, there's also a little for Russia to take pride in: after all, Mongolia is creatively adopting experiences in Putin's Russia to stigmatise dissenters as "foreign agents" and further suppressing them, especially when the victim is Rivers without Boundaries, a coalition that haunts both the would-be Mongolian and Russian destroyers of internationally-significant and valuable natural areas.
Translation: Jennifer Castner
Source: https://novayagazeta.eu/articles/2022/09/01/double-foreign-agent
https://novayagazeta.eu/articles/2022/08/29/gadaadyn-agent (original in Russian)