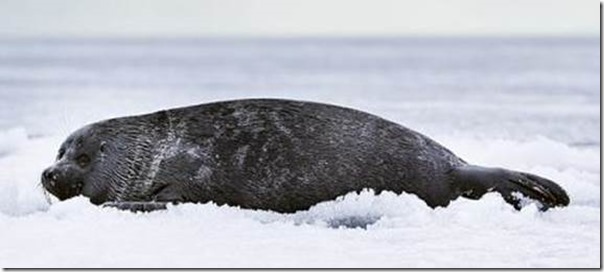 A Baikal seal on Lake Baikal. By Per Harald Olsen – Own work, CC BY-SA 3.0.
London-listed En+ Group published its 2017 financial results  with revenues exceeding USD 12 billion and "environmental  provision"  of mere USD 3 million.  On the same day  James Cusick  questioned. In openDemocracy UK the behavior of  the Lord Barker of Battles – new chairman of Russian En+Group, that claims it operates "green" hydropower, while destroying Russian rivers and lakes. We really appreciate that in times when other press is preoccupied with political struggle and poisoning the openDemocracy.UK  pays attention to more long-lasting and consequential issues of environmental safety, sustainability, corporate responsibility and related ethical issues. We republish a shortened version of the article.
With relations between Britain and Russia in severe crisis, the timing of a Russian company's efforts to raise billions on the London Stock Exchange couldn't be worse.
Russian-owned companies, especially those with chequered international reputations, which have created a veneer of boardroom respectability by employing "puppet" executives from within the UK financial establishment, are understood to have hired expensive reputation-rescue specialists experienced in crisis-management. Their strategy? Survive whatever happens next.
One firm in the firing line is the En+ Group. Well before the attack on the former Russian double agent and his daughter, investors in the Russian energy company, En+, were increasingly questioning the leadership of its non-executive chairman, the former UK energy and climate change minister, Lord Barker.
En+ Group is owned by Oleg Deripaska, one of Putin's inner-circle of favoured businessmen and perhaps best known in the UK for hosting meetings with both George Osborne and Peter Mandleson on his yacht in 2008.
Deripaska's company, listed on the London Stock Exchange (LSE), will formally have a new president this week when Deripaska steps down. He is replaced by the company's former CEO, and deputy, Maxim Sokov.  Deripaska will remain as a non-executive director.
Barker was appointed last year, according to insiders, to help give Deripaska's company a House-of-Lords respectability. Before his political career, Barker worked for Sibneft, an oil company owned by oligarchs Roman Abramovich and Boris Berezofsky.
He stepped down as an MP in 2015 and now sits in the Lords. He retains close links to David Cameron and George Osborne, now editor of the London Evening Standard newspaper. 
Sokov described the appointment of Lord Barker in October last year as reinforcing "En+ Group's commitment to best standards of corporate governance."
The investor commented: "The noble lord chose to ignore En+'s questionable  environmental credentials, and now he's calling the corporate chess moves to take Deripaska off the main billing, 'well-earned promotions'. That's not leadership, that is Neanderthal PR – and the FCA (Financial Conduct Authority) should begin to take an interest."
Barker recently repeated the assurances given by Sokov saying that, under him, the board were "committed to the highest levels of good corporate governance".
Market analysts in London raised private concerns that there was a serious name-brand risk for any company associated with Deripaska.
Lord Mandelson's Global Counsel, and the "puppet chairman"
Lord Mandelson's Global Counsel firm is reported to have been hired to advise En+ on its climate change policy.  Global Counsel has unofficially insisted that Peter Mandelson will not be working directly on the En+ account. UK corporate governance rules make it clear that "directors should lead from the top" to ensure good standards permeate through a company. Openness and consistency of information given to investors is deemed critical.  One senior fund investor, with knowledge of En+'s internal affairs (who asked not to be named), said Barker was essentially a "puppet chairman" and that Deripaska remained in full control.
Another potential investor told openDemocracy: "There were serious doubts about full information being absent from the prospectus last year which raised $1.5 billion in an IPO (initial public offering). The company, with Lord Barker's approval, was describing itself as an 'integrated clean energy' organisation when there were serious allegations which centred on the environmental stewardship of many of their assets."
Global Counsel have so far made no formal statement on their work for En+.
'Green business?'
The  environment protection group, Rivers without Boundaries (RwB), contacted the Financial Conduct Authority (the UK's financial watchdog ) ahead of the IPO.  RwB complained that En+ were describing themselves as a "green business" when hydro-electric projects and at least one coal-fired power station run by En+ were adversely affecting water management systems around Lake Baikal.
RwB alleged that En+ were failing to fully comply with ecology guidelines agreed with UNESCO's World Heritage Committee. Water level fluctuations around the lake – which caused destruction of low-lying lake banks, and affected the population of freshwater organisms, birds and other wildlife – were, RwB claimed, being affected by the industrial activity of En+Group in the Baikal region.
An international coalition of environment pressure groups, including RwB, claim that the FCA promised last year that they would look into En+'s disclosures about the environmental impact of their Russian businesses connected to Lake Baikal. The FCA would make no comment on whether or not that promise had been acted on.
At the end of last year, in the run up to En+ being listed on the LSE, Barker's appointment was seen as no big deal; a traditional move designed to give establishment respectability to a Stock Exchange listed company. Others saw Barker, the former shadow environment minister who accompanied David Cameron on his husky-dogs trip to the Arctic in 2006, and a Tory MP badly snared in the 2009 expenses scandal, as there to do what Deripaska told him to.
OpenDemocracy tried to contact Lord Barker at his office in parliament and through En+ in Moscow. We received no reply.
.UNESCO and Baikal crisis
En+'s hydro-electric assets include dams linked to Lake Baikal, a Unesco world heritage site and the world's largest lake, holding a fifth of the world's unfrozen fresh water. Ecologists say the lake's eco-system is in crisis, with key fish populations falling and evidence that putrid algae is now causing wider damage. Identified culprits for the crisis include over-fishing by commercial fisheries, climate pressure, and waste run-off from increasing levels of tourism. President Putin recently visited the lake and said the extremely high pollution levels needed action, and that preservation was now a government priority. "Baikal belongs to the entire planet" Putin claimed. However the Russian president's track record on ensuring that industrial plants near the lake behave responsibly remains uneven.
En+'s Angara Cascade hydro-electric plant depends on water flowing out of Lake Baikal. The Baikalsk pulp and paper mill, once owned by Deripaska, is now closed. Along with the Irkutsk dam, these are industrial developments recognized as causing the greatest degradation of the lake.
The United Nations formally recognized that water management was critical to the lake's survival and notified the Russian government it had concerns about how fluctuations of the lake's maximum and minimum water levels were being ignored. The En+ Group were accused of failing to have a long-term environmental plan that put ecology before profit.
Full disclosure demands
Eugene Simonov, the director of RwB said potential investors had a right to know the full environmental picture of En+'s  industrial activities linked to Lake Baikal. Simonov said that unless there was "full disclosure" by En+ in their LSE prospectus, those investing in the company risked "substantial material losses and under-performance."
Simonov told openDemocracy that four months after writing to Barker, there had been only silence. He said: "We heard from a local En+ official in Russia and were told we should NOT go straight to the Lord [Barker] who is chair of the board. But  we still did – and we've heard nothing back from him. Since the IPO we believe the Russian government have allowed Mr Deripaska to drop and raise the level of Lake Baikal as he pleases."
En+ called Simonov's criticism of the environmental record "false". A company statement said that all applicable regulations had been complied with.
Last month, En+ invited international banks to pitch for the sale of $1 billion worth of shares in the Deripaska company. For any chairman, let alone one taking orders from a Russian oligarch, the share sale will be difficult to navigate.
What happens now, and what form the high-stakes diplomatic and financial battle takes between Moscow and London, is expected to have a direct effect on the UK's markets at a time when they can least afford to have any global company like En +, Russian or not, left out in the cold.
Source: https://www.opendemocracy.net/uk/james-cusick/putin-s-pal-and-british-lords-cleaning-up-russian-energy-giant