I represent the Rivers without Boundaries International Coalition (RwB), that works for sustainable management of transboundary river basins in Northern Eurasia -Russia, Mongolia and Central Asia.
I am here to raise awareness of potential challenges induced by China's New Silk Road Strategy that is becoming a driver for development in the whole pan-European region.
By now 70 countries already take part in it, majority of them are UNECE Member States and many are Parties to different UNECE environmental agreements.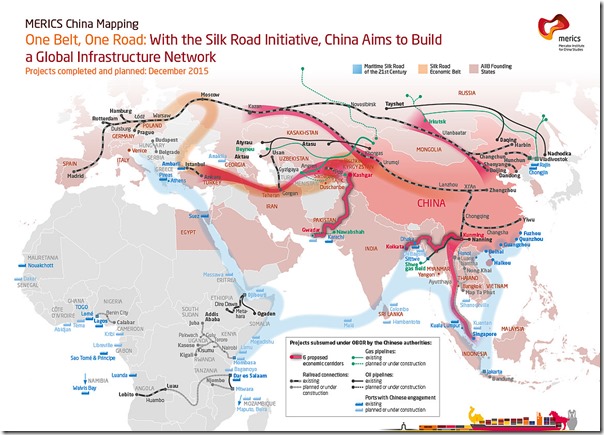 Shift to Green Economy is the main focus of this EfE Conference and the New Silk Road Strategy is one of the key variables defining in what form and how soon this shift will proceed.
UNECE countries and intergovernmental bodies have great potential to promote the UNECE pan-European experience with its legal and policy instruments to the New Silk Road initiative. This would lead to establishing a successful model of environmental governance for the continent-wide "New Silk Road".
Otherwise unintended impacts resulting from this Strategy may produce a new "rust belt" in the middle of Eurasian continent. As the UNESCAP Executive Secretary Shamshad Akhtar put it at the 72nd session in May: "Corridors and cities (built on the New Silk Road) must not be locked into unsustainable infrastructure and urbanization patterns (see UNESCAP Secretary Concerned with Unsustainable Resource Extraction along the New Silk Road) )
At this vital moment when China is the Green Economy Champion at G20 it is critical to address and fix the problem of apparent lack of Green Development mechanisms and unified safeguards in this largest (money-wise) integration effort happening in Eurasia.
Without bridging the UNECE tools such as environmental agreements and the Pan-European Strategic Framework for Greening the Economy with the New Silk Road Strategy, as the largest investment and integration effort in the same geographic space, risks of non-sustainable and very dirty development are growing dramatically. (See our presentation on the web-site).
The Batumi Conference provides the key opportunity. We ask UNECE Member States to explore possibility for initiating a process through which environmental and social standards already agreed within UNECE are promoted to and used when developing Silk Road Economic Belt. UNECE has full spectrum of such proven tools (e.g. on environmental assessment, public participation, water management) that can be of great benefit to this development strategy to bridge Asia and Europe and stimulate cooperation between both regions.
Depending on your action or inaction now the New Silk Road Strategy may become the greatest promise or the greatest drawback for green development in Eurasia as well as decisive factor in improvement or deterioration of public participation mechanisms in development processes.
Eugene Simonov
International Coordinator, Rivers without Boundaries Coalition
Intervention at  the "Greening the economy in the pan-European region" roundtable of the "Environment for Europe" Conference in Batumi, June 9,2016