The first time a UN regional body established explicit cooperative program to facilitate sustainable development on the New Silk Road (OBOR). And we are happy to see that UNESCAP Secretary clearly outlines key obvious problems already  challenging implementation of the OBOR Initiative: lack of multilateral decision-making mechanisms and unsustainable bias towards resource extraction with lack of social and environmental safeguards and transparent risk assessment processes in general.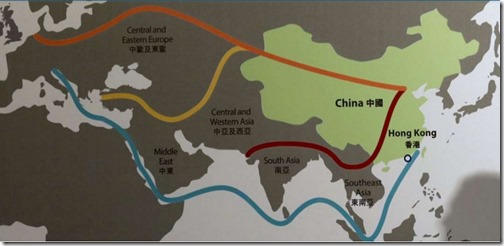 Last month China and the United Nations Economic and Social Commission for Asia and the Pacific (UNESCAP) have signed a cooperation document to promote the Belt and Road Initiative.The letter of intent was signed by Foreign Minister Wang Yi and visiting UNESCAP Executive Secretary Shamshad Akhtar in Beijing on April 11.
According to the document, the two sides will jointly promote regional connectivity and the implementation of the Belt and Road Initiative. The Foreign Ministry spokesman Lu Kang noted that the letter of intent is the first document signed between China and an international organization on boosting cooperation under the Belt and Road Initiative, though China has signed cooperation deals with more than 30 countries in this regard.
In May at the 72 Session of the UNESCAP Ms.Shamshad Akhtar gave a speech detailing intentions, proposals and concerns of the UN body related to the New Silk Road. She concluded by outlining a few areas of specific concern "to be considered for the success of the Belt and Road Initiative:
1. Better and sequenced planning. With multiple countries and a range of ministries, agencies and sectors involved, the Belt and Road Initiative needs carefully coordinated planning, execution and systematic engagement with the private sector. …
2. Multilateral approaches to implementation will be key to ensure the smooth operation of hardware across a number of different policy regimes and across multiple borders. The global community and partner countries need to fully understand and endorse the objectives and goals of the Belt and Road Initiative to ensure the active and eager participation of all relevant countries in its implementation.
3. Corridors and cities must not be locked into unsustainable infrastructure and urbanization patterns. Development driven by natural resource extraction, with minimal social and environment concerns, are intrinsically unsustainable.
4. The Belt and Road Initiative projects need to generate sufficient returns on investment (ROI), covering the financial operating and maintenance costs. Operational and financial risk assessment procedures have to be rigorous at both investor and investee levels.
To conclude, the Belt and Road Initiative is a visionary, long-term endeavor. It has the potential to reduce disparities within China, by connecting China's inland areas to its neighboring subregions, and across Asia, by promoting regional connectivity and also creating new links with Europe.
The aims of the Belt and Road Initiative are very much in line with ESCAP's mission to promote regional cooperation for socioeconomic development in a sustainable manner, and to support production and distribution networks for international trade. Through the Belt and Road Initiative, more comprehensive, integrated regional plans will be developed that are fully aligned with the 2030 Agenda."
See full Statement at the Side Event Hosted by the Government of China: Promoting Regional Connectivity – The Belt and Road Initiative during the 72nd Commission Session of ESCAP in Bangkok, Thailand
Recently the RwB analyzed likelihood that OBOR initiative positively contributes to implementation of 17 SDGs of 2030 Agenda and came to conclusion that it lacks tools and safeguards to achieve most of those goals. see picture below.