Irkutsk "Nerpanarium" (Baikal Seal Aquarium) offers a patriotic seal show. Trained Baikal Lake seals wear military berets, hold guns, flags while "marching" and performing mine clearance.
"The patriotic military show is open for admission year round. Among visitors we have had veterans and those who were involved in local conflicts. People were inspired and joyful after the show," director Evgeny Baranov says. First show was performed on May7 to commemorate Victory Day.
Given his sentimental attachment to charismatic mammals the President of Russia would, probably, love to attend such a parade…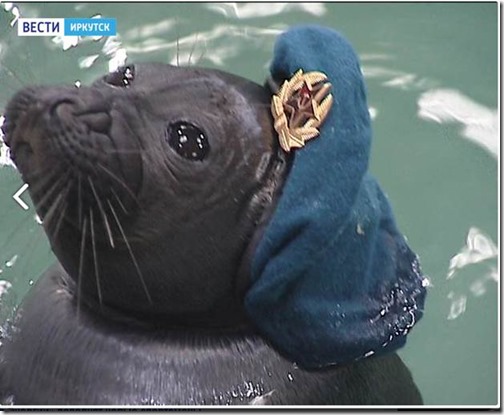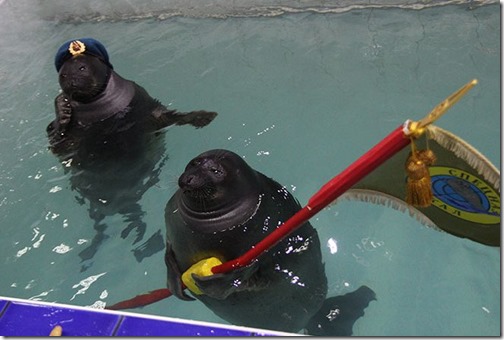 Source: Vesti Irkustk and http://weirdrussia.com/2015/05/08/baikal-seals-commemorate-victory-day/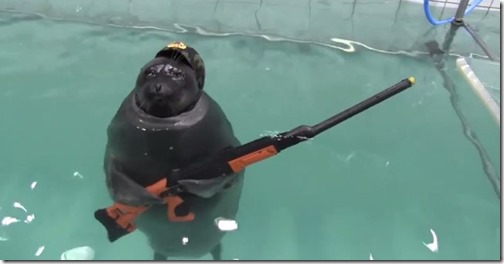 However Rivereditor believes that this is really weird way to commemorate WWII.
Besides that the Baikal  seal is the most known symbol  of Lake Baikal  Heritage site. Militarization  of this symbol is inappropriate and leads to wrong interpretation  of Lake Baikal   global values, especially now, when large part of the Russian  society  fell a victim to aggressive chauvinistic hysteria.
P.S. Ukrainian-looking blue and yellow banner  held by a seal  shows that in this case we see not well thought-through propaganda  scheme,  but likely just an unconscious attempt to perform something compatible  with militarized public sentiment of the country.