It is always soothing to republish articles which reflect wider acceptance of your own views.  This is the case with a piece by  Wang Jiamei of the Global Times published on April 24 2019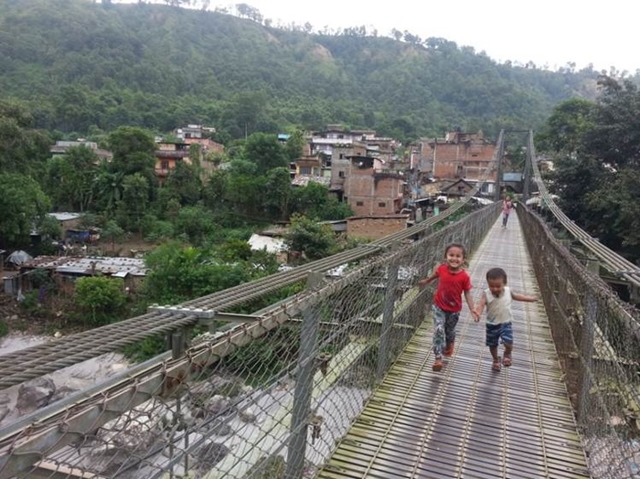 Photo: chilren crossing a bridge over Budhi-Gandaki River in Arughat settlement to be submerged by Budhi Gandaki HPP. RwB
With the implementation of the Belt and Road Initiative (BRI), the importance of the water conservancy sector in infrastructure construction has been well recognized in the global arena. However, despite ample development opportunities, there are still enormous risks and challenges in projects involving water-resource exploitation, and Chinese companies must be cautious when participating in such projects.
Water conservancy projects are tricky, as well-intentioned moves may often trigger local opposition. On November 11, 2015, China and Mongolia issued a joint statement about the development of large industrial projects, including the construction of a hydropower project on the Selenga River. The Mongolian government also planned to build another 10 large dams in the Baikal Basin for the purposes of cutting carbon emissions and reducing energy dependence on Russia.
Meanwhile, Mongolia obtained a $1 billion loan from the Export-Import Bank of China, which was supposed to be used for the construction of the Egiin Gol hydropower project. A $100 million concession for access roads and bridges was awarded to China Gezhouba.
However, the cooperation scheme was met with strong opposition from Russia. Since the Selenga River is the principal source of Lake Baikal, accounting for 80 percent of the lake's water inflow, the potential impacts of damming the Selenga River on Lake Baikal could be huge and irreversible, and may even risk drying up the massive lake. Due to concerns over the cross-border impacts, the construction was suspended.
Unlike other overseas infrastructure projects like roads, bridges and railways, water conservancy projects are often much more complicated and sensitive when it comes to trans-boundary water issues. Environmental concerns, political instability, suspicion and confrontation between stakeholders along the rivers may undermine China's cross-border water cooperation, and this wasn't uncommon in the past.
For instance, in November 2017, Nepal scrapped a $2.5 billion deal with China Gezhouba Group to build a 1,200 MW hydroelectric plant on the Budhi Gandaki River, one of the main tributaries of the Ganga River system in India. Since Nepal, as one of the world's less developed countries, really needs to release its hydropower potential to address the power shortage problem that has harmed its economic development, it was generally speculated that India's interference and obstruction forced Nepal to cancel the project. Then, one year later, Nepal's new government reversed its predecessor's decision and restored the hydropower plant contract to Gezhouba.(The RwB still believes it is destined to fail)
If anything, such development only highlights the risks and uncertainties of trans-boundary water conservancy projects, which is why China must be cautious in assessing the potential environmental and ecological impacts as well as economic and political risks of hydro projects in countries along the river when participating in such projects. At the same time, building trans-boundary water conservancy projects requires strengthened communication and coordination with all interested parties through the establishment of specific multilateral coordination and cooperation mechanisms.
Water resources are the primary resource for ensuring the economic development and social stability of a country or region. Therefore, the difficulty in convincing countries that share trans-boundary rivers on water cooperation is understandable, but regional cooperation along the Lancang-Mekong River could be seen as a reference to resolve concerns with other countries over water projects.
In 2017, the Mekong River Commission, an intergovernmental organization whose members include Cambodia, Laos, Thailand and Vietnam, confirmed that Chinese dams on the Lancang River have beneficial impacts instead of a detrimental impact on water flow in downstream countries. (We strongly question this optimistic stance not supported by specific reference to documents) Apparently, enhancing coordination and collaboration on water resource exploitation and the sharing of information are key to resolving concerns over the impact on water resources in downstream countries.
China has rich experience and sufficient funds for the exploitation and utilization of water resources, with technical advantages and practical experience in the construction of hydropower stations and dams. Therefore, the nation should give full play to its strengths when participating in water infrastructure in countries along the BRI route. During this process, efforts to assess and eliminate adverse impacts on the ecological environment are essential. In the meantime, a proper coordination mechanism is also needed to strengthen communication and information sharing among various interested parties.
The author is a reporter with the Global Times.
http://www.globaltimes.cn/content/1147073.shtml