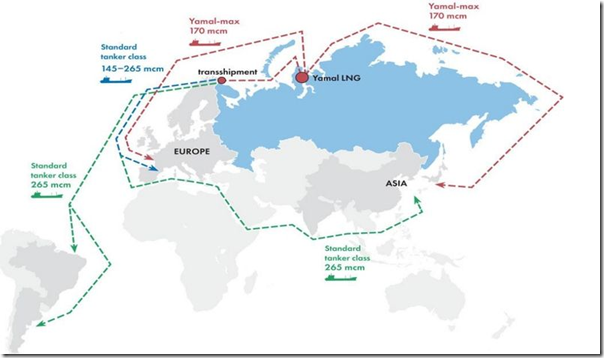 Yamal LNG shipping scenarios. Source: Novatek
More than a year has passed since several conservation NGOs addressed Chinese state banks (the China Development Bank (CDB), China Exim Bank, and the Silk Road Fund) raising deep concerns regarding environmental and social impacts of the Yamal LNG Project. We got no response either from Chinese financiers or from Chinese agencies overseeing  overseas investment. In December 2017 a case-study on this project was published by the Friends of the Earth US in a book "Investing in a green Belt&Road? Assessing implementation of China's Green Credit Guidelines abroad."
Meanwhile it is obvious  that the Yamal LNG project would never be built without China's political, technical and economic support. Chinese actors are responsible for 29% ownership, 55% of overall finance volume, 85% of industrial units and technology used in Yamal LNG Project.
A wave or celebrations and scandals followed the launch of the first shipment of the  LNG by Russian president in early December, which reached London right after Christmas sparking diplomatic row between Russian Embassy and UK authorities.
The CRYOPOLITICS web-site observer claims that as Yamal LNG is being launched, both Russia and China try to claim success using different likely incompatible narratives.
The "China Daily" trumpets that " megaproject marked a milestone in China-Russia cooperation under the Belt and Road Initiative proposed by Chinese President Xi Jinping in 2013. The Yamal LNG will be shipped to Asia in the summer through an efficient Arctic shipping route along Russia's northern coast, which China and Russia aim to build into a "silk road on ice". Chinese enterprises invested heavily in the Yamal project and will operate 14 of the total 15 LNG tankers."
However, at the same time Russian President announced firm intention to close the  "Silk Northern  Route" to ships under foreign flags. This may seriously complicate plans of China LNG Shipping Co. and its shipbuilders .
With all this happening the key word "environment" was used in recent press reports only in context that the Yamal LNG "can operate smoothly in the harsh Arctic environment". Despite issuance of the " Guidance for Promoting Green Belt and Road" neither Chinese banks nor relevant Chinese agencies ever mention that they aware of and bear significant part of responsibility for unresolved environmental issues of Yamal LNG. Those  first of all, are massive dredging operations in the Ob River estuary – the extremely important migratory route and nursing ground for many species of fish. Nevertheless China celebrates the project as access to abundant supply of "green energy" and its first foothold in the Arctic.
Meanwhile Russia is looking to start next giant megaproject " Arctic LNG-2" Project right across the Ob River mouth from the Sabetta Port of Yamal LNG and looks to China and Saudi Arabia for new investments and partnerships.
Compiled by Eugene Simonov. RwB