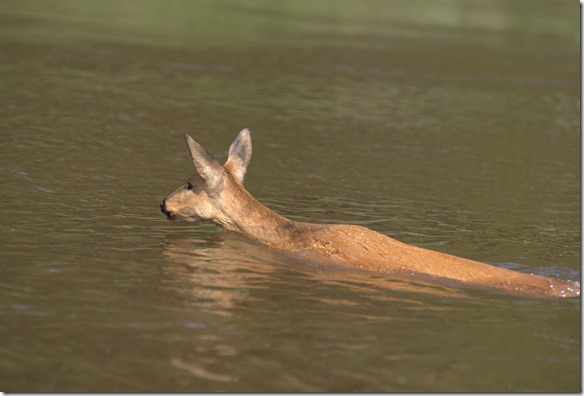 On August 29, 2017 the  Board of Directors approved Report on "corporate social responcibility" and sustainable development of RusHydro for 2016. RusHydro claims that the Report underwent public hearings, but, likely, similar to the 2015 these were again  public hearings by invitation only and draft Report was not released for comments by the public. Last year our colleagues informed RusHydro that such consultations are inconsistent with best international practice. Meanwhile RusHydro claims that the report was prepared in compliance with GRI standards G4 and accommodates recommendation from stakeholders received during the public hearings as well as feed-back of the Council on non-financial reporting of the Russian Union of Industrialists and Entrepreneurs (RSPP). So, as it has always been, there company has to undertake major adjustments in its interaction with stakeholders before it can be considered following any international standards of GSR.
At the same meeting the Board of Directors approved liquidation of JSC GVTs of Energy and JSC Nizhne-Zeyskaya HPP "in accordance with the Program for divestment of non-core assets". The Company explains that this is one of steps in comprehensive effort to increase efficiency of management of the Company assets. In this respect the priority measures are:
· divestment of non-core assets, including social objects and infrastructure facilities;
· reduction of management costs (including reduction of number of legal entities- members of RusHydro Group, both via consolidation of subsidiaries, operating in the same region and liquidation of non-operating companies);
– divestment of non-controlling stakes in companies, not representing strategic interest for RusHydro Group.
The RwB will however abstain from an inquiry why this large hydropower project planned from time immemorial under various evolving excuses became a "non-core asset" for the largest hydropower company of Russia.  We simply believe this is a step in right direction that may end many years of brainwashing about extreme necessity to create "flood-control" hydropower dams in Amur. Nizhne-Zeyskaya Hydro was among 9 (and then 4) new hydropower plants proposed by RusHydro  to Chinese partners for immediate construction right after the large flood of 2013.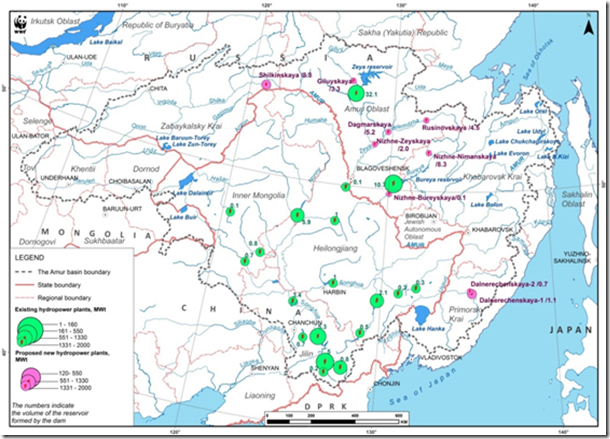 Map: Locations of existing HPPs (green) and new "flood-control" hydropower plants(pink) proposed for consideration after the disastrous 2013 flood. Source:"We and Amur Floods-Lessons (UN)-learned?".
The RwB, WWF, other experts and CSOs had to undertake a study on "flood-control hydro" and alternative options for integrated flood management under auspices of the UNECE Water Convention. Results are presented in many letters and technical reports and a popular book "We and Amur Floods-Lessons (UN)-learned?". We are glad that the 9 proposed "flood-control" dams one by one were removed from the development agenda.
Nizhne-Zeyskaya Hydro (project also known in Soviet times as "Gramatukhinskaya Hydro") was planned 200 kilometers downstream from the giant Zeyskaya Hydro on Zeya River. At some point three small "innovative" run of the river power stations were suggested on that river stretch, but by 2005 the design was again consolidated into single large dam with long and wide reservoir. Given already high damage incurred by Zeyskaya Hydro to the Zeya  River this was considered an option with lower (but still significant) impact on aquatic ecosystems and local people compared with some other dams planned in Amur River basin. However, the planned reservoir was effectively dissecting the last remaining mass-migration corridor across the river by the Siberian Roe-deer and zoologists have been fiercely opposing it for years. Nevertheless, a special JSC Nizhne-Zeyskaya HPP was created in 2006 to manage necessary planning\preparation, construction and then exploitation of the new power plant. So, fortunately, the project never completed preparation phase, the dam  was removed from the RusHydro investment plan  and the Company was liquidated a week ago.
We congratulate the RusHydro Co. for this important decision and wish the Company to further master use of wind and solar – most abundant renewable energy resources of Russia.
RwB Coalition.