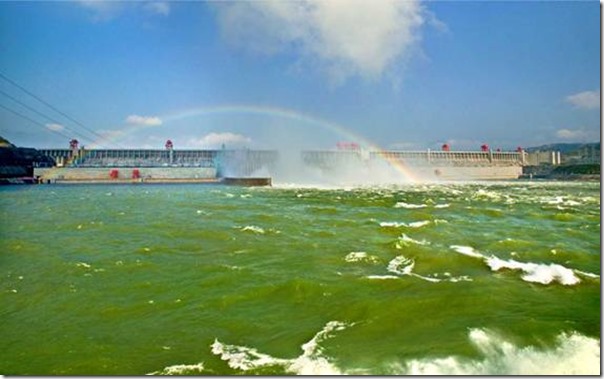 The International Rivers' China Program and expert from Rivers without Boundaries Coalition (RwB) on March 20, 2014 met with China Three Gorges Corporation (CTGC) and discussed interaction with NGOs, standards for overseas investment and possible involvement of the CTGC in the Amur river basin.
All relevant departments of CTGC were represented in the meeting in Three Gorges Group Beijing office: Mr. Lin Chuxue – Mr.Lin Chuxue –Executive Vice president, Mr. Yang Hongbin, Deputy Director of Sci-technology & Environmental Protection, Mr.Qin Guobin -President of CYPI Co.(HK)-subsidiary company dealing with Amur, Mr. Yang Jun-Deputy Director of CWEI.
The reason for the meeting is that Three Gorges Co. was invited to particular projects in Amur River Basin and elsewhere in Russia by En+Group and formed «Yes-Energo» joint company in 2011 and again by Rushydro Co to support Amur flood-prevention hydropower scheme in 2013.
Explaining NGO concerns Dr.Simonov (RwB) stressed that Amur is the most precious river in Russia with high global biodiversity values widely recognized by international community. Amur freshwater ecosystem hosts 2 Global 200 ecoregions by WWF classification. It has 17 wetlands of international importance according to Ramsar Convention and many more yet to be listed. Cultural diversity is enormous with at least 25 distinct indigenous groups living in the area are mostly relying on rivers for their livelihood. Therefore two countries have responsibility to proceed cautiously with development in the last large Asian free-flowing river basin in a way that preserves its key ecosystem processes and values. For conservation of freshwater ecosystem it is the most difficult task to design appropriate safeguards – "ecological red lines" defining limits and paths for development necessary to conserve the natural values. It is much more difficult to draw a red line for a transboundary river due to difference in conservation standards, communication barriers and competition between countries. CTGC has opportunity to support such basin-wide assessment and management planning.
According to Simonov the RwB participated in various studies to document and predict hydropower impacts:
– General basin-wide assessment of major impacts from different hydropower development scenarios (SEA) conducted for Amur.
– WWF and En+ assessment of perspectives of hydropower development in Amur Basin triggered by Shilka dam denial
-Assessment of "anti-flood" dam proposal by Rushydro with cumulative impact and impact of particular dams (starting now)
RwB representative stressed that Russia and Amur in particular is a risky place for foreign investors and twice so for hydropower investors. This is due to gradually weakening regulatory base (in Russia) falling short of international standard and uncoordinated between countries of the basin, increasing economic crisis and high levels of corruption and inefficiency, lack of local consent for new hydropower that has not bring significant benefits to the region. This is why in 2012 a campaign to protect Shilka River against proposed Trans-Sibirskaya dam united diverse stakeholders from all 5 provinces of Russian Amur basin.
Executve Vice-president
Lin clearly emphasized that that CTG will comply the local laws and regulations of host country and Chinese government guidelines for overseas investment. CTGC supports basin-wide planning of hydropower and comprehensive water management schemes as precondition to development of particular hydropower projects. CTGC understands that Amur River is an area with a very high investment risk because of many complicated transboundary issues.
President Qin informed RwB that hydropower project on Shilka River was removed from the list of investment priorities after CTGC received a letter from RwB and discussed the issue in a meeting with Russian En+Group.
CTGC has a very general framework agreement with Rushydro Co., this includes possible investment in anti-flood dams on Amur river tributaries in Russiaand Rushydro will conduct the feasibility studies and EIA. CTGC could introduce RwB to Rushydro to improve direct cooperation. CTGC would like to be informed about the results of hydropower assessment done by RwB experts.
CTGC staff stressed that the company is potentially interested in major solar-wind development in other countries if there are a transmission lines to markets. RwB expert emphasized that while hydropower in Russia is already rather developed competitive industry, wind and solar power is practically unpopulated field open to major investors from China.
Executive Vice-president Lin invited environmental groups to send interested representatives to a celebration of release of the artificially bred fry of Chinese Sturgeon (endemic of Yangtze River) that will take place soon. Breeding facilities are build and sustained by CTGC as well as associated research program. (Releasing fish, turtles and birds to attract good luck is an ancient Chinese cultural tradition)
CTG informed NGOs that Shilka River hydropower project was temporarily removed from the list of investment priorities by Russian partners from En+Group after En+Group discussing and taking account into of the factors such as local government suggestion, assessment result feedback from the related parties( including RwB),etc. Dr.Simonov on behalf of RwB thanked the leadership of CTGC for their responsible decision not to pursue Shilka Hydro and expressed hope for further productive multi-stakeholder dialogue between Three Gorges and Russian civil society groups and independent experts.
RwB Coalition