Today on the March 14, 2014 at public hearings in the town of Mogocha on Trans-Siberia Railroad local people endorsed an ambitious plan to develop a nature reserve on 330 000 hectares.This protected area is designed to safeguard the Upper flow of the Amur River and valleys of its two principal sources: Shilka River and Argun River.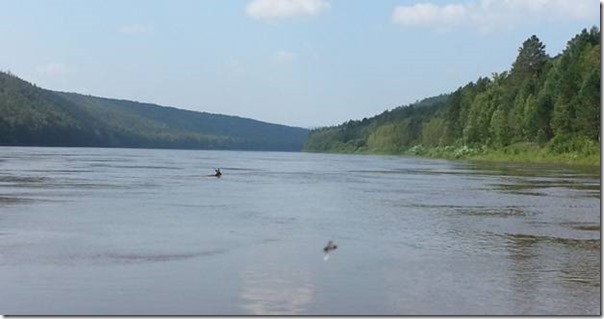 Roe deer crossing Shilka river in the proposed nature reserve. Photo by Eugene Simonov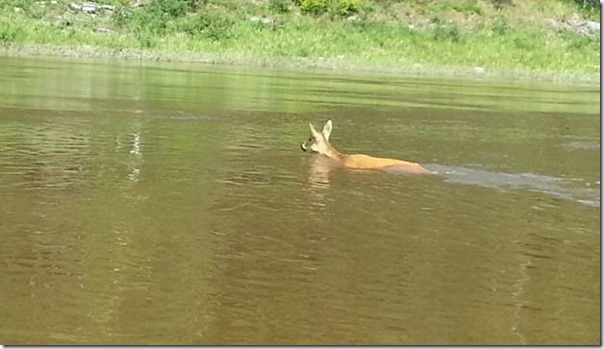 This is a symbolic origin of the Amur – the last great free-flowing river that empties from Eurasia into the Pacific 3000 kilometers downstream. Argun (Erguna) and Amur (Heilongjiang) Rivers form Sino-Russian border for almost 3000 kilometers. The river is an important migration route for fish such as endemic Kaluga Sturgeon (Huso davhuricus) that may reach 4 meter length and weigh more than 1000 kg. River valley here is a globally significant biogeographic corridor that allows exchange between Far eastern and Siberian fauna and flora. Locals use river valley for recreation, shipping, fishing and hunting.
Two years ago Russian En+ Group signed an agreement with China Yangtze Power Co. to develop new hydropower plants, one of which was proposed at lower Shilka River and that resulted in continued public protests throughout the Amur River Basin for which the Shilka is the primary source. In addition several years ago Chinese Xin Ban Guoji Company from Heilongjiang Province started here construction of pulp mill nearby on the Amazar River -first large left-bank tributary of Amur. This presented a grave threat both for the river and for the surrounding forests, for the company rented almost all remaining forests – 1 million hectares just in one Mogocha district of Zabaikalsky Province.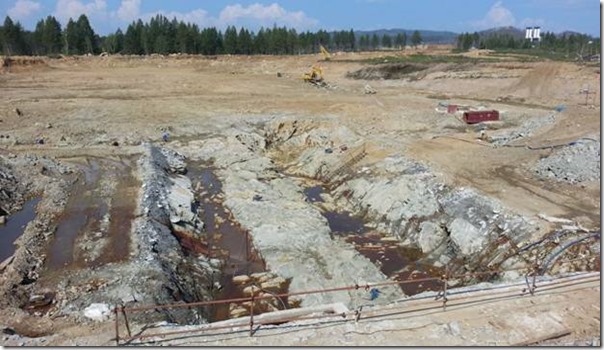 Dam construction on Amazar river to supply water to new Chinese pulp-mill.. Photo by Eugene Simonov
Local people hope that establishment of the new nature reserve will protect the river valleys from logging and pulp-mill impacts and prevent construction of the hydropower dam. Their main message to the ZabaikalskyProvincial Government, that sponsors development of this nature reserve and opposes construction of large hydro, is to expand the new protected area as much as possible safeguarding resources crucial for sustainable development and well being of local people. The nature reserve was planned and designed on the initiative of Mogocha district administration with support from local scientists, provincial government, WWF Amur Branch and Rivers without Boundaries (RwB). After hearings documentation has to be prepared so that provincial government can complete gazetting of the protected area.
On the same day 20 Russian environmental groups united by the Rivers without Boundaries Coalition (RwB) signed a petition addressing Russian Government questioning feasibility of a grand plan to control Amur River floods by multiple dam building on its tributaries (including Shilka River). Such a plan was proposed by President Putin in the wake of a large flood that hit the Amur in summer 2013. Real motif behind it – make use of public money to support development of export-oriented commercial hydropower.
The petition shows that "flood-control hydropower" is a controversial undertaking, which is hardly justifiable on economic and environmental grounds. Even Russian Ministry of Energy publicly expressed doubts that these dams are feasible unless Chinese investors pay for their construction and guarantee buying generated electricity for fair price.
RwB and allies suggests to consider alternative comprehensive plan focused on investment into climate adaptation and modernization of settlements in Amur river valley, which will guarantee improvements for local people and drastically reduce losses from inevitable future floods. Such measures cost less and could be implemented much faster than dam building.
Environmental groups urge the Government to use their recommendations to revise current approach and make the resulting "anti-flood program" subject to public hearings and strategic environmental assessment.
On this 17th International Day of Action for Rivers Rivers without Boundaries Coalition (RwB) congratualtes friends and colleagues who protect other rivers around the world and hopes that our efforts will save them from destruction!!!