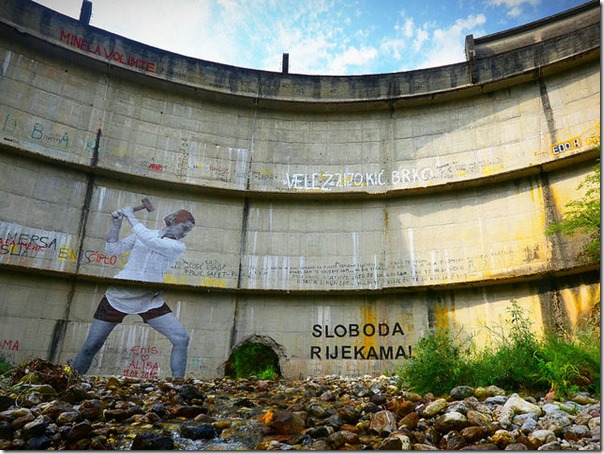 The Coalition for the Protection of Rivers of Bosnia and Herzegovina warns that the uncontrolled construction of hydropower plants will cause untold devastation to biodiversity and water quality in the country. More than 300 new hydropower plants are currently planned.
In a symbolic action, a ruined dam on the Bašćica River was painted with a giant woman "smashing" the dam, showing human's weakness over nature and the consequences of unplanned construction.
The Idbar dam was built in 1959 in the valley below Prenj Mountain, Konjic, to stop gravel going into the nearby Jablanica Lake. The dam failed, wasting both time and money, and was mined soon after commissioning to allow the Bašćica River to flow freely again. The water resisted human's idea of taming it. When built, nobody expected the Bašćica River would be so fast and that the water would accumulate at a high speed until it began to overflow. The dam cracked, which could have had catastrophic consequences. The locals knew how this river could be dangerous. However, no one believed them.
"As the Bašćica River is free, we want all the rivers to be free. There are currently many battles against hydropower plants and local communities directly dependent on these rivers are ready to defend them by all means. Rivers are a common good, not the property of individuals. Putting private interests over the public by authorities should stop. This is a unified fight!" said  Natasa  Crnkovic from the Coalition for the Protection of Rivers of Bosnia and Herzegovina.
The Coalition for the Protection of River of Bosnia and Herzegovina was founded in June 2016 by nature lovers, individuals and organizations. They are monitoring and reviewing plans for the construction of hydropower plants and advocating for the development of tourism, traditional and complementary activities that can provide more diverse jobs and greater development for local communities. The Coalition brings together over 20 organizations from all over Bosnia and Herzegovina.
Source: The Coalition for the Protection of River of Bosnia and Herzegovina