Trilateral talks took place in Tashkent between President Vladimir Putin, President of the People's Republic of China Xi Jinping and President of Mongolia Tsakhiagiin Elbegdorj on June 23, 2016. As three presidents witnessed the signing of the Programme to Establish the China-Mongolia-Russia Economic Corridor (one of 6 New Silk road routes) , President Putin said the following:
I want to say that we are seeing positive changes taking place before our very eyes in environmental cooperation throughout the entire region. I know that Mongolia plans to build hydroelectricity facilities in the Selenga River basin. We would like to study these plans very carefully with our friends in Mongolia and China.
Russia and international environmental protection organizations have made their position on these plans known: this project could create some risks for water supply to Russia's Irkutsk Region and affect the unique ecology of Lake Baikal, as Selenga is the main river flowing into Lake Baikal.
We realise that Mongolia's energy shortage is a serious issue. Clearly, this is something we must reflect on and we need to resolve this issue. But there are different ways to resolve this problem, above all by developing the entire region's energy sector. For example, Russian power stations could increase electricity supplies to Mongolia's northern regions.
We think it important to encourage cooperation not only in this sector but in others too, in tourism, for example. The Federal Tourism Agency is drafting a number of proposals. One of them is to organise an international tourism route – the Great Tea Route – that could link 20 Russian regions with China and Mongolia. We could launch a special excursion train on this route.
We will continue to do all we can to expand scientific exchanges. The establishment of an association of research centres in Russia, China and Mongolia will play a big part in this.
Let me say again that I think our trilateral partnership has great potential in many areas and we should put this to more active use for the good of our peoples.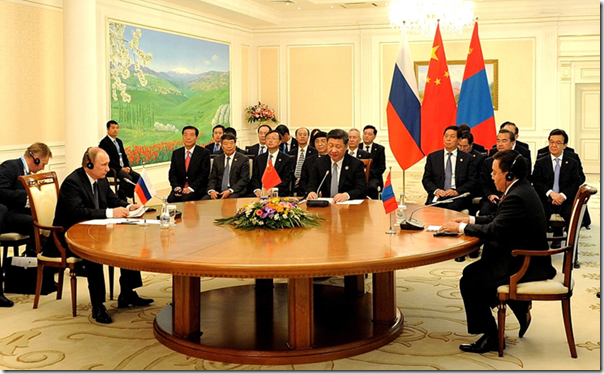 Source : http://en.kremlin.ru/events/president/news/52211