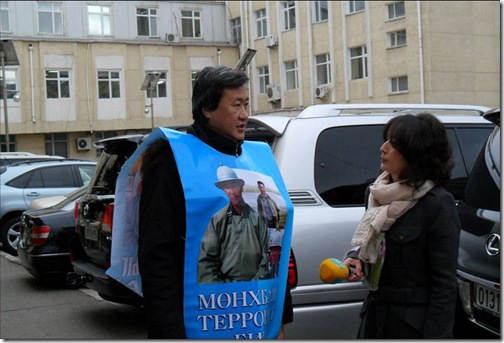 On November 8, 2013 the Sosnovka Coalition of Environmental and Indigenous Civil Organizations of Siberia and Russian Fareast sent to Mongolian authorities a letter in Russian supporting the Law with long name and demanding real justice in Munkhbayar's case.
The
Coalition addressed the President, Prime-Minister, Chairman of Great State Khural and the Minister of Environment of Mongolia to urge them to support proper implementation of the Law "To prohibit mineral exploration and mining operations at headwaters of rivers, protected zones of water reservoirs and forested areas", which has been outstanding contribution of the Mongolian state to the nature conservation and sustainable development. The letter stresses that the Law adoption was spurred destruction of river valleys in the process of placer gold mining, which is most harmful and inefficient technology and it urges the Mongolian authorities not to weaken protection of rivers and forests offered by the law.
The letter also calls for justice for Munkhbayar and other people who were forced to protest with arms in their hands, since relevant authorities refused to engage into meaningful dialogue.  Not approving methods chosen to express the protest the Coalition asks to consider that it did not aim to harm anyone, and was similar with previous demonstrations organized by Munkhbayar.
As for the crime framed as "group attempt to severely threaten well-being of society" –this definition is much more applicable to the current attempt of some government officials and mining corporations to use temporary slow down
in Mongolian economy to dump the Law with long name and encroach on vulnerable forest and river areas.
The Coalition also points out that weakening of the Law may  severely threaten environmental quality of transboundary rivers flowing to China and Russia and severe Mongolia's relationships with neighbors.