Amur Socio-ecological Union reported that at 5.30 a.m. on Jan.31 in Amurskaya Province on Trans-Siberia Railroad at Bureya River crossing an oil-carrying train was derailed and 17 cisterns with oil tipped over.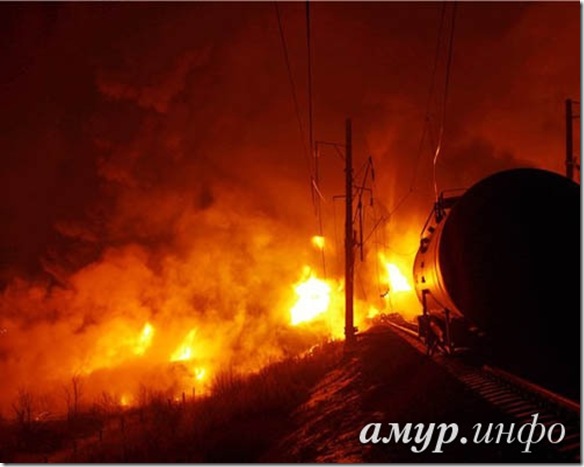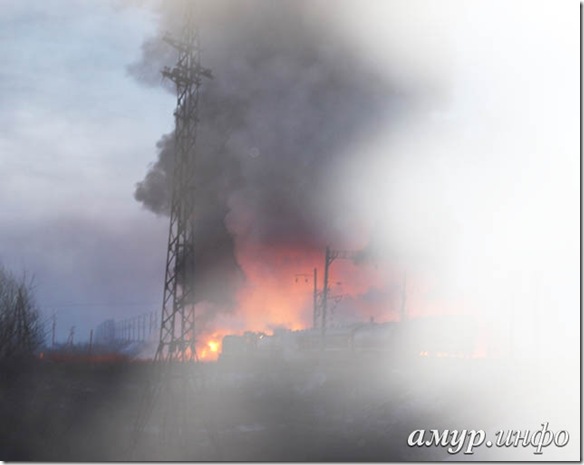 Burining oil spill 500 meters from Bureya River. Photos by http://amur.info/
Volume of oil spill is 850 tons according to oilru.com. Oil ignited from electric wire and is burning ever since keeping at least 200 people busy fighting fire. Both tracks are damaged and train movement at Trans-Siberia Railroad is disrupted. No casualties reported as of 12 a.m.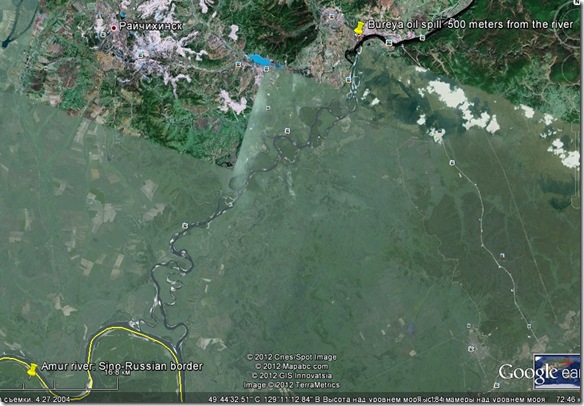 Google-earth image shows the area on summer imagery.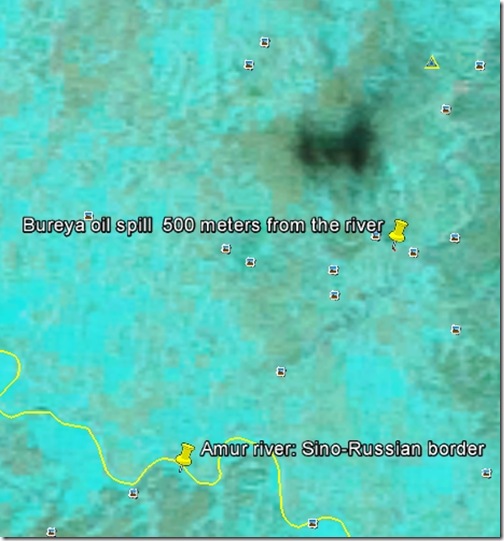 First satellite image released by NASA today, although rather blurred, shows enormous plume of smoke emerging from burning oil. Since most of burning took place before sunrise the plume
extends north-west from actual point of accident at 8033rd kilometer of Trans-Siberian railway in Novobureisky settlement.
We still hope that almost a kilometer distance from the river bank and air temperature of 25 degrees below zero will stop spread of oil before it could reach Bureya River. But if it reaches Bureya River it could flow directly downstream towards Chinese border along transboundary Amur River. Here any local expert would disagree – not in winter!
Sure, under natural conditions Bureya River ice-cover would be by now at least one meter thick and could
provide solid protection for the river until spring, allowing to collect any oil and safeguard the river. But five years ago Bureya River flow was altered by a hydropower plant built upstream at Talakan to export energy to China. Hydropower reservoir changed water temperature leaving downstream long stretch without ice or with extremely weak ice cover.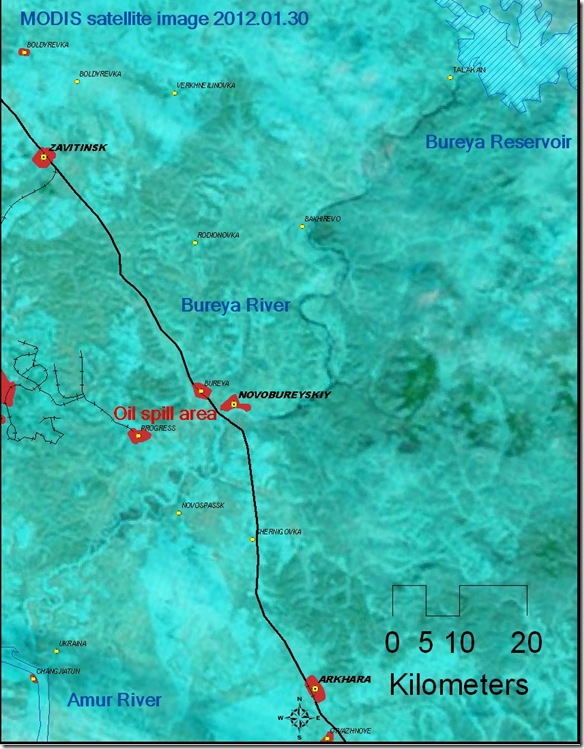 Satellite image from yesterday makes an observer assume that open water without ice likely extends almost to the place of oil spill (dark river line indicating lack of snow cover on river surface). This means that at the spot there is little ice-cover available to protect the river. Therefore if oil spill
reaches the bank of Bureya River it likely will penetrate weak ice cover and start unimpeded journey to
China.