Extremely informative hearings "China's Global Quest for Resources" were held on January 26, 2012 in the US Senate. Leading American and Indian experts delivered their testimony on China's role in mineral extraction, hydropower, water consumption, energy use, and fisheries, but the hearings somehow omitted forestry and agriculture. We will limit our review to water issues.
Dr. Elizabeth Economy from Council on US Foreign Relations and Dr. Brahma Chellaney , Professor of Strategic Studies, New Delhi University in their testimony draw apocalyptic picture of Chinese ability to use transboundary waters as a tool for political pressure. Although tone of those testimonies was somewhat alarmist, but facts presented justified the conclusion that Chinese government prefers to abstain from using international practice of joint management of transboundary river basins. Interesting enough both experts were poorly informed on relative weight of Sino-Russian and Sino-Mongolian water relations in overall picture. For example, they stated with awe that by 2020 it is planned to develop infrastructure to divert 1 cubic kilometer from upper Irtysh River, but did not mention that water-diversion canal from Hailaer river to Dalai Lake capable of diverting 1 cubic kilometer has been already put in operation in transboundary Argun River basin in 2009. Potential dams on upper Brahmaputra River were mentioned at least 15 times, while experts did not talk about plans to dam Amur River main channel. Paper submitted by the Indian professor concludes: "The time has come to exert concerted external pressure on China to rein in its dam frenzy and embrace international environmental standards and water-sharing arrangements." Well, this means, that at least, experts in all countries affected by this problem should have effective way to accumulate and compare data on all transboundary basins shared with China. Rivers without Boundaries and Transparent World started developing such open-access information resource and hope to share its pilot version with interested audiences in spring 2011.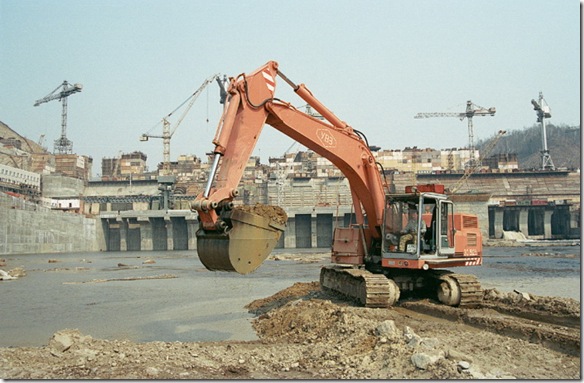 Bureiskaya Hydro on Amur River tributary – first one in Russia built for electricity exports to China
Grace Mang of International Rivers NGO gave much more balanced presentation on China's overseas quest to build dams. On one hand Chinese firms backed by the state are involved in development of at least 300 hydropower projects around the world, which is more than half of overall international activities in this sector. On the other hand Sinohydro and other major corporations are in the process of adopting relatively high environmental standards. And the main question is whether they will stick to such standards in practice.
In comparison with elsewhere Chinese involvement with hydropower in Russia and Mongolia so far is negligible, to the extent it is not noticeable in overall picture. Virtually no project reached investment stage, let alone construction. Therefore Russia and Mongolia are not mentioned in the report. But this can change very quickly if plans for massive development of hydropower on Siberian Rivers declared by alliance of EN+ with Yangtze Power Co\Three Gorges Corp\ will materialize. Sino-Russian alliance has already prioritized 2 very problematic hydropower projects in Amur River and Angara River basins, and plans to develop up to 10 GW of generation capacity, mainly for exports from Russia to China with support of China EXIMBank. Related IPO planned in 2010-2011 in Hong Kong to support the endeavor was sharply criticized by RwB and other environmental groups and never got off the ground.
The central place the water-resource issues occupied at the hearings make us expect that water relations will be at the focus of the US foreign policy in Asia in near future.
Eugene Simonov
Rivers without Boundaries