Author: Alexey Tarasov
Novaya Gazetta. № 123. Nov 1, 2021
Russia will defend the interests of big business, to the detriment of Lake Baikal and Siberia, at the UN Conference on Climate in Glasgow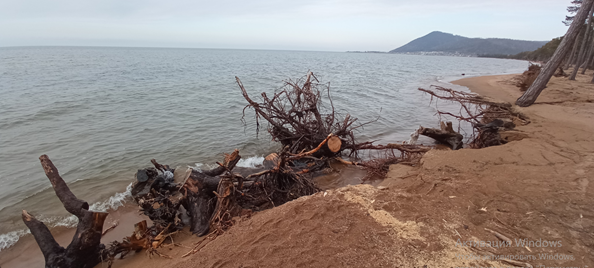 Waves of fresh water are overflowing the banks of Lake Baikal. It is here near the native village of Ranzhurovo—a place where the Supreme Shaman of Buryatia, Leonty Borboev, lived from 1983 until his death in 2014—that the ground water is backing up from the lake, bubbling up to the surface and flooding local pastures.  The cows here meander between standing pools of water.  It is the same scene to be found in many other Buryat towns along the eastern shores of the lake.  The locals admit that, if the waters keep on rising a few more inches or so, they will be forced to cull down their herds of cattle.
Autumn storms loom in the distance. With the lake already brimming over with water, any rain will likely cause more flooding—and with it, more serious erosion of the shoreline and the destruction of many low-lying homes and other structures.
The UN Conference on Climate Change opens this week in Glasgow, with the UK and Italy as the main organizers. The conference agenda will be jam-packed, right up until the last delegate leaves on November 12th. Our Russian government's stance on earth's climate has seemed to vacillate over time: the Kremlin even reversed itself recently and has openly begun to accept (rather than reject or ridicule) the existence of global warming.
While Russia is now admitting that the skies are changing above us, our leaders remain inert, uninterested in making any adjustments to the way we lead our lives. They see no reason to adapt to the challenges that face us all. Instead, Russia is staying the course, and — as illogical as it may seem — is sheltering its business interests, making few if any national sacrifices for the sake of our global climate.

The level of Baikal is actually regulated by a hydro-electric dam located just downriver from the lake, near the city of Irkutsk.  This dam is operated by the international corporation, En+ Group, which in late August allowed the lake to reach a level some 5 inches (13cm) above a critical maximum that was reached only last year.  En+ has since continued to block the flow of water out of the lake, holding it at currently at 10 inches (23 cm) above critical flood levels.  What is more:
This water-level regime had been dictated to En+ under the pretext that a number of summer homes and other businesses (that were somehow allowed to be illegally built) had to be protected in the Angara River floodplain just below the dam. So if the dam lets through more water, it will flood all these settlements. But then again, if the lake level behind the dam is not lowered, it will continue to drown the shoreline towns on the other side, in Buryatia.
So….what does the conference here in Scotland have to do with all this? Well, it turns out that there is a connection between Glasgow and all the cities located on rivers that flow into and out of Baikal, such as Ulan-Ude, Irkutsk, Krasnoyarsk, Bratsk, and Sayanogorsk. On November 3rd there is to be a session led by En+ along with RusHydro Co. It will take place in the Russian Pavilion at the climate conference in Glasgow. It is here where all the old Soviet hydroelectric power plants will be passed off as flagships portending a bright carbon-free future. Yes, indeed, it will be the same old salesmen, sitting on a couch on our TV consoles, proclaiming: "But that's not all, folks! You also will get something extra from us, namely all of our green, environmentally friendly Siberian aluminium!"
This whole scenario began to play out last January, when En+ began its preparations for Glasgow: it announced its scheme to achieve zero greenhouse gas emissions by 2050, promising to reduce emissions along its entire production chain, including during its production of aluminium. This was followed in September by a detailed plan that Lord Barker (Chairman of the En+ Group) presented to the public.
What can we tell you about this plan? Well, En+ did invite "all external stakeholders"—including "the local population"—to participate in the formulation of this plan. In January, I personally wrote a letter to Lord Barker– not as a correspondent for "Novaya Gazetta", but as one of the many locally interested residents from the Krasnoyarsk region of Siberia.
In general terms, I expressed cautious doubts about whether he has the right to call their aluminium "green"—or (for that matter) the En+ Group an environmental leader. It is not enough that its Rusal subsidiary smelts aluminium without burning carbon-based fuel. (This is in contrast to China, where aluminium is produced using coal energy.)
And how did all this come to pass for En+? When Moscow began divvying up Soviet property in the 1990s, a Mr. Deripaska (one-time president of En+) happened to get his hands on many of the largest Soviet hydroelectric power plants, while avoiding our coal-fired plants. Earlier on, in the 1950-60s, the USSR had decided that the best sites for its energy-intensive aluminium industry would be Siberia near to our powerful, energy-bearing rivers.
In fact it was the Soviet government that started producing aluminium using hydropower.  And yet here is a British lord, some 60 years later, puffing out his cheeks in pride?
The small amount of greenhouse gas emissions (in this case, less than 4 tons per ton of aluminium produced) does not in any way indicate the overall environmental friendliness of their aluminium production. Local communities are not so concerned with carbon dioxide really.  They are more worried about the carcinogens emitted by the Rusal factories. There are regular releases of benzo(a)pyrenes and polycyclic aromatic hydro-carbons, with toxic fumes full of resinous particles and fluorides, and a long list of other chemicals that are known to be hazardous to human health.  It's what everyone breathes in the neighbouring Siberian towns, while all the time the plant owners grow richer.
Lord Barker did not reply to my letter. In April Rusal did announce that they were planning to remove a number of outdated industrial units at the Krasnoyarsk aluminium plant (the largest in the world) and at three other Siberian sites. All of these smelters had been built in the 1960s. They still rely on older technologies that will now be replaced with "something more modern." It should be noted that these new technologies (using baked anodes) were about to be installed by the Communist regime before the fall of the USSR back in 1990.
All this time no-one has ever said that they wanted to keep contaminating the Krasnoyarsk region with carcinogens. As it turns out, in my letter to Lord Barker, I even mentioned how local citizens had always dreamed of installing newer technologies. It appears now, however, that the transition away from these old electrolysing technologies will take a full 10 years to complete, giving the company every chance to wring more profits out of their older equipment.
Just great, we all say. We Siberians have a long and storied history of hearing lots of promises, followed by little if any action.
There were other urgent questions that I had posed in my letter, relating to various impacts from the dams. One example: what is it that prevents En+ from implementing engineering solutions to what happens each winter downstream, when the water disturbed by Krasnoyarsk hydropower dam does not freeze and extends 300-kilometers below into the Krasnoayrsk city producing abundant vapour. The industrial air pollution along the Yenisei River gets trapped in that vapour, which is what all the people of Krasnoyarsk breathe during winters.
The possible solutions to this problem are well known, and would cost relatively little for En+ to implement. In my letter I named scientists and engineers who could bring them up-to-date on this issue, if they wanted. But in this case, ignorance turned out to be bliss for Lord Barker and his company, despite their claims that they really are listening to local communities in their work.
In 2017, En+ decided to go public through an IPO on the London Stock Exchange, and Lord Barker was appointed head of the Board of Directors. The very next day he received a detailed letter from an international environmental coalition known as Rivers without Boundaries (RwB). In this letter Lord Barker was called upon to acknowledge the contributions of En+ to the dire state of affairs in the region where the group's energy and metallurgical assets were based.
Nothing came of this earlier letter. Yet all this time, with Lord Barker at the helm, En+ seems to avoid mention of the public protests by local residents about the ill state of the environment. In their annual reports En+ goes out of its way to share a lot of words about the benefits of reducing carbon dioxide emissions — pages and pages of words—and says nothing at all, not a single word or number, relating to the toxic fluoride and other compounds that they release.
This 2017 letter was written by Eugene Simonov, coordinator of RwB. The Ministry of Justice has since declared Simonov to be a known "foreign agent." (If he's anyone's agent, he's obviously an agent for Lake Baikal and the natural environment!) After his 2017 letter, all his questions about the environment either disappeared from Russian media-sites or were changed beyond recognition. Simonov says RwB became a target to a volley of libel complaints, all frivolous in face of the facts. There were also several criminal cases opened against activists at RwB—cases that were dealt with by FSB national security agents.
However, this all is a matter of semantics. The letter to Lord Barker evoked some very lively reactions. Not from him, but from "influential" others in his circle.
In his initial letter, Mr. Simonov wrote mainly about Lake Baikal: "The UNESCO World Natural Heritage site at Baikal remains de facto under the thumbs of the En+ Group. Their dam at Irkutsk regulates the level of the lake. In other words they maintain Baikal as a reservoir instead of a lake. We believe that until the company admits in its prospectus that there are problems at Baikal, for which they have yet to propose any solutions, it cannot be claimed that En+ really stands in the forefront of green innovation for the industry."
Let me make one clarification here. Of course, it is the Russian state authorities that allow the levels of the lake to fluctuate, letting the volume of discharges through the dam ebb and flow. In the end, the fate of Lake Baikal remains in the hands of those who control the dam.
EUGENE SIMONOV testifies:
On November 3rd in Glasgow En+ Group, their RusHydro partners and International Hydropower Association made a presentation entitled "Hydropower in Russia: a Sustainable Legacy."  If I had known about this earlier, I would have included this bit about sustainable legacies in the title of my book ("Hydropower in Russia: An Epilogue?"). When the USSR built all its hundreds of large and medium-sized hydroelectric dams, they inflicted some very radical changes onto our river ecosystems.  They also forced the resettlement of hundreds of thousands of people, and caused irreparable damage to our fisheries, agricultural lands, and native cultures.  Knowing this, do we now want to maintain and build more dams?  Is there any rationale to this, economic or otherwise?  Hydropower in Russia has ceased to rank as an essential component of our national energy strategy.  Yet it is still labelled as a source of "green energy" by all the exporters of our natural resources—the very exporters who now fear that Russia's large carbon footprint will close our way into world markets.
Any attempt at passing off Soviet dams as a "sustainable legacy"—dams that had been built by Gulag prisoners, and that continue to upset the natural balance of our rivers—is cynical at the very least.
Most of the negative impacts from these mega-dams are completely irredeemable. But even what is fixable has been ignored. For example, only several out of hundreds of large dams in Russia have installed bypasses for fish that permit at least some migrating fish to head upstream to spawn.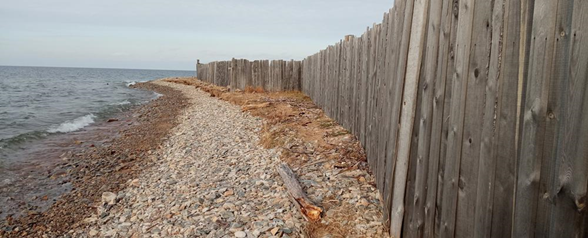 In En+'s 2018 "Sustainable Development Report" they state that a modern system for regulating the level of Baikal has been designed so as to protect it as a World Heritage Site. In reality, the opposite holds true. Russia in essence is reneging on its promises to UNESCO, raising and lowering the lake level without performing any proper environmental impact assessment. The owners of the Irkutsk hydro-electric power station do not admit there is a problem here. For them, PR efforts are taking precedence over any environmental or climate policy. In their latest 2020 report, the company does not mention any of the impacts that they are imposing on the natural water regime here. The report diverts our attention by mentioning shoreline rubbish clean-up programs and other small programs to protect wildlife which En+ supports. But not a word on its huge impacts on the lake's ecosystem by maintaining artificially high-water levels.
The author of this article recently drove along the eastern (Buryat) shores of the lake. In one town (Oimur) erosion has recently eaten away 3 meters deep into the coastal meadow. The cliff lines are now approaching the town itself. The coastal forest near Turka (part of a special development zone) is now saturated with lake water: 70-year-old pine trees are sinking into the underlying soil. Locals tried to salvage some of the wood on these trees, leaving behind stumps and exposed roots. It is now beyond hope that we can restore these coastal ecosystems: so much soil has washed away into the lake. What is more, as all the organic materials seep out into the lake, the problem of algae blooms and eutrophication at Baikal has become all the more serious.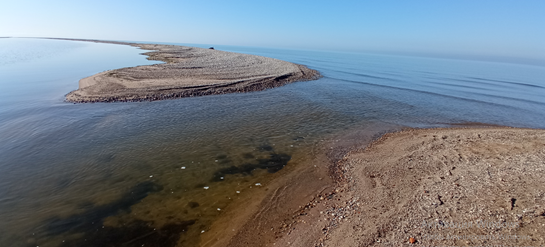 It's not only the coastal plains along Baikal that are wearing away. Many of the sand bars just offshore are also disappearing. This is no less terrible for the Baikal ecosystem. These sand bars, or spits, provide shelter to smaller bays or inlets, where the water is much warmer and full of life than out in the open lake. Many species of juvenile fish will come to feed in these more productive shallow waters. We already know the best feeding areas on the eastern shore are fast becoming a thing of the past.
As mentioned earlier, the local villagers are also facing tough times. The rich pasturelands of the Selenga Delta are now so inundated there is little chance to grow many vegetables or feed livestock in the region.
This is reminiscent of the 1970s, when the lake first reached record levels, and local farmers had to slaughter entire herds of cattle.
All this is the sad result of a "slight" increase (by 25cm) over previously accepted maximum levels for the lake. There are even hired scientists who endoresd the idea of temporarily raising the level by another 50 centimetres (to the 467.75 mark). The big bosses and their scientific teams talk a lot about "water abundant year" as the reason for high water levels around the lake. Yet our worst high school students here know the real motivation: there have been too many vacation homes and trout farms and other businesses built below the dam in the Angara River floodplain. So it was a choice—either calmly release water downstream, and avoid the inundation of Baikal's shorelines to the east; or keep the developed area downstream high and dry. The decision so far has been disastrous for Baikal. But it was a mutual decision both to the liking of the Irkutsk authorities (who did not want to spend any money removing buildings from the floodplain), and to the liking of the dam owners, who did not want let water to be diverted to spillways past their power turbines.
It will be next June when the city of Kazan hosts a meeting of the World Heritage Committee. Before that, Baikal is to be visited by a special UNESCO/IUCN team of experts. This mission will need to decide whether to include Baikal onto its "List of Heritage in Danger". If they see our washed-out shores, and come to realize that all this clearly could have been avoided, they probably will add Baikal to the list—thus necessitating the creation of a "plan to remedy the situation."
In September 2021, Greenpeace and RwB got together to send the Ministry of Natural Resources their ideas of what Russia should do in order to host this next UNESCO session without embarrassing itself. In particular, they said: "What's new is that a pre-existing imperfect system of governance for Baikal (primarily due to inadequate legislation) has been further weakened over the past two years so as to please different state and commercial interests. Of particular concern to the UNESCO World Heritage Committee should be the attempts of the Russian Agency for Water Resources to manipulate the level of the lake without proper ecological justification, or any assessment of the impact on the environment."
Three times this Committee has called upon Russia to rescind recent amendments to the 2001 resolution that had set the original limits to how much the lake level could fluctuate. The Committee also asked that no new amendments should be introduced until there is an environmental impact assessment of what has happened so far with the lake level. The Russian Cabinet of Ministers has constantly ignored these requests, issuing interim decrees in 2016, 2018 and 2021, each allowing for even greater fluctuations. Yet at the same time the Ministry of Natural Resources claims that it can't decide once and for all about the level of the lake until they complete more studies!
In reality this means that the Ministry already recognizes the truth behind UNESCO's demands. But there you are, it can't even take the time to commence the research needed to gather all the background scientific facts. When the state advisory panel known as the Civic Chamber of the Russian Federation in April 2021 has proposed comprehensive plan of action—and yet the Ministry and its state agencies continue to ignore these and other proposals.
During the drought of 2015, the level of Lake Baikal was excessively lowered to maintain the intake of water into a nearby coal-powered thermal electric plant owned by Irkutsk Energy Co.  But then over the last 5 years they've turned Baikal into a kind of flood protection reservoir, to prevent the destruction of all the illegal developments downriver in the Angara floodplain.  All the time, here along the coasts of Baikal, the same locals who were forced to resettle after the dam was first installed (in 1958) are now being blamed for allegedly settling too close to the water and interfering with the "normal operations of the reservoir." They even  have the audacity to insult local villagers with a few roubles in compensation for when the USSR raised the level of the lake by a meter when the dam was first built.
In the meantime, we local authorities can simply follow whatever law
we want in regulating water levels.
Here's another example: the Interdepartmental Commission for the Management of Dams and Reservoirs in Siberia has only two members from our long-suffering Buryatia. So while Baikal is overflowing its banks by some 25cm (above the previously adopted maximum), at the last meeting lonely Buryatia representatives voted for increasing the discharge of water through the Irkutsk hydroelectric power station. They were arguing that the lake level should be lowered quickly, for when the Autumn storms come, there is even more destruction of low-lying shores. But the Commission has different priorities. Of course, sometimes it is possible to convince the Commission to take pity on Baikal. At  the end of September the Commission was actually persuaded to increase the discharge of water out of Baikal up from 3600 to 3800 cubic meters per second. But the federal agencies in Moscow quickly dismissed this recommendation — once again apparently to spare all the illegal developments in the Angara floodplain below.
---
There are environmentalists coming to Glasgow with a special message: they call on the Climate Convention to reject attempts to use meagre climate funds to finance a new wave of hydropower projects around the globe.  These activists represent 400 separate organizations (from 69 countries, including Russia), and represent civil society and other popular movements, as well as indigenous peoples, scientific communities, etc. They believe that financing the hydropower plants will not prevent catastrophic climate change; it is more likely to aggravate the climate crisis, insofar as reservoirs are estimated to emit up to 1 billion tons of greenhouse gases per year—in some cases, scientists have found that reservoirs can emit more greenhouse gases than coal-fired power plants.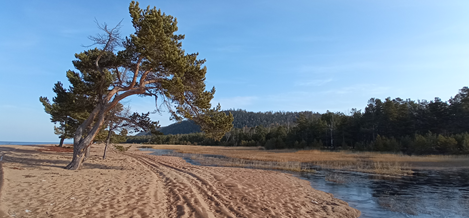 Our rivers, activists say, play an important role in storing carbon and building up resilience to climate change. We know that hydroelectric dams do not allow rivers to perform their proper functions. Rivers help regulate an increasingly volatile global carbon cycle, capturing about 200 million tons of carbon from the air every year. Dams on the other hand block this natural cycle of carbon sequestration.
It needs to be emphasized that:
we are in for a massive greenwashing disinformation campaign: the dam-building industry is mobilizing national governments and global organizations to support their efforts at reviving the moribund hydropower sector.
"It is of great concern to all of us that this industry, which has caused so much harm—the extinction of species, violent and forced displacement or impoverishment of local communities—is now positioning itself as a climate saviour as it lobbies for a new wave of hydroelectric power plants."
Meanwhile, on the eve of Glasgow, the En+ group has confirmed that it is considering the construction of four more hydropower plants in greater Siberia: one on the Tom River, one in the Lena basin, and two on the Angara, already ruined as it is by all the dams in its path.
* Note: Novaya Gazetta is required by Russian law to state that our friend Eugene Simonov has been included onto the list of individuals or entities that are fulfilling functions as foreign agents.
The original Russian-language version of this article can be found at:
https://novayagazeta.ru/articles/2021/10/28/mnogogolovoe-gidro