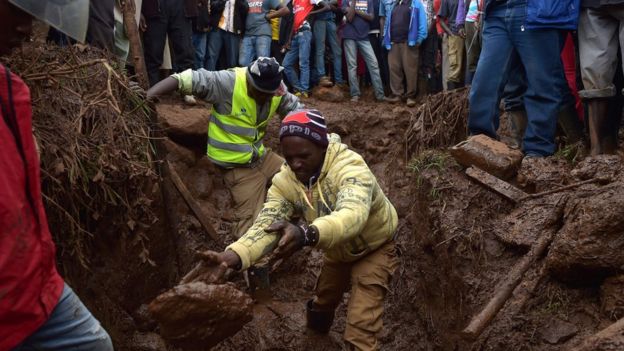 On May 10 a dam supplying water for export-oriented commercial rose-growing  agricultural farm burst in Kenya causing death and devastation. According to dam managers  it served for decades without causing concern, but last week caused a major disaster triggered by heavy rains.
The Patel dam was one of a number on a sprawling farm dams near Solai, 190km  from the capital, Nairobi. But none of them had a permit, a Water Resources Management Authority  spokesman said. But the general manager of the farm, Vinoj Kumar, denied the accusation that dams were illegal. "All these dams were built about 15 to 20 years before. There's nothing illegal," he said.
The dam burst in the evening of 9 May 2018, just as many area families were beginning their evening meals.Residents reported hearing a loud bang immediately followed by the rushing of "a sea of water". 70 million litres  of water were unleashed, creating a wall of water about 1.5 metres  high and 500 metres  wide. The resulting flood carved a chasm through a hill, washed away power poles, destroyed buildings (including a school), and submerged the villages of Nyakinyua and Energy. Homes over a radius of nearly 2 kilometres ( were submerged.
Dozens of people are still missing from Wednesday's tragedy. There are fears that the death toll may rise. It stood at 45 on Friday. Almost half the victims found so far were children. An investigation has been launched.
At least 2,000 people have been left homeless after a dam burst in Solai town, north-west of the capital, Nairobi. The Kenyan government has made an appeal to its citizens to take part in a fundraising campaign to help those left homeless by Wednesday's deadly floods, local media reports.
Source: BBC and Wkipedia