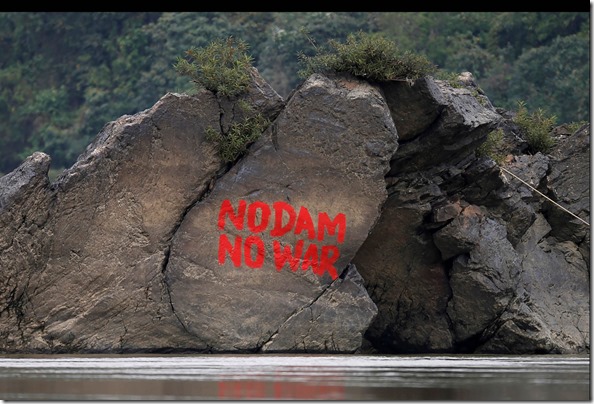 The World Bank continues to support and promote large hydropower against all evidence that its negative effects have never been mitigated in most known projects. From Laos to Mongolia  and  from Pakistan  to Georgia, the World Bank promotes the technology that brings destruction to living river ecosystems and livelihoods of local population. This article is about lessons from the South East Asia.
The global rise of environmental activism against large dams in the 1990s has been increasingly countered in the new millennium through the promotion of so-called "sustainable hydropower." The World Bank-funded US$1.4 billion Nam Theun 2 dam in central Laos on the Mekong River was supposed to serve as showcase of this better kind of dam.
But seven years after the massive hydropower facility commenced operations in 2010 the same problems and flaws that sparked protests and plagued the reputation of an earlier generation of dams have cropped up again around Nam Theun 2, also known as NT2.
The World Bank's reversion to the promotion of hydropower projects after years of withering criticism of previous projects centered on its approval of the NT2 dam in 2005. The multilateral lender pushed back against anti-dam movements and aggrieved communities by staking out a new paradigm supposedly based on a best practice approach of good governance, transparency and stakeholder consultation.
The NT2 commenced operations in Laos in 2010 and now exports 90% of its produced electricity to neighboring Thailand, providing a key source of revenue for the government. To promote the new model, two World Bank staffers, Ian Porter and, Jayasankar Shivakumar, were given backing to publish a book in 2011 titled "Doing a Dam Better" seeking to affirm its credentials as a model project.
The World Bank's communications and public relations teams were assigned to promote the NT2 not only as a source of renewable energy, but also as a reinvention of hydropower as part of a wider poverty reduction strategy. Laos is currently still designated as a Least Developed Country (LDC) despite recent years of fast growth.
Controversial dams in Asia have triggered emotive protests in the past. The China-backed Myitsone Dam in Myanmar, dams on the lower reaches of the Mekong, the Narmada in India, and the Baku and other dams in Sarawak, Malaysia have all faced local resistance on environmental, livelihood and/or social concerns.
Anti-dam graffiti at the confluence of the Mali and Nmai river at Myitsone, outside Myitkyina, capital city of Kachin state, Myanmar March 30, 2017. Photo: Reuters/Soe Zeya Tun
Local communities, often backed by academics and scientists, have complained the big-ticket mega-projects destroy fragile ecosystems, trample on community rights through enforced relocation, and endanger indigenous cultures in affected areas.
Now, NT2's promise to provide any solutions to these controversies as a new model dam is being challenged by various research studies and social impact investigations.
Carl Middleton, deputy director of the Center for Social Development Studies at Thailand's Chulalongkorn University, said: "While the dam did provide better resettlement compensation for those displaced and more information disclosure, on the other hand, long term livelihood viability for those resettled is uncertain, impacts on the downstream community have not been adequately addressed and the conservation dimension of the project is seriously flawed."
That reaffirms the assessment of environmental consultant Thayer Scudder, who worked directly on NT2 but has since aired regrets. In a New York Times editorial, he wrote: "Nam Theun 2 confirmed my longstanding suspicion that the task of building a large dam is just too complex and too damaging to priceless natural resources."
Expert criticisms, however, have not deterred the World Bank's investment arm, the International Finance Corporation, from claiming NT2 as a success worthy of export and replication, including to Myanmar. The World Bank Group currently plays a key role in Myanmar's energy sector, where only 34% of the population has access to electricity provided by a national grid.
The IFC has setup a "sustainable hydropower network" in Myanmar to promote a similar hydropower model its chief operations officer has said "will help to mitigate environmental and social risks while realizing Myanmar's huge energy potential, contributing to economic growth and shared prosperity."
The IFC enjoys an official advisory role in Myanmar to conduct "strategic environmental assessments" on hydropower projects' impacts on rivers. In promoting its sustainable hydropower model, the IFC frequently cites NT2 and Laos broadly for providing positive lessons for Myanmar, according to people familiar with the situation.
Five major dam projects on Myanmar's Salween River were approved in 2013 by the previous Thein Sein administration, all of which would have adversely impacted on the livelihoods and food security of an estimated six million people living in the river's basin. Local ethnic group communities, including from the Shan, Karen, Karenni and Mon groups, are understandably skeptical.
Saw John Bright, Water Resources Coordinator at the ethnic Karen peoples' environmental network Kesan, says he rejects the notion that dams on the Salween River would provide benefits to his community. "These dams are being aggressively pushed forward because relatively few people make money building them. Big dams are not in the nation's interest and have not been proved to be sustainable."
Indeed, the IFC's push for more sustainable dams in Myanmar has been met by several grassroots protests, with many local people boycotting its sponsored hydropower workshops recently organized in some of the most conflict-ridden parts of Myanmar, including in the ethnic Kachin and Karenni states.
Earlier this year, two local nongovernmental organizations (NGOs), The Burma Rivers Network (BRN) and Save the Salween Network (SSN), said in a press release "we strongly oppose the (IFC's) promotional workshops…which are simply the latest move by international investors to initiate large scale hydropower projects on Myanmar's rivers against the long-expressed wishes of local communities who remain engulfed in civil war."
A faltering peace process launched by Thein Sein's government in 2012 is making little progress under elected de facto leader Aung San Suu Kyi, as the autonomous Myanmar army escalates military operations in the ethnic Kachin, Karen and Shan states where many of the proposed dam sites are located.
Experts say the credibility of any sustainability principle is dependent primarily on the mitigation of environmental damage inflicted by dams, including the obstruction migratory fish species, the trapping of nutrient-rich sediment and associated negative impacts on agricultural production.
The most important current test case for new mitigation technology is the 1285 megawatt Xayaburi dam –the first dam to be launched on the lower Mekong in Laos in 2012. The dam has both proponents and critics.
Pham Tuan Phan, the Vietnamese chief executive officer of the Mekong River Commission, an intergovernmental body charged with coordinating sustainable management and development of river resources, has taken credit for and praised the dam's mitigation design.
Recent research on fish mitigation from the Australian Center for International Agricultural Research confirmed "the investment and complexity of the Xayaburi dam mitigation is unprecedented anywhere in the tropical world," adding that fish passage facilities are matched only by those implemented in North America for strong-swimming salmon.
At the same time, the report recommends a halt to all mainstream dam building on the lower Mekong until the Xayaburi's performance is comprehensively evaluated.
Ian Baird, associate professor at Wisconsin University in the United States and widely respected for his many studies on Mekong fisheries, warned that "it is a high risk experiment on the Mekong, as these sort of mitigation measures have never been attempted before on tropical rivers."
To date, he notes, there are no successful examples of dam fish passage systems in the region. Fish mitigation on dams in Brazil and other tropical countries have also yielded poor results, according to several scientific studies.
Jian-Hua Meng, a World Wildlife Fund hydropower consultant and trained engineer is also skeptical about the mitigation strategies. "All the structural modifications are still based on guesses and assumptions drawn from experiences from European rivers," he told Asia Times. "It is a very high stakes gamble to go ahead. They are playing roulette with the livelihoods of millions of people."
The credibility of any sustainability principle is dependent primarily on the mitigation of environmental damage inflicted by dams, including the obstruction migratory fish species, the trapping of nutrient-rich sediment and associated negative impacts on agricultural production
Still, the Xayaburi and NT2 dams are both being promoted as new age models for sustainable hydropower and winning endorsements from Western governments and their associated aid and investment agencies. That endorsement, environmental activists say, has thwarted a strong and cohesive international and regional response against future dam-building on the same models.
A forthcoming strategic environmental assessment on hydropower impacts on rivers in Myanmar, led by Australia's Interdisciplinary Consultancy and Environmental Management (ICEM) group, has recognized many of these problems and is attempting to ascertain which are the least sustainable of the proposed projects. The assessment is under the supervision of the IFC, which will present it to the Myanmar government later this year.
Philip Hirsch, formerly a professor of human geography at the University of Sydney, said, "After 30 years of studying dam impacts, I have yet to come across one whose impacts have been well-mitigated. Let's start with dams that are already there before using 'anticipated mitigation' as a pretext for going ahead with new projects. The impacts of some dams are just too great to mitigate."
By TOM FAWTHROP NOVEMBER 4, ASIA TIMES