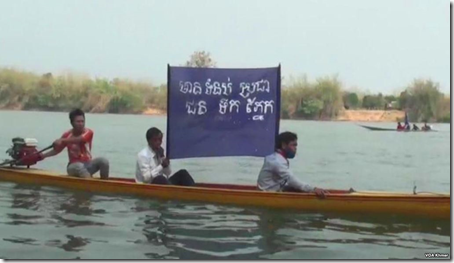 Villagers affected by controlled flooding at Cambodia's Lower Sesan 2 hydropower dam petitioned the country's prime minister Hun Sen and the Ministry of Interior on Tuesday for their help in being allowed to remain on their land, sources said.
The USD 800  Lower Sesan II hydropower project, a joint venture between China's Hydrolancang International, Cambodia's Royal Group, and a state-owned Vietnamese firm, began pre-operation testing on July 15, flooding parts of Srekor and Kbal Romeas villages, where some locals have refused to leave and turned down compensation offers and ignored government appeals to residents to relocate to other areas. Hundreds of residents have already accepted compensation plans offered to them by the government and project managers to move, but about 143 families remain, saying they do not want to abandon their ancestors' tombs or the place they have called home for generations.
Last week, a provincial official told local media that the holdouts were "secessionists" who had refused to allow the authorities to establish a center in the village to assist villagers to leave.
Choeun Sreymom, a representative of the ethnic minority Bunong villagers, said the remaining villagers had no intention of stoking secessionist sentiment.
"They should understand people are suffering…Only those who have been directly affected understand how hard this is for the community."
The Bunong and Lao people place spiritual significance on the forests and ancestral burial grounds which will be flooded when the dam goes online.
Suth Thoeun, a representative of the Lao community in Srekor village, said that "people will resist" until their relocation demands were met.
Following an Aug. 29  meeting in the capital Phnom Penh with an official of Cambodia's interior ministry, Kbal Romeas village representative and member of the Phnorng ethnic minority group Choeun Sreymom told RFA's Khmer Service that group members remaining in the villages want title issued for their land.
They also want police and other authorities sent to watch them to be withdrawn, she said.
"Our villagers have been completely cut off from road traffic, but now we have to deal with armed security personnel," she said. 
"We are demanding that we be allowed to remain on our land, since we already have rice paddies there. We do not want to be forced to relocate to new places determined by the government."
Also speaking to RFA, Lath Vibol—another member of the group of 10 petitioning in Phnom Penh—said that villagers remaining on their land want the government to ensure they can continue to live where they have always lived.
"We cannot abandon our homes, and especially our ancestors' tombs. We can't move these to any new location," he said. "We are requesting that authorities promise us that the dam floodgate shutdown will not result in our region being submerged, so that we can continue living in the same location."
Radio Free Asia and www.voacambodia.com/