Michelle Tolson published today a brilliant text on gross injustice done to famous Mongolian environmentalist Munkhbayar and his fellows. "Authoritarian" government of the region after clashes with environmental activists either release them as it was done with "pirates" from Greenpeace in Russia or give them 1-2 year suspended jail term as it happened with Mongolian herders in China. New democracy of Mongolia sentenced its environmental hero to 21.5 years in prison…..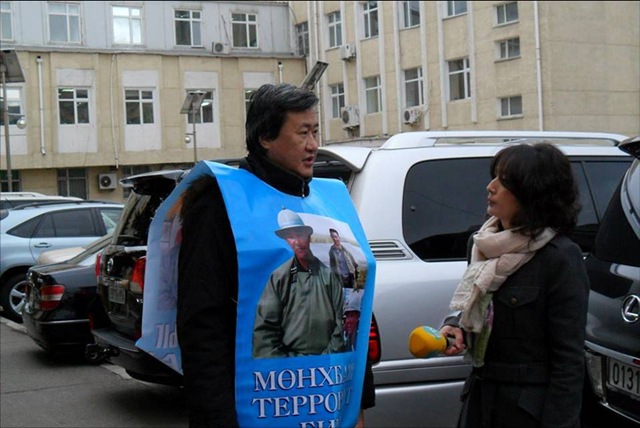 Photo: He is not a terrorist!
One week ago, the courts of Mongolia sentenced environmental activist and former herder Tsetsegee Munkhbayar and four other members of the "Fire Nation" group to 21-and-a-half years in prison each for "acts of terrorism." He had come to deliver a petition to Parliament to stop the amendment of a 2009 law, called "the Long Name Law," created to ban mineral exploration near river heads, reservoirs and water sources so as to guard against pollution. Activists say the amendment would have weakened the law he had fought so hard for. According to local media reports, he had brought fire arms and (inactive) grenades to his protest.
"Ts.Munkhbayar's actions highlighted the desperation of helpless Mongolian pastoralists who had no choice but to resort to an unconventional approach to defend their land, rights and way of life after exhausting all other means," Enkhbat Toochog, of the Southern Mongolian Human Rights Information Center (SMHRIC) told Asian Correspondent from the group's headquarters in New York.
He hopes for a better future for independent Mongolia, having witnessed Inner Mongolia, now considered an autonomous region of China, transformed by rapid development. "The case of Ts.Munkbayar also suggests that the Government of Mongolia, advertising itself in the west as a model democracy of Asia, is no less oppressive than authoritarian regimes like China, especially when conflict of interest between the government and common public is inevitable."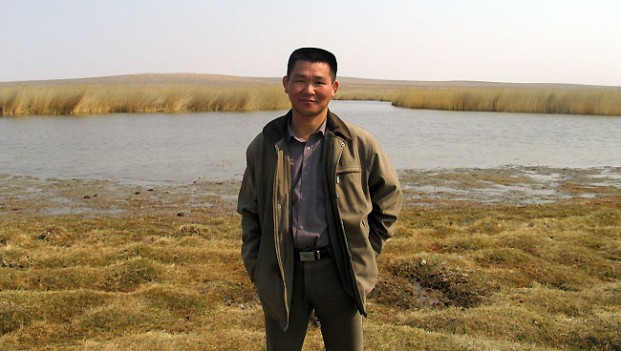 Photo of Munkhbayar (Goldman Foundation)
Munkhbayar founded the United Movement of Mongolian Rivers and Lakes (UMMRL) to protect water sources from mining pollution and his tireless lobbying for legislation earned him the Goldman Prize in 2007, awarded to outstanding environmental activists. Though Goldman does not condone violence, they stand by the activist. "In 2010, UMMRL filed a law suit against the government for failure to implement their own law and in October 2011, the Supreme Court of Mongolia found the government guilty and forced them to begin implementing the rules and regulations spelled out in the LLN [Long Name Law]," wrote Goldman. However, when the new government came to power in 2012, his years of work began to be dismantled owing to pressure from foreign mining companies. By August of 2013 shrinking foreign investments, down 42 percent, caused parliament to consider revamping investment laws. In September, Munkhbayar staged his demonstration and a firearm accidently went off. "It is widely understood that the shot was not fired on purpose and nobody was injured," reported Goldman.
Eugene Simonov, Coordinator for Rivers without Boundaries, an organization that advocates for the protection of river basins questions the "terrorist" claim as well. "Munkhbayar and the United Movement of Rivers and Lakes employ an extremely wide variety of work methods from environmental education, ecosystem restoration and close work with legislature to theatrical projects to armed demonstrations and seizing illegal mining sites," he explained from Ulaanbaatar.
For instance, in September of 2010 Munkhbayar came under scrutiny for taking shots at the mining equipment of Canadian Centerra Gold and China's Puraam for mining within the headwaters of the Selenge River, which was prohibited under the 2009 law. Though initially condemned, his actions brought about the eventual support of the courts. "About 90 percent of the methods they used, I see as fully justified by situations in which they acted and they led to constructive results they wanted to achieve," Simonov said.
Due to Mongolia's economic downturn, support for environmentalists is waning in the sparse investment climate, said Sukhgerel Dugersuren, executive director of OT Watch, an environmental group in Mongolia. "[There is] a broad media campaign against civil society organizations' reputation accusing them of every possible ethical crime."
Most media outlets are connected to powerful politicians and business interests, which was observed by OSCE Office for Democratic Institutions and Human Rights.
According to Sukhgerel, this backlash against civil society has coincided with the weakening of environmental protections. "The current government is amending and/or adopting a huge number of laws and policies at a very fast pace that are detrimental to the environment and society. I would name the amendments to the law which Munkhbayar attempted to protect, draft law on forced eviction, minerals law and policy, foreign investment law and a number of laws on tax exemption for extractive projects. Extractive industries are waging a huge campaign on changing Mongolian laws to allow rampant, uncontrolled and loss-making extraction of Mongolia's wealth."
French AREVA has been exploring Mongolia's uranium deposits in the Gobi desert. Herders living in the area and a consortium of grassroots groups, including the controversial Fire Nation which Mukhbayar is a member of, have fought against this. Local livestock deaths and deformities emerged in the vicinity though the government contends that an investigation into herders' concerns conducted by the Nuclear Energy Authority showed no links were found, but activists question this. Despite their protests the government agreed to a partnership with AREVA in September to "revive investments."
"Mongolia is being 'developed' by westerners, Russians and Chinese with little regard to its tradition and natural peculiarities," said Simonov, who questions the negative connotations of nationalism attributed to Mukhbayar. "One of major objections of western investors to the 'Law on protection from mining impacts of rivers, headwaters and forests' was that it 'has no analogy in western, civilized countries.' [Yet] real damage in habitat destruction, forced migration and river poisoning is very serious. In such situations, environmentalists quickly acquire a nationalist stance and nationalists use environmental slogans. We saw it in Russia in the late 1980s."
Sukhgerel expressed shock at the sentencing. "First of all, prosecution's claim of a terrorist act in this case is ridiculous. My personal opinion is that [his actions were] an attempt
to get the attention of powers by demonstrating access to fire arms [and this] is in nowhere near the damages that will be caused to environment and society by the mining companies demanding this amendment. Public officials tried for corruption and squandering of public money amounting to billions get only three to five years of imprisonment. Another fair trial principle not employed here is use of the least harsh punishment in the case when there is doubt of harm or damages caused. In this case there is no victim and damage caused by this act."
Enkhbat sees parallels between independent Mongolia and 'Inner,' or Southern Mongolia, as some activists prefer to term the region. "While the independent country of Mongolia becomes one of the few mineral-rich countries, Southern Mongolia was declared by the Chinese Government as the "Energy Base of China" due to the fact that it produces 95 percent of the world's rare earth and becomes the top producer of coal and natural gas in China. Just two weeks before Ts.Munkhbayar and six of his fellow environmentalists were sentenced to long term imprisonments, another Munkhbayar and five of his fellow activists from Chinese-occupied Southern Mongolia were sentenced to one to two years in jail by the Chinese authorities for defending their grazing
lands from encroaching Chinese settlers and miners."
Enkhbat thinks Mongolia has a chance to avoid the same fate as Inner Mongolia, but sees the need for a broader movement. "It is very difficult for
any nation to come up with a truly ideal model of development. Yet, one thing is clear. A development that comes at the cost of natural environment and traditional way of life is not a worthy and sustainable one. Environmental or human rights activism is not a responsibility of a handful of activists or those who are affected only. It should be a social movement."
Published by asiancorrespondent.com