International Renewable Energy Agency released annual Renewable Capacity Statistics 2023 and it contains many good news:
By the end of 2022, global renewable generation capacity amounted to 3372 Gigawatt (GW), with annual addition by a record 295 GW or by 9.6 %. An impressive 83 per cent of all power capacity added last year was produced by renewables. China was the biggest contributor, adding 141 GW.
Solar photovoltaic (PV) power accounted for an increase of 191 GW (+22%), wind energy -75 GW (+9 per cent), while hydropower added only 20.5GW (+1.6 %). In 2022 the pace of solar power growth was 14 times faster than that of hydropower. By 2025 solar energy will, likely, replace hydro as the type of RE generation with the highest installed capacity worldwide, as it already happened in China.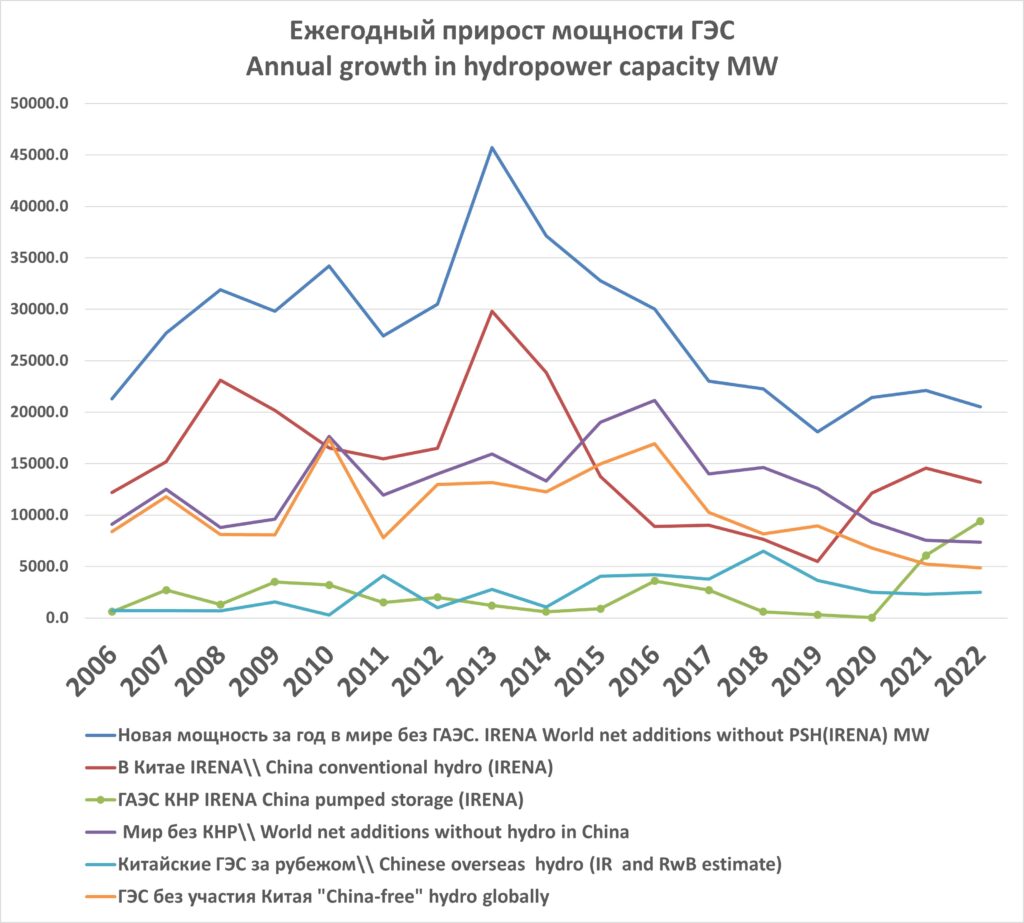 China installed 13.2 GW of conventional hydropower (60 % of the world's total), and it also has added 9.4 GW of pumped storage (99% of the world's total PSH additions), which is an important breakthrough. This is important, because in most cases the PSH technology is somewhat less destructive for nature and much more efficient in terms of sustaining flexible energy systems. . In 2022 China expanded its conventional hydropower capacity by 3.7% and PSH by 25%. Most of additions in conventional hydro came from completion of megadams in Yangtze river basin. With new construction sites available only high in Tibet, future dams (if those projects go ahead) will be more costly and require more state subsidies. Two-fold increase in China's conventional hydropower fleet by 2050 is highly unlikely and is not among current national development goals.
The rest of the world installed 7.3GW (+0.8%) – the lowest figure in 15 years (which still may be increased slightly as governments supply additional data to IRENA).
Canada comes second adding 800 MW(+1%), which includes completion of the 685 MW Keeyask hydroelectric station on lower Nelson River by Manitoba Hydro, as well as Kemano T2 project by Rio Tinto, which supports aluminum smelters. This figure also may include final installations at the infamous Muskrat Falls Project on Lower Churchill River, which is a classic example of disastrous planning miscalculation, resulting in extensive environmental damage, as well as 100%+cost overrun after 10 years of delay in construction. All that said, the energy development plans of Canadian government envision hydropower expansion by only 3 GW all the way till 2050.
Ethiopia, adding 750 MW, occupies the 3rd place, likely, due to several units of Great Ethiopian Renascence Dam (GERD) on the Nile River, which will destabilize economy of downstream Egypt and Sudan and is subject to heated international debate. Ethiopia is a "rouge hydropower state", which, supported by Chinese finance, recently has completed several other problematic dams that have threatened Lake Turkana World Heritage property in Kenya and well-being of local communities in drought-stricken Somalia.
Pakistan and Laos share the 4nd place with 690MW added by each. Both countries have highly unsustainable patterns of hydropower development associated with serious environmental destruction, deprivation of local communities and debt stress. In both cases hydropower development is heavily dependent on Chinese financing and  construction companies.
Laos is another "rouge hydropower state", which, with support from Chinese and Thai bankers, destroys one of the most biodiverse and fisheries-rich rivers in the world – the mighty Mekong. In 2022 the 670 MW Nam Theun 1 Hydropower Project in Laos has been commissioned and several dam projects on the main stem of the Mekong river announced and launched.
In Pakistan China Silk Road Fund financed Karot Hydropower station was completed. Recent report by the Institute for Energy Economics and Financial Analysis (IEEFA) shows that 14 GW of hydropower projects, which Pakistan attempts to build, are associated with high economic and climate risks and are unlikely to be completed on time and within proposed budgets (some recent projects had 600% budget overrun). Many of those projects are confronted by mass-protests and together they put in mortal danger the Indus River ecosystem.
Colombia installed 605MW, from which 580 MW come from units 1 and 2 of the Ituango plant – the most disastrous project in Colombian history, associated with killing of anti-dam activists, suppression of local communities, tremendous corruption and the largest industrial accident which threatened 25000 people in downstream areas and almost doubled the construction costs. Colombia switched to expanding other types of renewable generation after the Hidro-Ituango disaster.
Other countries adding more than 100 MW of hydropower capacity (in descending order) include Chile (482), Zambia (460), India(438), Brazil (388), Portugal (346), Viet Nam(275), Nepal (227), Austria (221),Georgia(113), Afghanistan (102). 20 more countries added between 10 and 100MW each. According to IRENA's data Costa Rica decreased capacity by 48MW, while Republic of Korea by 29 MW of conventional and 80 MW of pumped storage hydro, reasons for that unknown to us.
A new sober report from the IRENA "Global landscape of renewable energy finance" demonstrates that development of hydropower is by 97% financed from public funds and evokes no enthusiasm from private investors. It also summarises hydropower woes: "For hydropower, particularly plants with capacity greater than 10 MW, many of the locations available for construction are already utilised, especially in countries that rely heavily on hydropower, with potential new areas usually located in less accessible locations, making construction significantly more expensive. In addition, the construction of new large hydropower plants may encounter opposition from local populations and environmental groups. Comprehensive mitigation measures may be needed to manage possible negative social and environmental impacts." (As we know well from practice, "mitigation" in most cases is simply unrealistic).
What is amazing though, that despite producing this clear "Requiem for hydropower in figures", the IRENA followed the steps of International Energy Agency and issued in early 2023 an overoptimistic  report "The changing role of hydropower: Challenges and opportunities", which publication can be explained only by intense lobbying from the hydropower industry. The report completely downplays risks and damages associated with hydropower development and again puts forward the unrealistic and inhumane goal of "doubling of hydropower by 2050". Come on, Senior La Camera, do You analyse statistics that you collect and publish??!!
All in all, to stick to global warming limit of 1.5 centigrades  the world has to triple pace of RE development, but obviously this should be focused on most affordable and easy to expand technologies and overall better design of energy systems. Moreover, as the last IPCC report shows it should be done along with preservation and restoration of 30-50% of natural ecosystems. Therefore, new hydropower, no longer could be a significant contributor to energy transition due to social and environmental impacts, lack of scalable technology, increasing costs and obvious vulnerability to climate change.