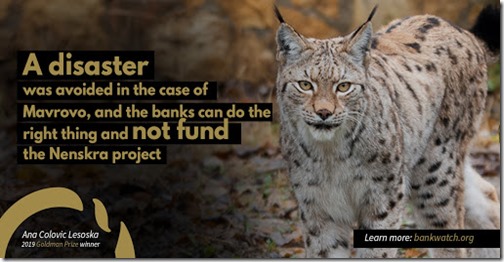 International solidarity is demonstrated by Macedonian conservationists who dedicates her victory over Boskov Most  Hydro to the fight against destructive hydropower in Georgia.
Ana Colovic Lesoska, Executive Director of Ekosvest, CEEBankwatch's member group in Macedonia, has led a multi-year campaign to cut off international funding for two large hydropower plants planned for inside the Mavrovo National Park – Macedonia's oldest and largest national park – thereby protecting the habitat of the nearly-extinct Balkan lynx.
For her efforts, she is being awarded the 2019 Goldman Environmental Prize for Europe. Given annually to environmental heroes from around the world, the Goldman honors the achievements and leadership of grassroots environmental activists globally.
Thanks to Ana's tireless campaigning, in 2015 the World Bank withdrew its financing for the Lukovo Pole hydropower project, and in 2017, the European Bank for Reconstruction and Development canceled its loan to the Macedonian government for the Boskov Most project.
Help celebrate Ana's achievements and use this momentum to push international banks to withdraw their support for other controversial hydropower projects, beginning with the billion dollar Nenskra project in Georgia.
Why the Nenskra project?
At first glance the campaigns to save Mavrovo and stop the Nenskra project haven't much in common. But both are emblematic of the problems that infrastructure projects present to local communities and biodiversity when international finance is not kept in check.
If built the 280 MW Nenksra project would irreparably destroy the unique biodiversity of the Caucasus mountains and the economic livelihoods of the indigenous Svan people that have lived for generations in the region. The indigenous Svan communities that depend on their natural surroundings for their livelihood since generations, have been protesting the project over the past several years.
Read more about the Nenskra project and five reasons the banks should withdraw funding.
Who is funding the project?
Both the European Bank for Reconstruction and Development and the European Investment  Bank approved loans for the project last year at USD 214 million and USD 150 million, respectively, but neither have disbursed the money. The Asian Development Bank is considering awarding the project USD 314 million, and the Asian Infrastructure Investment Bank could also be awarding the project USD 100 million.
The Korean state-sponsored K-Water  Company is the current owner of the project.
Sign and share the petition calling on international lenders to drop the Nenskra hydropower project here: http://bankwatch.org/stop-nenskra