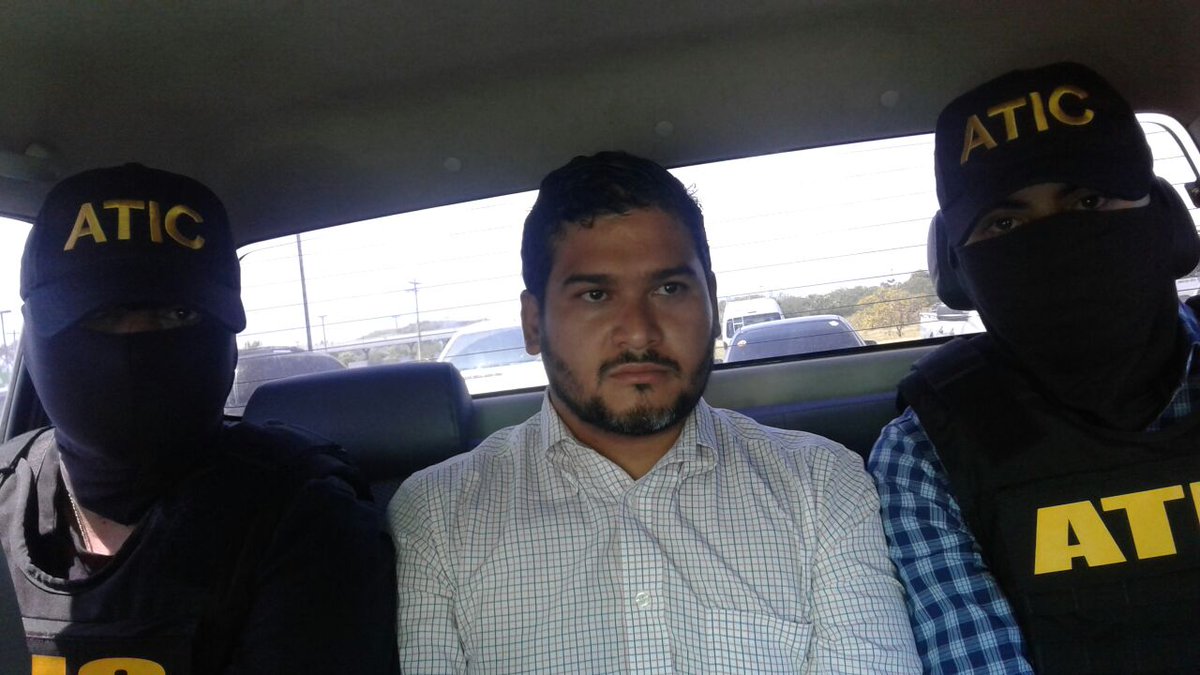 Photo of arrested David Castillo Mejía, the executive president of the company "Desa", which is building Agua Zarca dam on the Gualcarque river.(Ministerio Público(@MP_Honduras))
Honduran authorities have arrested a former military intelligence officer for masterminding the murder of the indigenous leader Berta Cáceres, who was shot dead exactly two years ago today.
David Castillo Mejía, the executive president of the company building a hydropower dam dam which Cáceres campaigned against, is the ninth person arrested for the murder, and the fourth with ties to the Honduran military.
Castillo Mejía is accused by arresting authorities of providing logistical support and other resources to one of the hitmen already charged.
He is the first person to be charged as being the "intellectual author" of Cáceres's murder and the attempted murder of Mexican environmentalist Gustavo Castro.
Cáceres was shot in her bedroom just before midnight on 2 March 2016, a year after winning the prestigious Goldman Prize for leading a campaign against the Agua Zarca dam on the Gualcarque river considered sacred by the indigenous Lenca community.
The dam was licensed to the company Desarrollos Energéticos SA (Desa) without the legally required community consultation.
Cáceres had led a campaign of peaceful community resistance against the dam which triggered a wave of repression including smear campaigns, violent evictions, sexual harassment, false criminal charges, and ultimately her murder.
Before her death, Cáceres had said that she was scared of Castillo Mejía because of his military intelligence background. She told close friends and family that Castillo Mejía hounded her with texts, phone calls, and in person, appearing without warning at her home, work events and even the airport.
He was arrested at San Pedro Sula international aiport trying to leave the country, the public ministry confirmed in a tweet alongside a photo of Castillo Mejía in custody.
A Guardian investigation into the murder found that Cáceres appeared on a military hitlist given to US-backed elite forces just months before she was murdered. The murder was carried out like a "well-planned operation designed by military intelligence", a legal source told the Guardian last year.
Desa's board also includes a former justice minister and several members of the Atala Zablah family, part of one of the richest and most powerful clans in Honduras. In a statement Desa said neither it nor its president Castillo Mejía had anything to do with the murder. "The company rejects this decision that is the result of international pressure and smear campaigns from various NGOs towards the company," the statement said.
News of the arrest broke while protests took place across the country to demand justice for the slain leader – who is one of at least 130 environment and land defenders murdered in Honduras since the 2009 coup.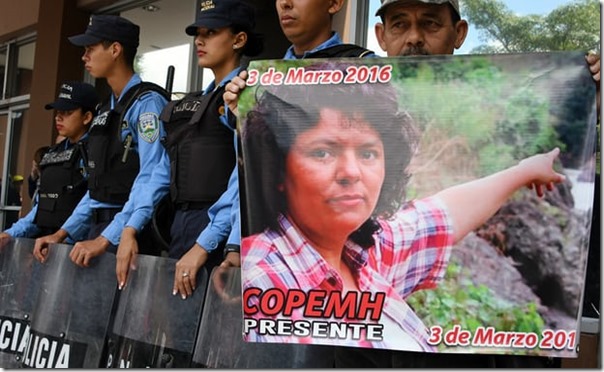 Source: Guardian
NOTE With a generating capacity of 22 megawatts, a 300 metre-long reservoir and a 3 kilometre long diversion channel between the dam and the turbines, Agua Zarca – being constructed by the Honduran corporation DESA – is a relatively small hydroelectric project. But for the local Lenca – indigenous peoples living in Río Blanco,  between the departments of Intibucá and Santa Bárbara in western Honduras – it is big enough: the project threatens to dessicate the river Gualcarque and therewith the communal farm lands. The river is an important resource for swimming, washing and fishing, with important cultural and spiritual value. https://www.banktrack.org/project/agua_zarca_dam