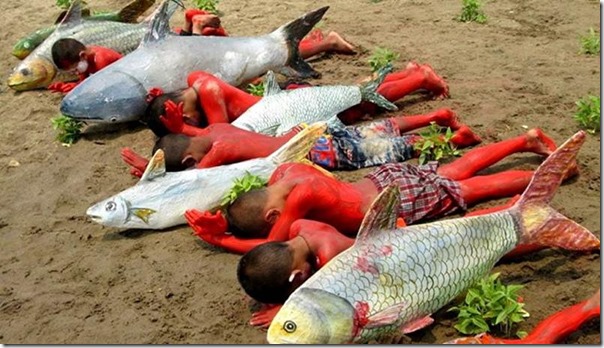 A river worshiping ceremony in Mawlamyine, on the Salween delta in Mon State. Source: International Rivers @ Flickr
To:
Li Hejun, President, Hanergy Holdings Co.
Hanergy Holdings Co. Board of Directors,
Hong Kong Stock Exchange Securities and Futures Commission (SFC)
Re: Hanergy Hydropower Projects
Dear Mr.Li and Hanergy Board Members:
Dear SFC Members:
We are writing this letter to urge the Hanergy Holdings Co. and its subsidiaries to adhere to the highest standards of environmental and social sustainability and to terminate their engagement in dangerous hydropower projects threatening ecosystems and local communities along the two last free flowing rivers in East Asia.
As we understand, now after suspension of trade in shares of the Hanergy Thin Film Co. at the HKSE, the holding company and its leaders are doing all they can to leave this episode in the past and improve sustainability and transparency of the Hanergy Holdings operations. We hope that this revision of strategy and practices will soon result in cancellation of any efforts to develop the Taipinggou Dam on the Amur River and Kunlong Dam on the Salween River previously pursued by the Hanergy Holding Co. and its subsidiaries.
Both transboundary rivers, Salween (Nu in China) and Amur (Heilong in China), are still free of dams in their main channels and recognized as having global importance for their biodiversity and natural riverine ecosystem processes. They are also the most important sources of livelihood for great diversity of indigenous peoples living in the river valleys. To protect the river ecosystem Russia and China established a chain of more than 30 protected areas along the Amur- Heilong transboundary watercourses, while upper reaches of Nu River in China are recognized as a World Heritage Site. Damming those rivers would result in tremendous blow on biological and cultural diversity of Asia and may lead to irreparable damage to globally important transboundary freshwater ecosystems and fish migration corridors.
We believe that Hanergy as a "clean energy company" should not seek to dam great free-flowing rivers of Asia.
Besides potential environmental damage, Hanergy's plans to erect dams on the Amur and Salween rivers build up transboundary tensions and distract riparian countries from developing a common plans how to protect common rivers. Proposals to build giant dams contribute to sense of insecurity among local populations, preventing people from actively pursuing sustainable development in river valleys.
In case of Myanmar the attempts of various companies to dam Salween River also fuel armed conflicts and military atrocities against local ethnic population. In March 2017, civil society groups of Myanmar, issued a joint statement calling for all dam projects on Salween to be halted until an agreement regarding a federal constitution has been reached in order to avoid potentially fueling further armed conflict.
Therefore, if Hanergy from now on intends to rebuild itself as a company with high standards of social corporate responsibility and pursue sustainable development, its leaders should publicly dismiss its involvement in destructive dam projects on Amur and Salween rivers. Otherwise, the Hanergy Co. risks losing its image of a "green company".
We also want the HKSE regulators to pay attention to high likelihood of "connected transactions" linking listed Hanergy Thin Film Company with the hydropower assets of the Hanergy Holdings. Pursuing unsustainable large hydropower projects on transboundary rivers may present significant risks for the holding company and subsequently to its listed subsidiary. Besides, it cannot be ruled out, that in some future proceeds earned by the listed company may be used by Hanergy to pay for construction of highly harmful hydropower dams and therefore present extreme reputational damage. Therefore we urge the SFC that such information on status and prospects of the abovementioned hydropower projects should be reflected in the disclosure document that Hanergy was required to submit the to the Board of the SFC.
We hope be heard both by the company and the HKSE SFC, because our recommendations contribute to the on-going process of adjustments that should make Hanergy more sustainable and transparent company.
Sincerely,
Eugene Simonov
International Coordinator
Rivers without Boundaries Coalition
May 31, 2017
coalition@riverswithoutboundaries.org,
---