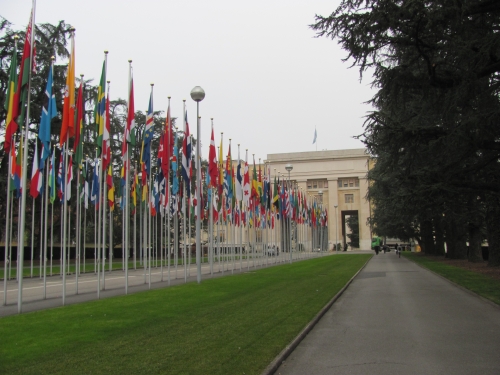 Very successful international Conference "Europe-Asia transboundary water cooperation" was held in mid December in rainy Geneva at the Palace of Nations. More than 80 high-level representatives from 25 Asian and European States gathered in Geneva to discuss cooperation on the management and protection of transboundary waters along the borders of the two continents. Conference provided venue for fruitful discussions among representatives from Afghanistan, the Islamic Republic of Iran, the Democratic People's Republic of Korea, Kazakhstan, Kyrgyzstan, Mongolia, the Republic of Korea, the Russian
Federation,Tajikistan,Thailand,Turkmenistan,Uzbekistan, Viet Nam and their European counterparts. Unfortunately in last week before the conference cancelled their participation official representatives from China, a country sharing transboundary basins with at least 10 Eurasian states. Several members and old friends of Rivers without Boundaries Coalition attended the conference. Sukhgerel Dugersuren from Oyu Tolgoy Watch reported on possible impacts of Mongolian mega-mining projects on transboundary rivers of Yenisei and Amur river basins (SEE PRESENTATION). RwB coordinator Eugene Simonov, sandwiched in a panel discussion between two representatives from Central Asia, talked on challenges of transboundary river ecosystem conservation (SEE PRESENTATION) and after that argued with vice-head of Russian Water Agency Vassily Kurianov about destruction of Onon River by Russian gold-miners. Takayuki Shiraiva (Amur-Okhotsk Consortium) with two colleagues from Hokkaido University enjoyed opportunity to interview participants of transboundary river commissions. Yi Yimin from the "Moving Mountains" NGO explored situation of countries whose water sectors are likely to receive investment from China. Conference provided diverse opportunities to communicate, find partners or collect information. The conference focused on the following themes:
Legal and institutional aspects of transboundary water cooperation
Balancing different interests and uses in transboundary basins, and the application of integrated water resources management
Prevention and response to industrial accidents.
Protection of ecosystem and water quality, including monitoring and data exchange
Extreme weather events and adaptation to climate change in transboundary basins
Use of UNECE conventions and mechanisms to advance transboundary water cooperation across Eurasia
States also highlighted current cooperation activities, and aired concrete proposals for building cooperation on their joint water resources. The Islamic Republic of Iran, for example, informed participants about their cooperation on Turkmenistan have already built a joint dam, the friendship or Doosti dam, which is used for irrigation purposes by both countries.Kazakhstan informed participants about its
new agreement on water quality and future plans for transboundary cooperation with China. Unfortunately majority of cooperation projects presented by countries had no clear mechanisms for protection of river ecosystems, provision of environmental flows, conservation of riparian wetlands. RwB representatives had to raise provocative question on ecosystem protection standards almost
at every session. Conference also became arena of heated debate between countries over their shared waters. DPRK insisted on banning delegation from the Republic of Korea from presenting rivers of demilitarized zone as "transboundary waters".
Central Asian countries were continuously and very professionally blaming each other for neglecting common obligations, while trying to develop hydropower, irrigation and other economic activities. Aral Sea is already gone due to human greed, but it seems that countries sharing that basin have not learned the lesson. Global Water Crisis very vividly shadowed conference hall during that debate. Nevertheless open discussion was extremely informative and eye-opening for all participants, clearly presenting tremendous challenge of managing common rivers and lakes. The atmosphere was democratic and stimulating constructive discussions. The conference has been really well organized by the United Nations Economic Commission for Europe (UNECE) in cooperation with the Government of Switzerland in the framework of the UNECE Convention on the Protection and Use of Transboundary Watercourses and International Lakes (UNECE Water Convention). It was an important step in the preparations for opening the Convention beyond the UNECE region to all United Nations Member States. Also at the conference,Turkmenistan announced its upcoming accession to the Water Convention and Uzbekistan informed participants that it had ratified the amendments opening the Convention beyond the UNECE region in autumn 2011. For further information please visit UNECE web-site: www.unece.org/euro_asia_conference.html
Eugene Simonov
Rivers without Boundaries